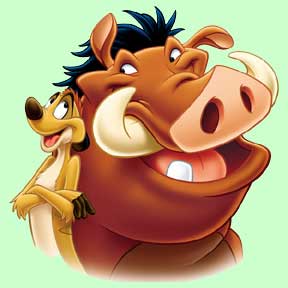 I want my legs to go faster, but they won't. My shoes have cement soles. I pump my left arm harder, my right hand's on the handlebar of the jogging stroller. Disney's Under the Sea drifts out of the back pocket of the BOB. T Junior pulls his hand out of his mouth — "Uhn ceeee!" — pops the fingers back in, lets his body slump to the right and rests his head on the side of the stroller. He's tired. I see, in the bottom of my field of vision, that his bare feet are still, relaxed, only moving slightly from the vibration of tires on pavement.
A half mile.
I stare ahead. The trail is straight here and I can see the path in front of us until the asphalt disappears into some shadows and a curve. A trickle of sweat escapes the crook of my bent, driving left arm and stops at my elbow. I thrust my knees forward. I would love to get under those trees.
A glistening tan man wearing shorts and no shirt throws a stick for his black lab. "Good girl!"
I nod and smile as we pass. Up ahead, a pack of six or seven high school boys springs out from the shade and I'm 16 again on the cross country team.
Relax your shoulders. Run from your stomach.
I lengthen my stride to match the beat of Hakuna Matata as the sweaty group goes by. One of them is singing, but I don't recognize the tune. It's not Hakuna Matata.
Three-quarters of a mile. Thank god.
The shade is refreshing the way a pool feels when you jump in after sitting in the spa. My muscles respond and my legs are lighter. I jog up alongside the BOB to see if T Junior's eyes are closed. They aren't. I thought maybe he would fall asleep since he played in the Kids Cove for an hour.
I inhale for two beats, then exhale for two beats.
Control your breathing or you're not going to make it.
On Wednesday, I ran 3 miles in 35 minutes. I was proud of myself and now I want to prove I can do it again. I could do it in 20-21 minutes back in the day. That's hard for me to believe now. Of course, I had less body to carry and I wasn't pushing a baby. I picture myself in my skimpy navy blue shorts and gray sports bra. Sadly, I'm wearing the same bra underneath my yellow ribbed tanktop from Old Navy. I probably wouldn't be able to fit an arm in one of the leg holes of my old shorts.
One mile.
I'm approaching a sunny section and another pack of what looks like five or six boys. When we pass, one of them waves at me. I quickly nod and twist the corners of my open mouth into a slight smile.
That was nice. He probably thought I was one of his buddys' moms.
We cross a concrete pedestrian bridge over the Cedar River and T Junior leans forward in his seat and flicks his index finger toward it. "Abbah," he tells me.
"Yes. Water."
Funny boy. On the mornings I get him out of his crib, he always points out the things in his room. "Bed. Pooh. Diggeh. Light. Dog. Toys. Books. Bantet……..Bed!"
I pass two women pushing a toddler in an umbrella stroller. One of them is wearing a long, flowy skirt. Strange. It reminds me of the man jogging in a pale yellow button-up shirt that me and Heather saw on our 4-miler on Sunday. I wanted to say then, "What? No tie? Nobody dresses up for their jogs anymore," but I didn't.
I turn around in the sun at 1-1/2 miles, and I try to go fast.
What song was this CD on at 1-1/2 miles on Wednesday.
I think I can beat my time if I'm back at the start before Ugly Bug Ball comes on.
I stop running once I get underneath the freeway, near the end of The Monkey's Uncle. I fish my phone out of the BOB's back pocket and hit OK with my thumb. 3:55.
Woohoo! Thirty four minutes!
I'm pleased as I walk red-faced and puffing back to the minivan.
Once we are home, I put T Junior in his crib, go downstairs and gulp a glass of water. I plop down on the couch and grab my laptop to check my e-mail. I have a new comment on "Day 62: Stuff."
"And you better register for that half soon!" says the message from Zoe.
Oh yeah!
I get my wallet and make it official. I will be running my first Half Marathon on Nov. 29.