I can't get up on the first alarm for some reason, so I rose at the second one at 5:54.
I slid into my new REI OXT Airflyte Half-Zip Top that I got with my birthday gift card during my retail therapy session on Saturday. I pulled on my socks and capris, and went downstairs to tie on my shoes and get something to eat. I didn't need to map out my run since I did that on Friday morning.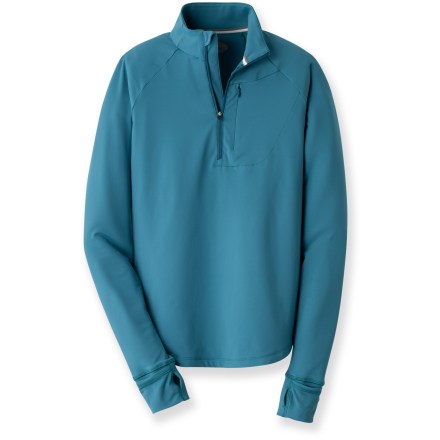 I hate eating before I run. In high school, we went to a Subway before a race once, and I ate a 6-inch turkey and tomato on white. About a mile into the 3-mile race, I had to stop and walk. My stomach hurt so bad, and it was a trail run so there were no portable potties anywhere. It was horrible. But, this morning, I knew I had to have some fuel since I hadn't eaten since dinner. Obviously, I now would never even consider eating something that big before going running. I've read that Chic Runner eats little tiny PB&Js during her really long runs because they're easy on her tummy. I made and ate half of a PB&J and drank half a glass of water.
My plan was to leave the house by 6:15 and I was walking out the door at exactly my goal time. I even had a minute to take pics. Here I am with a forced grin and my new shirt: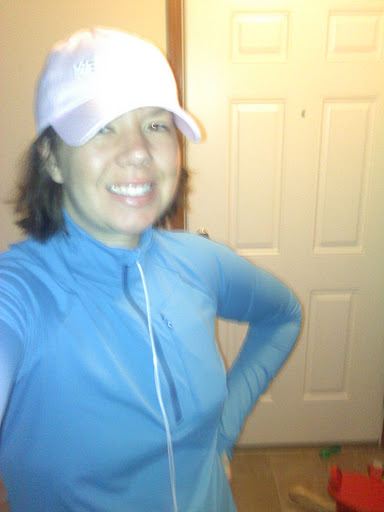 Not sure why it's so blurry, sorry.
I'm faking the smile because I still have an overall sadness from AJ's death and because it's really too early to be cheery (unless you work at Starbuck's). But I really like my shirt! (When I bought it, I found out it was on sale, too. Bonus!)
This is the second time I've been on a run in it. The fabric is stretchy and keeps me warm, but not hot. It breathes. One of the things I really like is the zippered pocket on the chest. It's perfect for my Zune. No more holding it! Inside, there's a tiny hole for the earphones, so no more swinging cords!
When the zipper is all the way up on the collar, there's a little fabric "house" for it so you don't have a cold piece of metal rubbing on your neck or chin. I don't think REI invented that, but it's much appreciated. Also, the cut of the shirt is longer in the front and the back so it's more flattering and provides better coverage.
I also like that the sleeves fold over my hands into mittens to keep my fingers warm, and when they start to heat up too much, I fold the fabric back and there are these handy little thumb holes. I'm not quite sure what the purpose of the thumb holes are, but they are nice. When my hands warm up, I just fold the sleeves up one more time and it's just a regular shirt.
Check it out: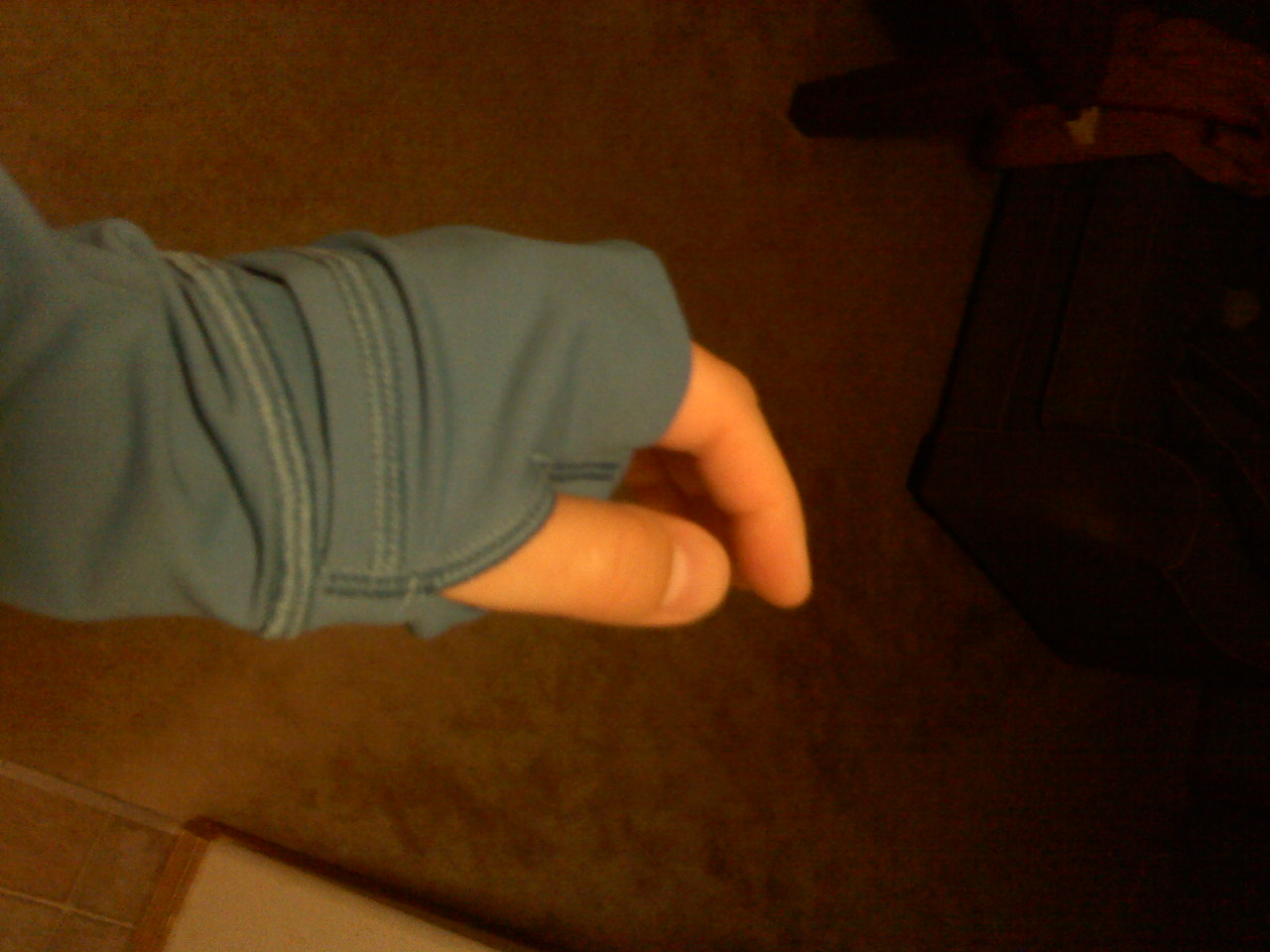 Perhaps, the humb holes are to keep
the long sleeves from being annoying?
Mittens! These took a few minutes
to get used to the first time I wore the shirt
on Saturday night. But LOVE this feature.
This morning I was worried that I'd still be too cold and I put my Old Navy track jacket over my new shirt. I peeled it off around the one-mile mark, and tied it around my waist for the rest of the 4 miles, which went reasonably well. My hips were hurting for the last half-mile or so, but that's my fault because I haven't been doing anything to strengthen them on my off days. I need to work on that.
As far as gear for my legs, I'm going to need some long running pants/tights. I tried some on at REI. The pair I liked by Nike was a little too wide at the ankle and had NO POCKETS! WTF? The pair with pockets by REI were perfect except the length — it looked like I was expecting a flood…a deep one.
Trying on the new gear on Saturday, though, I was happy to find out that I fit in a Large in everything. No more XLs! And, this morning, I weighed myself and I lost 2.5 pounds this week! Hopefully, this trend continues.
PS: REI, you can send my endorsement check to my home address. Thank you. 😉