The last two weeks, I've been doing so good with my weight. I lost four pounds! But I gained one back this week, and I'm not sure why. Well, I have an idea…
DAY 261
In the interest of saving time, and getting out the door at a more reasonable hour for my evening 7-miler, I put on all my running clothes before making dinner. Everything — shirt, capris, BodyGlide, socks, shoes. I even gathered all my gadgets and put them in one central location, so I wouldn't have to run around looking for them after putting T Junior to bed (and I wouldn't forget something important, like AJ II, which I almost did last week).
Here's what it looks like when a mom gets ready to run for the evening: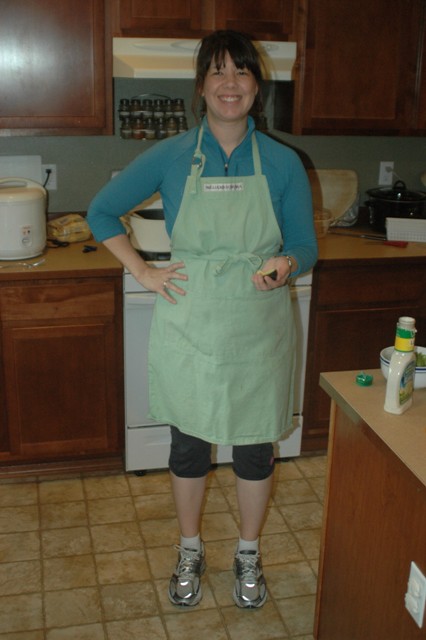 That's an avocado I'm holding. We had rice and teriyaki chicken, and salads with tomato and avocado and some light ranch dressing. Even T Junior likes salad. It sort of looks like I'm enjoying myself here, but I'm not. I don't like cooking. I wore the apron to protect my running clothes.
But I was excited to go running. I hadn't been since Sunday and my little breakdown.
After dinner, and T Junior's bath and bed, I quickly got out the door for 7 miles. My time-saving technique worked!
The run was different because I listened to LB's heavy-metal running playlist. Okay, it wasn't all heavy-metal, but it wasn't my music. I did have a goal for this run (besides finishing, which is always my #1 objective). I wanted to do Mile 2 and 3 at a sub-10-minute-pace, and I did! I burped up teriyaki a couple times, but I held it in.
I ran the town loop twice before heading back into my neighborhood. Both times I ran by the hardware store, the air smelled like a carnival — sweet and salty and smoky. I wonder why.
An interesting thing happened on this run, though. I typically loosen up as the miles go by, but Tuesday night, I got tighter as I ran. My calves especially. (They are still tight as I write this Friday.) I don't think I can blame it on LB's music.
4/6/10 – 7.04 Miles – 1:13:00
Average pace: 10:22
Mile 1: 10:28
Mile 2: 9:51
Mile 3: 9:38
Mile 4: 10:36
Mile 5: 10:11
Mile 6: 10:57
Mile 7: 10:48
DAY 262
My calves were so tight, it made going down the stairs difficult. I had to step sideways down each stair while holding onto the rail at home and at work. I looked pretty dorky (more than usual). I hoped my scheduled lunchtime 3-miler would fix it.
Running on my lunch hour is stressful sometimes because I truly only have 60 minutes, and I'm not fast at changing clothes. But I did get a chance to wear this running skirt I found at TJ Maxx a couple of months ago. It was only $3, so how could I not get it? This also was the first time trying out a Danskin tank I bought at Walmart for $7. I liked both pieces, but I think the combo makes me look a little like my favorite Easter candy: jelly beans. The classic kind.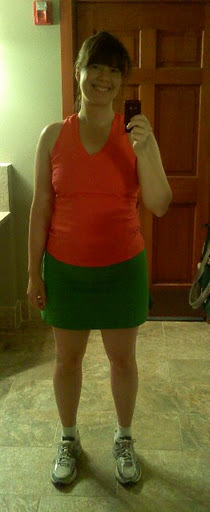 Except, have you noticed there aren't any green jelly beans anymore? Didn't there used to be? And also, there were only like four black beans in my T Junior's Brach's bag and that is the best flavor. Why should I have to suffer because other people don't have as sophisticated of a palate as me?
Anyway, once on the treadmill at the Secret Gym, I had a little trouble with the settings for some reason. I've used this 'mill lots of times, so I don't know what the issue was. It took me a few minutes to figure it out, so I didn't get running till almost 11:50! And, what is it that seems like treadmill running takes longer than hitting actual pavement?
I started at a 10:30 pace for the first half-mile, then quickly bumped it up to a 9:44 pace because I was racing the clock! Then, I bumped it up to 9:20 and I felt comfortable enough to hold it there for about a mile and a half, then I bumped the speed down to a 10-minute pace until I looked at the clock and had to bump it up to 9:44 again in order to make my three miles, and still have time to get dressed and get back to work by 12:30.
Elliptical lady was there Thursday, too, striding away right next to me. It was a little awkward to be the only two people in the gym and be less than 12-inches apart. I bet she was glad I wasn't on her machine, though.
4/7/10 – 3 Miles – 29:22
Average pace: 9:46 (according to DailyMile)
DAY 263
I'm always so tired on Thursdays, and normally I do my volunteer phone call at lunch, but my client wasn't home. I should've gone for a 30-minute walk. I even brought my gym bag in case I wanted to change our phone time and ride the bike instead. But I did neither.
Since my training schedule has changed, though, I will be changing my phone time permanently so I can cross train regularly on Thursdays.
I told myself I would take T Junior for a walk when I got home, but it was so windy, I didn't think either one of us would enjoy it. Then, I told myself I'd do a strength workout. I was tired, though, and I wanted to read instead.
Thursday was sort of a fail, but I'm not going to beat myself up about it. Besides, I have 15 miles on Saturday.
DAY 264
What's on the schedule today? Nothing! Actually, I will be hanging out with T Junior and just being a mom. And I think I will write during his nap. Maybe some cleaning.
Tonight: spaghetti! Tomorrow: 15 miles.
Oh, and about that idea: I threw the remaining jelly beans in the garbage this morning after I weighed myself. I had to blame something. Their shiny little pink and orange and white and yellow bodies looked so hopeful on top of the brown banana peels, soiled paper towels and T Junior's discarded dinner roll. It was a proud, sad moment.