DAY 348
The gym doesn't open early enough for me on the weekends, so I don't know what to do with myself. Didn't matter on Saturday anyway because I had to get T Junior up in time to hit the party store before our neighborhood bike parade.
Back at home, we decorated his bike. And by we, I mean I. Then, T Junior threw a tantrum because he didn't want to wear his bike helmet. I already was very grumpy (seems like I always am when I miss my workout), so this just made my mood worse. But he actually responded to, "If you want to go to the parade, you have to wear your helmet." Phew.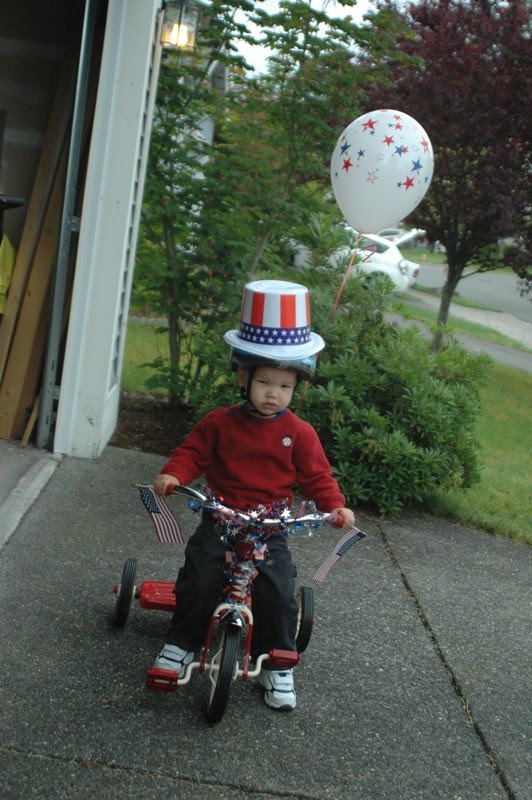 Mr. T wanted to bring Bennie for socialization purposes. Oh boy.
It took us longer to get the parade just down the street than the actual parade itself. T Junior sort of knows how to ride his bike, but not fast. Luckily, a handy push-bar on the back let me tip him up and give him a power-boost…which I ended up doing for the parade, too. So I got a little arm workout.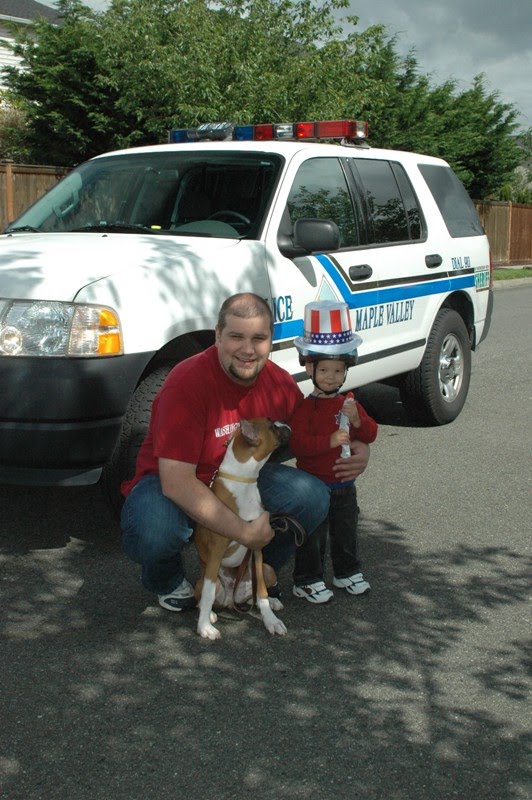 Bennie was a good boy. He's just a pup, and he was so excited to be around all those people and kids. He never stopped jumping. One time, his ankle bone hit my left ankle bone and my whole foot burned hot then went numb for a good five minutes. By the time the parade was over, T Junior got his popsicle and we took some pictures, Daddy and doggie were d-o-n-e.
So was Mommy. But our walk home took about as long as walk to the parade thanks to the melting rocket pop. Once we reached the house, I fed T Junior, then put him, and myself, down for a nap.
DAY 349
No workout AGAIN. Mr. T kissed me good-bye at about 5:15. He was off to play in his first bagpipe gig (a parade in Friday Harbor) with the Keith Highlanders Pipe Band. T Junior and I didn't go because it's really far away. In fact, me and Mr. T were comparing his trip Sunday to my NODM trip.
I got up late, almost 8 a.m.! That's really late for me. I usually am up by at least 7. I hurried to get ready for the day before T Junior woke up. But first, I cheated.
I weighed myself a day early. I was just curious! I stepped on the scale and did a fist-pump when I saw the number. I'm hoping it's at least the same tomorrow. I will take tomorrow's weigh-in as the official one, no matter what. I just needed to see that my hard work was paying off to keep me motivated for the holiday.
Later, me and T Junior met our friends in a nearby town for their annual parade. It's big enough, but small enough. Know what I mean?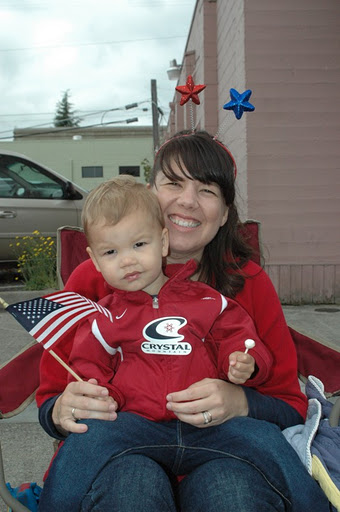 Obviously, I need a haircut.
Yes, it is cold here in the Seattle area. It was windy and we needed blankets. T Junior had a fun time waving his little USA flag. His favorite part? The Little Ceasar's pizza mascot.
I got lost on the way home. I missed my turn and ended up on the wrong highway. I tried to cut over on the country roads and got myself more lost and ended up back on the wrong highway again. I tried to just follow that highway, then hit holiday traffic. I turned around and went back to start over again. Our trip home took almost an hour. Actual time it takes to get home on the correct highway: 20 minutes.
The rest of the day went sort of like that and finally, I just threw in the towel. We had frozen turkey burgers (thawed and cooked, of course) for dinner. Mr. T got home right when they were cooking and wasn't hungry. It was raining outside. T Junior wouldn't eat.
I felt bummed out about our holiday and I stuffed myself. Why does celebrating our freedom make me feel like I need to gorge? I ate the entire turkey burger (with avocado slices), curly fries (although, I was too full to eat too many because I had some chips and salsa while making the burgers), and I had a Blue Moon. I had plans for dessert: angel food cake.
But now I don't know if I even have room. With the angel food cake, I'll be -8.5 points for the day (and that's using all the extra points out of my 35 for the week). I feel like I blew it all at the end of the day today. I even had a salad for lunch.
Outside, our neighbors are shooting off fireworks while it's still light out and me and Mr. T are watching the Sounders play the Galaxy on TV.
I'm looking forward to a new week starting tomorrow. Gym in the morning!
Hope you had a happy Fourth, however you celebrated!
Today, I am grateful for:
-The men and women who fought and fight to keep our country free.
-Mr. T home safely from his day trip.
-A cool, rainy Fourth means less fire danger (trying to look on the bright side here, people)
COMING UP: Monday weigh-in!