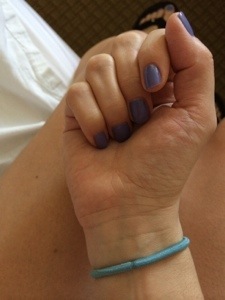 There are days when I feel real dumb. Yesterday was one of them.
Yesterday morning, before I got on the plane to Nashville via Dallas, I slipped a hair band on my wrist in case I needed a ponytail later.
I never needed one.
About 5 hours later, I couldn't figure out why my thumb was numb. About an hour after that, I remembered the hair band.
Guess what? My thumb still feels like the dentist shot it full of Novocain.
After Zoë's ripped thumb nail yesterday, which if you're not squeamish, you can see here, we figure we are having some real thumb luck.
Although, Zoë's was an accident. Mine was just because I am a dum-dum.