The Goal: Healthy Eating for the Whole Family
"Look! Look what I got you!" I cried, holding up two boxes of Annie's bunny-shaped macaroni and cheese. My four-year-old, who was sitting at the dinner table, turned around quickly to see what exciting prize his mommy had for him. "Thanks, Mom," he said, appreciatively and then turned back to his dinner: scrambled eggs and cheddar rolled in a whole-grain tortilla.
"It's bunny pasta!" I tried, as I put them in the pantry.
My son said, "Mac 'n' cheese falls off my fork. That bunny kind falls off my fork." Seriously? Seriously? Then use a spoon, I thought.
"But you love mac 'n' cheese," I said.
"I like the other kind."
Kraft vs. Annie's Macaroni & Cheese
It's not his fault he loves the other kind. For a while there, I bought Kraft Macaroni & Cheese like it was being eliminated from the marketplace. I'd get it on sale at Safeway or stock up at Costco. It was easy and my son liked it – and that's kind of where I was at that time with meals for me and my husband, too. If it's easy and we like it, then it works.
He's young, I justified, he can eat crap and not get fat. In my heart of hearts, I knew it wasn't good for him, though. And I also know that the "fat" thing wasn't really what I was worried about. But sometimes you just push that inner voice down until it's so quiet you don't really hear it anymore. I didn't have time to think about it anyway. Besides, American kids have been eating this stuff for years, and we're all fine. (Um, no we're not. How about the highest rates of cancer, heart disease and obesity in history?)
And, c'mon, who was I kidding? We all know nothing good for you is easy. Running is good for you. Is it easy to get your butt out of bed before 7 a.m. on a Saturday for a 10-miler? In the winter?
I'm a copywriter. That means I write copy on packaging to sell products. Want to know what my go-to phrase is? "Fast and easy." Fast and easy sells. Fast and easy is sexy. Fast and easy appeals to everyone.
Boxed macaroni and cheese is fast and easy. If I'm being really objective, which I try to do, no matter if it's Annie's or Kraft, it's not great. I just choose to buy Annie's because the ingredients are much less chemically frightening than Kraft's. Here's a great article comparing ingredients in the two products on the blog, A Life Less Sweet.
Being Honest with Kids About Food
I've developed some quick-mom-thinking skills over the past four years, but this healthy eating thing is a new frontier. I just can't say I won't buy "the other kind," right? He won't accept that! I need an excuse.
But, overall, I've always wanted to be honest with my son. Just the other night we had a serious discussion about age, death, dying, God, Heaven. Those are things not even I fully understand, but he seemed to get them when explained in a simple way. So, I just told him.
"Well, hon, I know you like the other kind, but I am not going to buy it anymore."
He wanted to know why.
"Because it was making you sick."
Okay, so maybe that's a stretch. But it could contribute to making him sick later on in life. That's where I was going with that. Of course, he thought it meant he would get a cold. "It doesn't give you a cold, but it hurts your insides. The inside of your body. It's just not good for you," I explained.
Here's the shocker! He totally accepted this.
"Oh," he said, "That other kind will make me sick and hurt my body, so you're not going to get it anymore."
"Yes," I said. Ohmygod, he gets it! And that was the end of the conversation.
I know not all 4-year-olds are on the same level with things like communication and trust. And not everyone's working with a 4-year-old. I'm sure, if he was five, this would've been a much more difficult conversation – maybe even a fight. But I have always found that just telling kids the truth, maybe even siding with them a little bit (hence, the "I know you like the other kind" I threw in our conversation), usually is the best way to go.
Clean Eating for Kids
I usually make our dinner. My husband and I began eating more cleanly a couple of months ago. Naturally, I want my son to eat better, too. But it's not easy. Besides the mac 'n' cheese, his other favorite food was the cheese roll-ups from Taco Bell. *sigh* Also, our fault. After he started asking for them all the time, I at least, began making them at home, but still with a white flour tortilla and rubbery shredded cheese bought in bulk at Costco.
Since our diet clean-up, though, if he gets a "cheese roll-up" it's on a whole-grain tortilla, and it's cheddar cheese and some shredded chicken. Or I throw some black beans in there. Avocados on the side.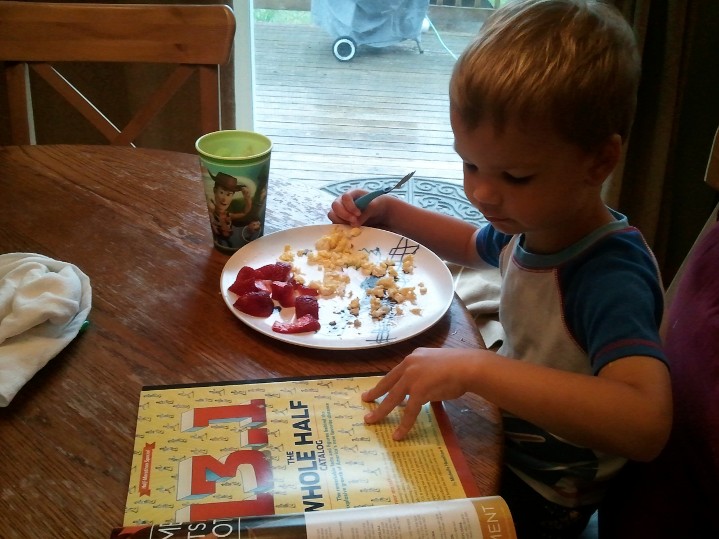 Cleaning up my son's diet hasn't been nearly as difficult as I thought, though. It's not fast and easy, but it's not terribly time consuming either. When I make dinner for me and my husband, I just use the same ingredients in a different way for something for my son. I'm not sure that's right, but he's four. His palate is not as refined as ours. He likes bland things.
For example, if we're having chicken and broccoli, I'll put his chicken and broccoli on some whole-grain pasta mixed with a little butter and some mozzarella. Done.
One of the easiest ways to improve your and your family's diet is to just buy only healthy stuff. By healthy stuff, I mean whole grains, real produce, real proteins and real dairy. Cut out the processed crap. You may not want to take your kids with you to the store, at first. If you can't get to the store without them, buy groceries on Amazon Fresh or get groceries delivered if that's available where you live. I have a friend who shops at night after her husband is home so she doesn't need to bring the kiddos. But once you've resolved to buy healthy foods, you may actually want to start bringing them with you; involving them in the process of choosing real, whole foods.
Eating Healthy is a Journey
I was guilty there for a while of feeding my son crap while I ate healthy foods. It was just easier! More and more is coming out about the harmful effects of toxic chemicals in our food. And I am just taking notice.
I feel like I'm standing on a little piece of ice in the ocean. It seems really small, but I know that if I were to stick my face in the water, I'd see a giant mountain of an iceberg under me.
What I'm saying is that, eating cleaner is a journey. You can't go from one extreme to the other. You're not going to get it fixed right away. I'm certainly not. Just work on it. Work on your and your family's diets over time. Slowly replace the bad things with good things. Read labels. Read health articles.
We're just starting out on our health journey, too. In the future, I probably won't even buy Annie's macaroni and cheese. Maybe by then he'll get excited over whole-grain pasta and cheddar!
How do you get your kid(s) to eat healthy foods? 
Clean Eating Resources
I'm not an expert on healthy foods. I'm just a mom trying to figure it out. Here are some places to learn more about eating clean for you and your kids: