I wasn't going into an office this morning, but I definitely had a case of the Mondays.
When my alarm clock went off at 6:30, I stumbled over to it and hit the snooze button. Aahhh. Nine more minutes of blissful sleep. Well, not really. Does anyone ever sleep well after hitting "snooze"?
So nine minutes later, I was up, but dragging. It took me more than 30 minutes to get ready for my run. That's way too long. I guess my 3-year-old's stalling tactics are rubbing off on me.
But finally, I was out my front door. And then I was back in to find my sunglasses. And then I was back out again. My warm-up run was HARD. Like Monday hard. Like I'd rather drink coffee and put on my slippers hard.
About a mile and a half later I was at my hill. On my sub-2-half training plan this morning: 5 x 200 meter hill repeats.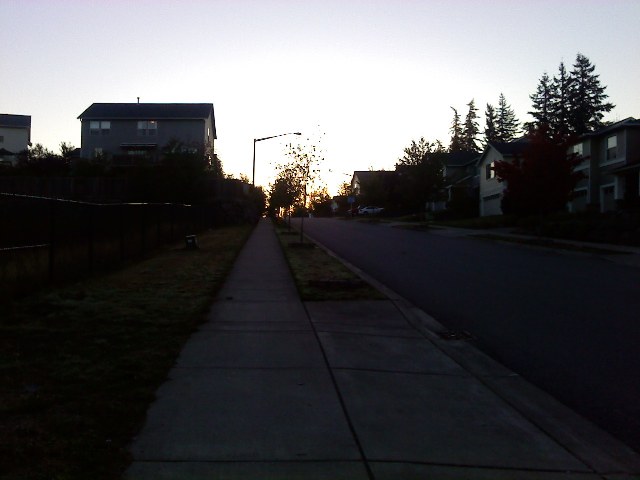 The view up. Picture from February 2010.
I did a little research yesterday (using MapMyRun) to find out what hills in my neighborhood were about the right length and grade for hill repeats. This one, above, the one I've always used for hills, ended up being the best one even though it might be a tad steep. It is around .12 miles (about 200 meters) long. The grade starts at about 8-10 percent, then goes up to about 13-15 percent, then stays about 5-6 percent till the top.
I knocked out the first of five hills really focusing on driving with my glutes and hamstrings. My PT keeps reminding me how strong the glute muscles are — wide and flat. "Ever heard of anyone getting an overuse injury in their glutes?" she pointed out last week. I try to keep this in mind on my runs now.
A couple people were around while I was sprinting up then jogging down. I felt sort of silly, but I was too out of breath to care. The fifth uphill was rough and I was gasping for air at the top as I set off on my cooldown run.
Honestly, I didn't want to cool down. I wanted to go home. But I made myself stick it out. Why am I so sluggish this morning? I couldn't figure it out.
Then I ran past the coffee stand in town. I breathed in the warm smell of caffeine and muffins, and I realized I hadn't eaten anything pre-run or had any water since last night. I'm not the kind of person who can run well on empty.
At home, I refueled with half a glass of chocolate milk, and a 1/2 cup of oatmeal loaded with strawberries, blueberries and half a banana, a Tablespoon of brown sugar and some whipped cream. And I knew those hill repeats were worth it.
Breakfast is my favorite meal of the day!
What is your favorite breakfast food? Do eat before you run in the morning?