It's Wednesday and I'm starting to feel normal again after one of the most amazing running experiences of my life. This morning, I could more easily keep my eyes open on my drive to work. I even managed a speed workout during my lunch hour. I guess I needed three days to recover after Hood to Coast. Here's why:
THURSDAY
Thursday was sort of chaotic. I'd stayed up late Wednesday night getting gift bags (er, classy plastic Safeway bags with Christmas tags on them) ready for Team Nuun Platuun. A number of awesome companies donated items to our team, including Moving Comfort, 2Toms, Tommie Copper, RoadID, RunningSkirts, Buildasign.com, GU Energy, Jack Black Skin Care, FlashBrite, Jamba Juice and Jenny Craig.
I had issues on Thursday pulling together all my stuff. I even unpacked and repacked my bag. And, of course, I would find out Friday night that I somehow omitted my headlamp. I had other issues Thursday morning, too, involving technology, laundry and the dogs. I really did my best to keep it together, but I was nearing my breaking point.
I dropped T Junior off at day care at 11 and cried. I've only been away from him one other time, and I worry. Mostly, I worry something will happen to me and he won't have a Mommy. Morbid, but true. Anyway, I had a few more things to do, so I had to suck it up and move on.
Finally, I piled all my crap out onto my front porch and waited. My dear running buddy, Zoë (Run, Zoë, Run) was meeting me for lunch in a location easily accessible to Mel (Tall Mom on the Run). Mel was kind enough to drive her car to Seattle for the weekend so I didn't have to bring mine. And Zoë was kind enough to get me to Mel.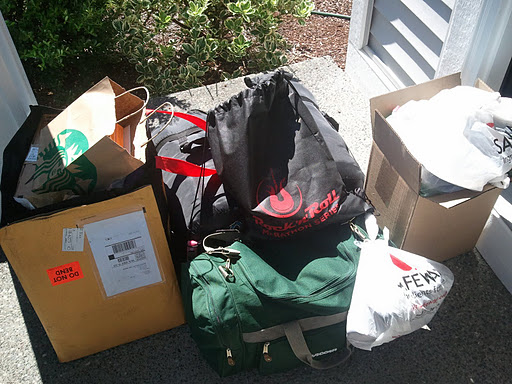 The lunch was bittersweet since Zoë is going to China for a month, and on Thursday, she wasn't sure if she'd already be gone by the time we got back. The waitress asked us, "Doing anything exciting this weekend?" We just kind of shook our heads, but then Zoë pointed at me and said, "Well, she's running the Hood to Coast — a 200-mile relay." The waitress was taken aback a little, and then I pointed to Zoë and said, "Oh yeah, and she's moving to China." You know, just the usual.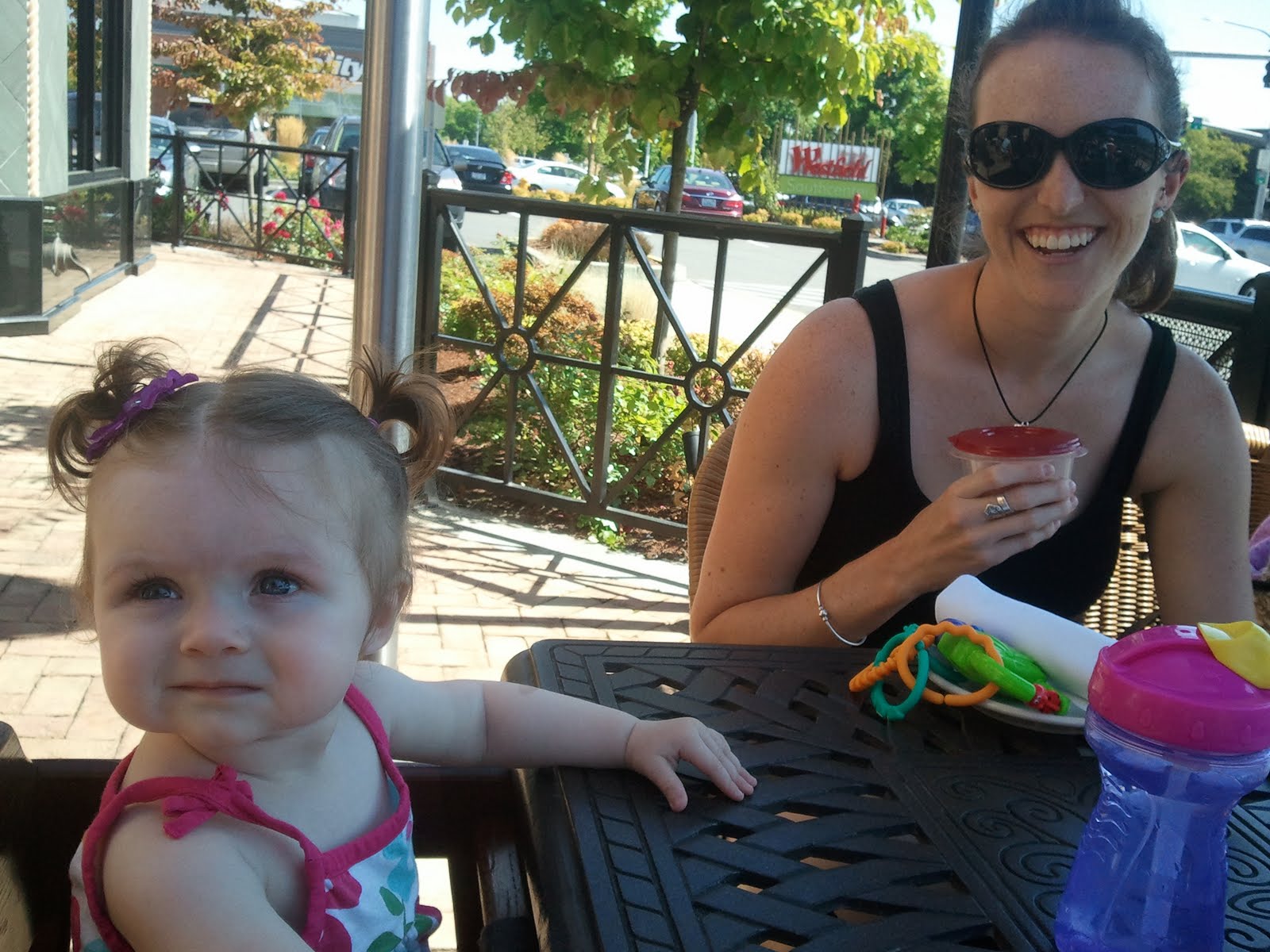 Goober and Zoe.
Mel arrived and we all hung out for a bit, but soon Mel and I were on our way to the hotel in Seattle.
Zoe, me and Mel. I finally took a good self-portrait!
We pulled up to the Silver Cloud just behind another group of bloggers! Some I'd met before, including Jess (Blonde Ponytail), Harmony (Keep On Keeping On) and Tonia (Racing with Babes). I met the other women and we all went in to check into the hotel.
After everyone had congregated in the lobby, we went to decorate the vans. Team Nuun Platuun (NP) is sort of chill, which made van decorating interesting. It took us a while to get going. After-NUUN-Delight's vans were bright and colorful and they'd brought photos to tape to the vans and had good ideas for magnets from Buildasign.com with all their blog names on them.
Our NP magnets from Buildasign.com looked good, too, but we hadn't thought about blog names or any of that. Just our team name. Our team seemed so … "whatevs" … while the other team seemed to have a plan. I felt a little like I should've gotten more decorating stuff, but my life has been really hectic lately and I didn't have a lot of time to go to Army surplus stores or think or anything like that. I was barely able to find time to get the paint pens.
Speaking of which… there was a debate during decorating about whether or not we could use the glass-paint pens on the sides of the vans (and not just the windows). The other team went nuts with the paint all over the vans while we were total rule followers and only drew on the glass. Lisa supplied us with some cool camo netting for the top of the vans. Sadly, it never made it on Van 1. But Van 2 rocked it and it looked awesome!
Front to back: Tonia, Jess, Tricia and Harmony.
I think we were just too busy socializing!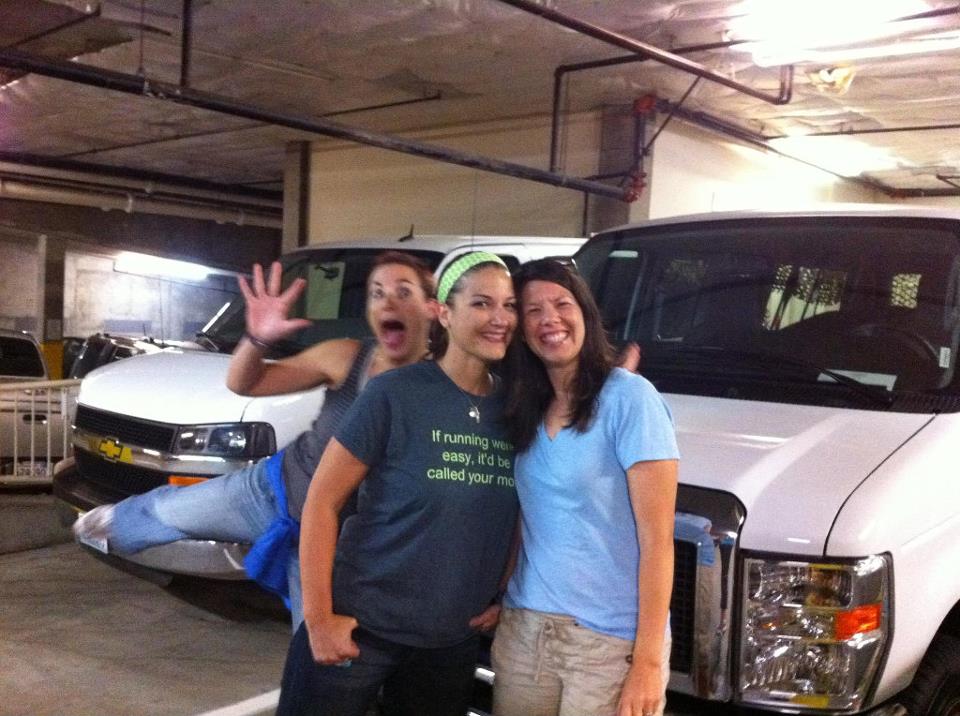 I heart this picture.
Still. I liked our van. Understated military chic.
Like our target practice guy? Jess did an awesome job drawing him.
He was smiling, but we decided to change that.
When you pass someone on the HTC course, you get a "roadkill."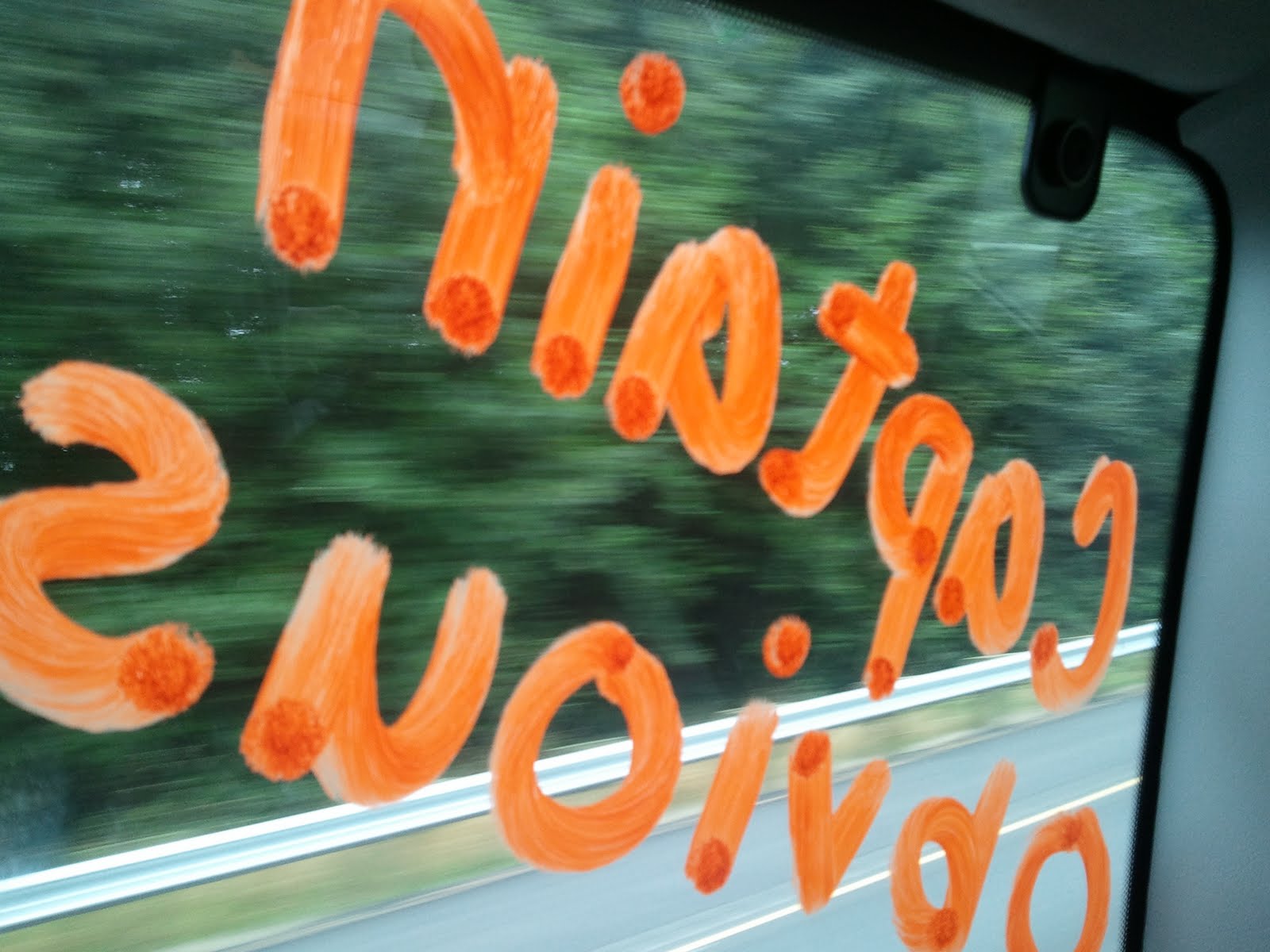 After decorating, we all walked down to Nuun Headquarters – just a couple blocks down the street. Inside, we met all the employees and we introduced ourselves. I was quite excited as there were several Washington State Cougars in the room. I'm a WSU alum and I'm sort of a hard-core fan. I knew Nuun employee Caitlin, also a Cougar, would be in my van, and I'd met her at the Seattle Rock 'N' Roll Expo, but I didn't know that she's as hard-core of a fan as me. And, Harmony – also a Coug! — was on Team Nuun Platuun, too! We all made it clear we were Cougs during the introduction, which most people from out-of-town didn't quite understand, but oh well.
After dinner and raiding the shelves at Nuun, we all did a little gift exchange. Jess, whose husband is a baseball coach at WSU, brought Coug stuff, so she showed me which bag to grab during the exchange!
Back at the hotel, Team Nuun Platuun divvied up all the amazing things companies had donated to us. 2Toms gave us roll-on SportShield and some anti-chafing wipes that look super easy to stash and take along on long runs! Tommie Copper gave us each a pair of calf, ankle, knee and elbow sleeves. RoadID sent us individualized FIXX IDs – necklaces that look like dog tags, which were perfect for our military theme. Mine says: "Captain Obvious. Nuun Platuun. Hood to Coast 2011. 'Free Your Mind and Your Feet Will Follow.'" Moving Comfort sent us all a bra to try. Jack Black Skin Care sent us a ton of products to try. GU sent us a huge bag of gels. FlashBrite sent us some reflective stickers. Jamba Juice gave us some coconut water to try. And Jenny Craig sent us some oatmeal breakfast squares, which turned out to be perfect pre-run fueling for me. And, of course, RunningSkirts outfitted us in camo! I cannot say thank you enough to these companies (and Nuun, of course) for their generosity!
Afterward, everyone in my room went to bed. Me, Lisa (Discovering the Meaning of Stonehenge) and Emily (Sweat Once a Day) were all leaving with Van 1s in the morning. The plan was to roll out of the hotel at 6. We set our alarms for 5 a.m. Lisa and I stayed awake too long chatting, though, and then I tossed and turned the rest of the night keeping her awake. Finally, 5 a.m. came around and we all got up. I felt like crap. I hadn't been sleeping well in the days leading up to Thursday and a night of barely any sleep (maybe 3 hours) certainly didn't help.
FRIDAY
We gathered in the lobby before 6 and took pictures. In NP Van 1 was: me, Tricia (Endurance Isn't Only Physical), Alyssa (Diary of an Average Runner), Caitlin (Nuun employee), Alex (Nuun employee and driver), Lisa and Margot (The Faster Bunny). We also had Rodrigo, a photographer, in our van for much of the weekend.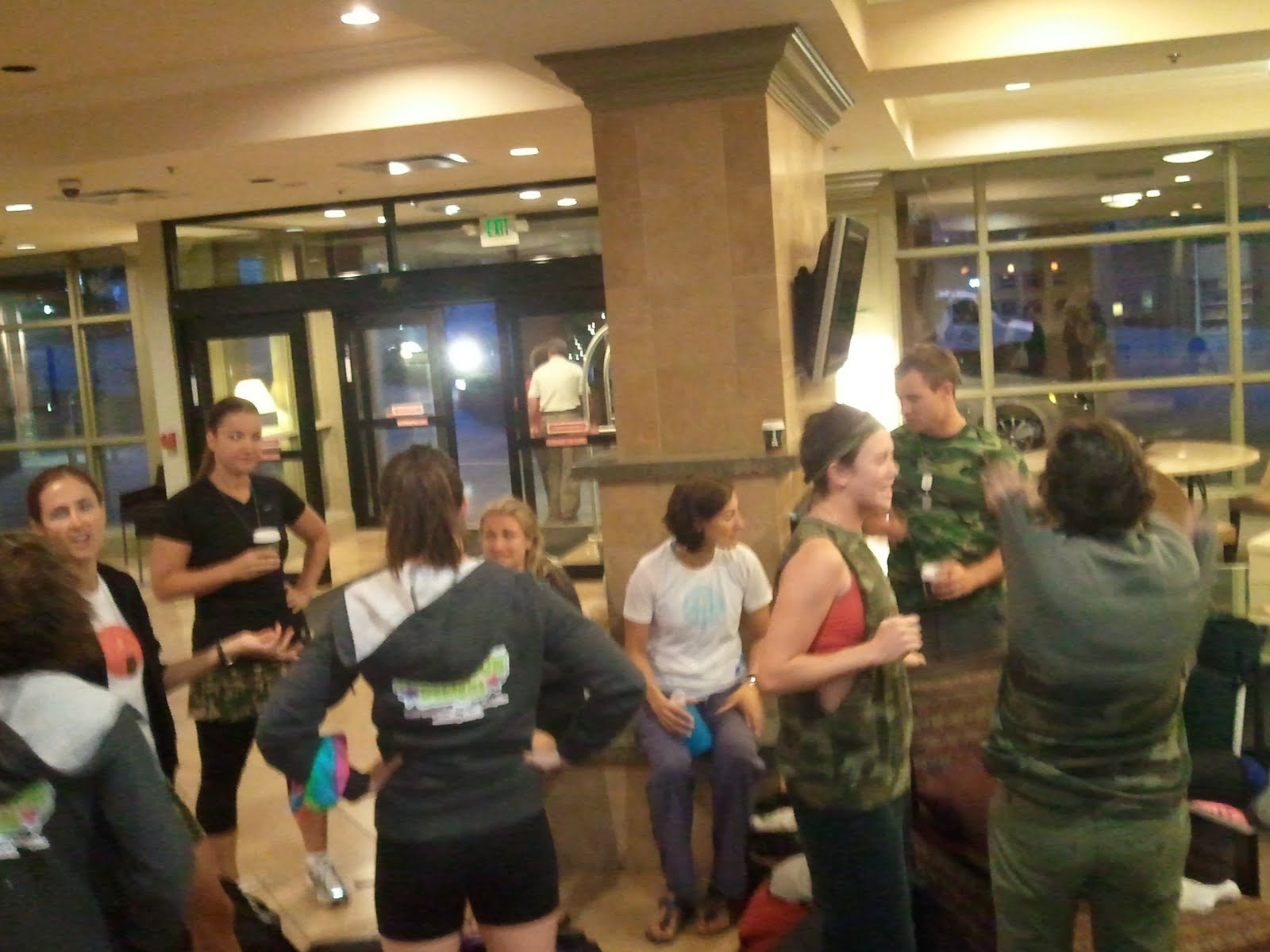 Lobby scene.
Van 1 Nuun Platuun: me, Tricia, Caitlin, Alyssa, Alex, Lisa and Margot.
Only half of us got the memo that we were supposed to be acting tough…
Next thing I knew, we were loading up and heading out. Luckily, we stopped for coffee and breakfast at Starbucks. This helped me feel better and my headache (from a too-fluffy pillow and no sleep) eventually went away.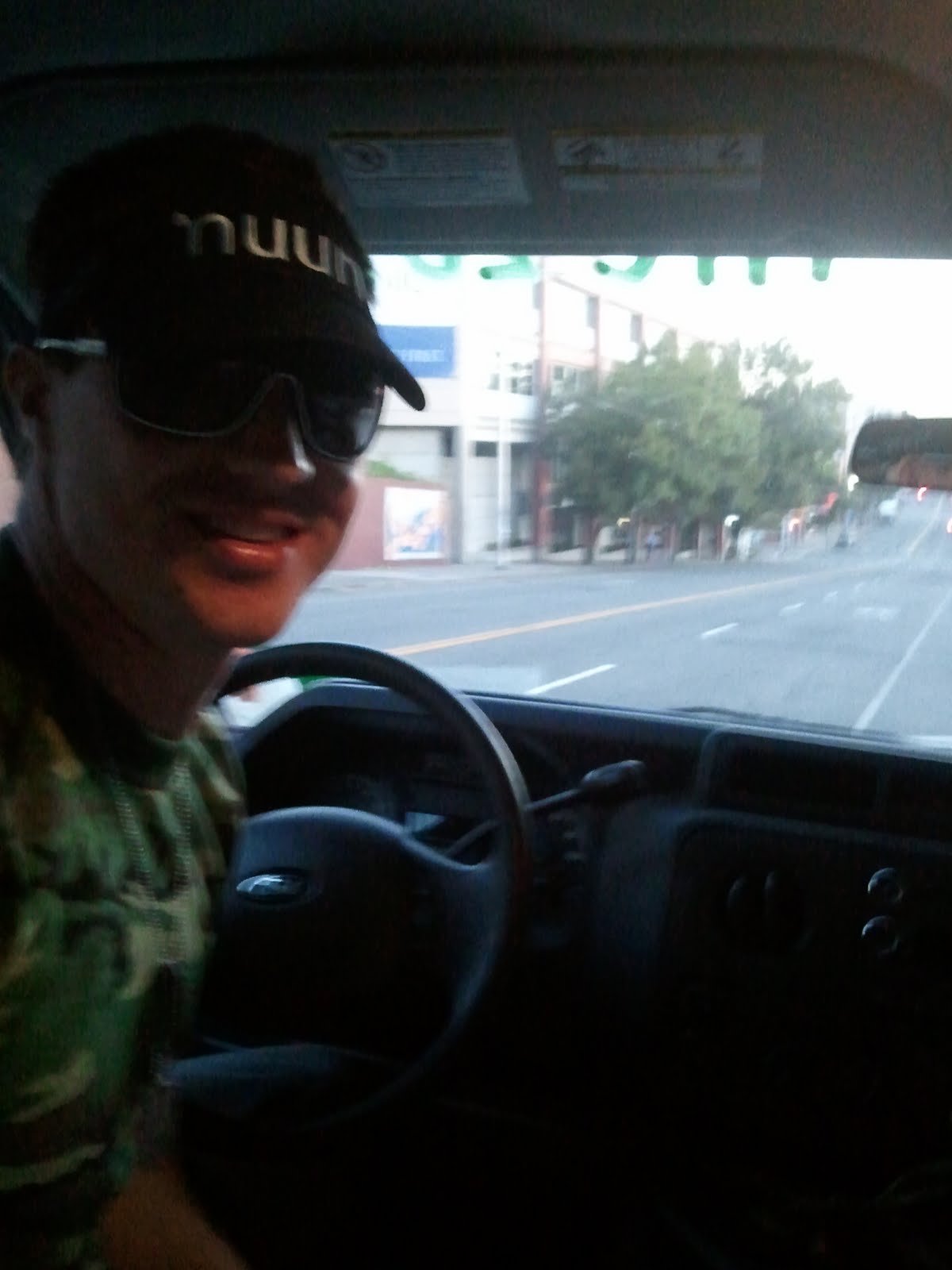 Our awesome van driver, Alex. The only sad part about him…
he's a University of Washington Husky (WSU rivals).
On the way to Oregon, we were each interviewed for a small blog article for Mountain magazine's website. This was super weird for me and I passed the phone off pretty quickly. I'm used to doing interviews, not being interviewed. You can read the story HERE.
Lisa interviewing with Mountain magazine.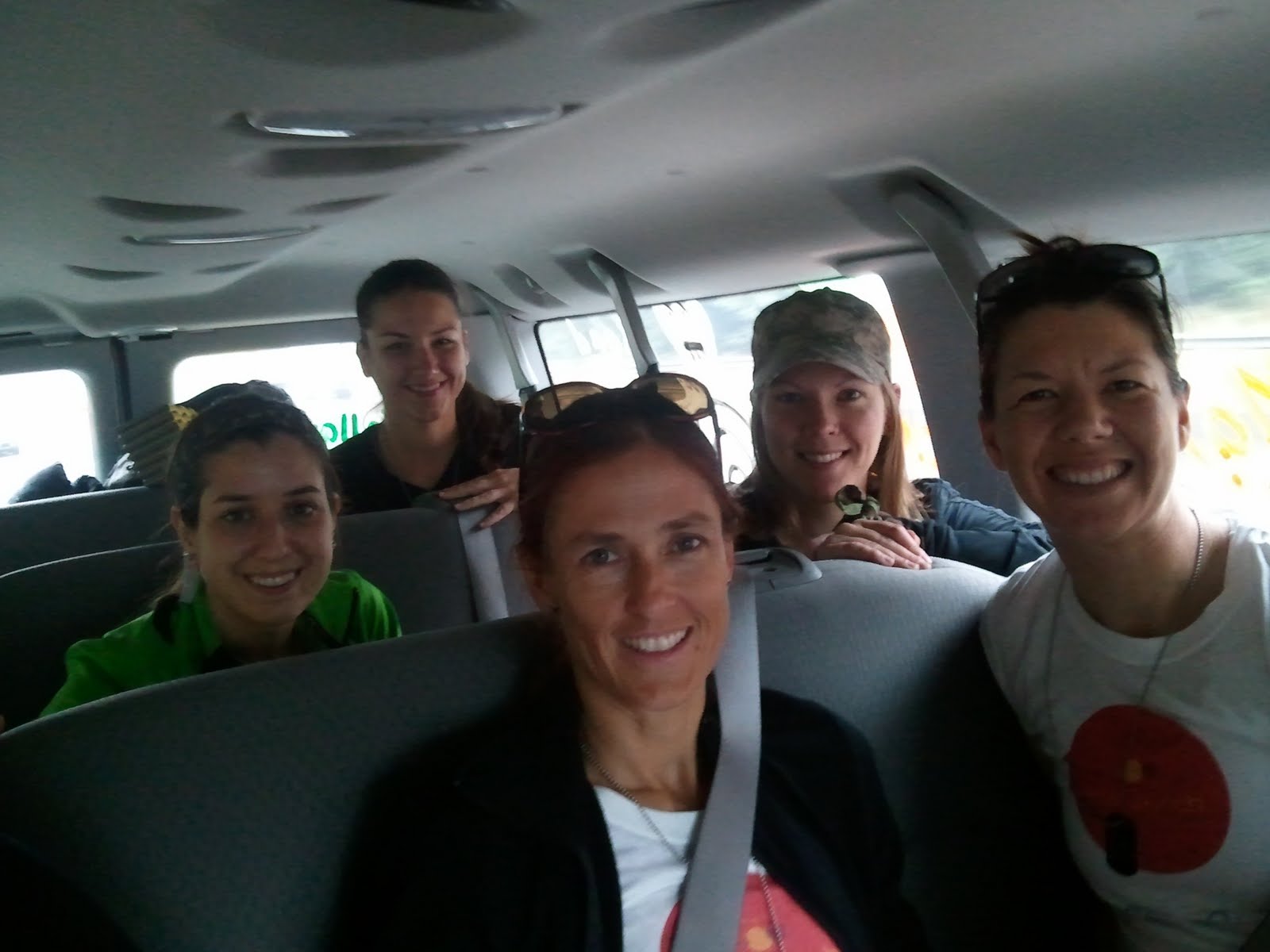 See how fresh we look!
The rest of the trip we just goofed off. Soon, we were in Oregon and it wasn't long until I started seeing runners! We were starting to get close, so I decided I better braid my pigtails. I've never done this without a mirror. I ended up taking self-portraits to see if they looked OK. I topped them off with camo ribbon that Lisa brought. We were twinsies!
Me and Lisa.
Before we got up the mountain, we made a quick stop to use the bathroom in a little Alpine-esque town. Only problem: no bathrooms. Finally, we found a really nice bathroom in the Mount Hood Cultural Center and Museum. I donated a dollar as a "thank you." Back in the van, we made our way up the mountain. Up, up, up. The view was gorgeous. I snapped a picture of a woman running downhill. It looks weird since we were level with the hill.
Tilt your computer screen to the left to get the effect of the hill.
It looks funny because I was level with the road.
We arrived at the start line with only about a half-hour before go-time!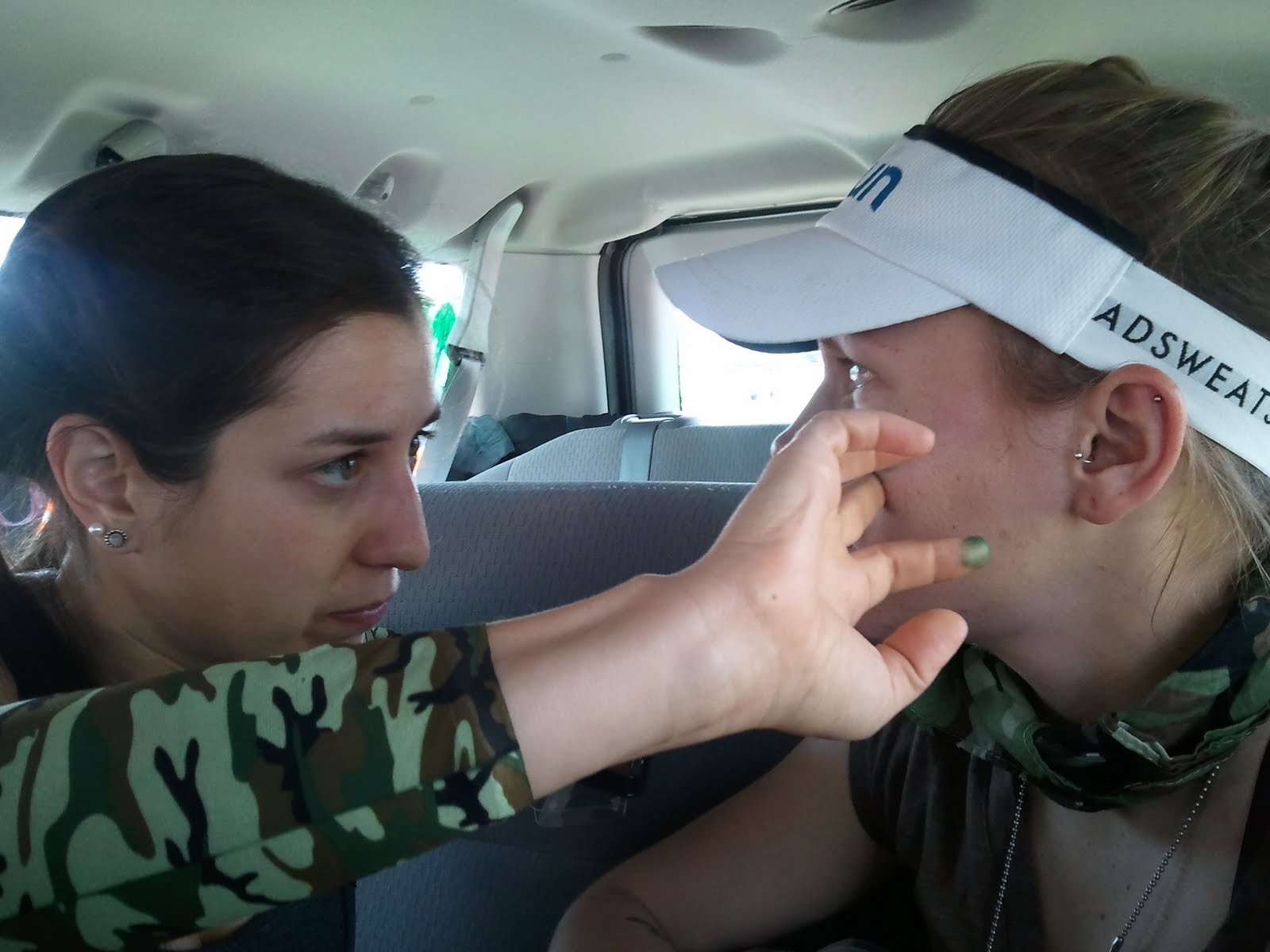 Margot puts Alyssa's war makeup on.
Finding a parking spot was sort of crazy. But it was fun to see all the different decorated vans. I liked this one: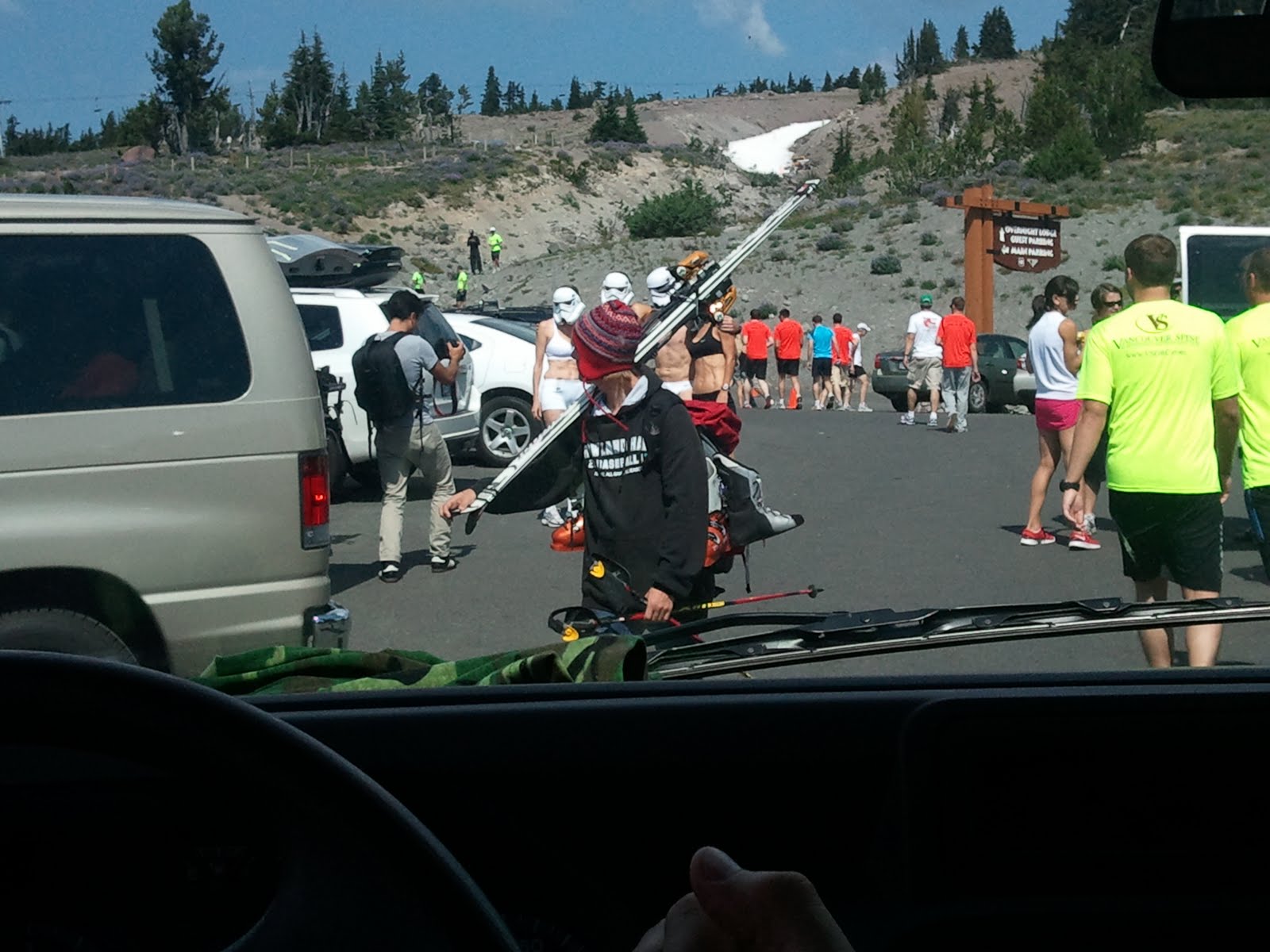 Skiers?
And, this team caught my eye.
That's the Nuun photog shooting Team Storm Troopers in Speedos.
Up at the top, it was hot! It felt hotter than any Seattle weather I'd experienced all year. We've had maybe 2-3 days over 80 degrees.
Tricia, NP Runner 1, was nervous. We met up with After-NUUN-Delight and we all put Nuun tattoos on ourselves and others, and introduced Nuun to other runners. And we were all a bit stunned when a runner from Dead Jocks in a Box came up and said, "Nuun Platuun?"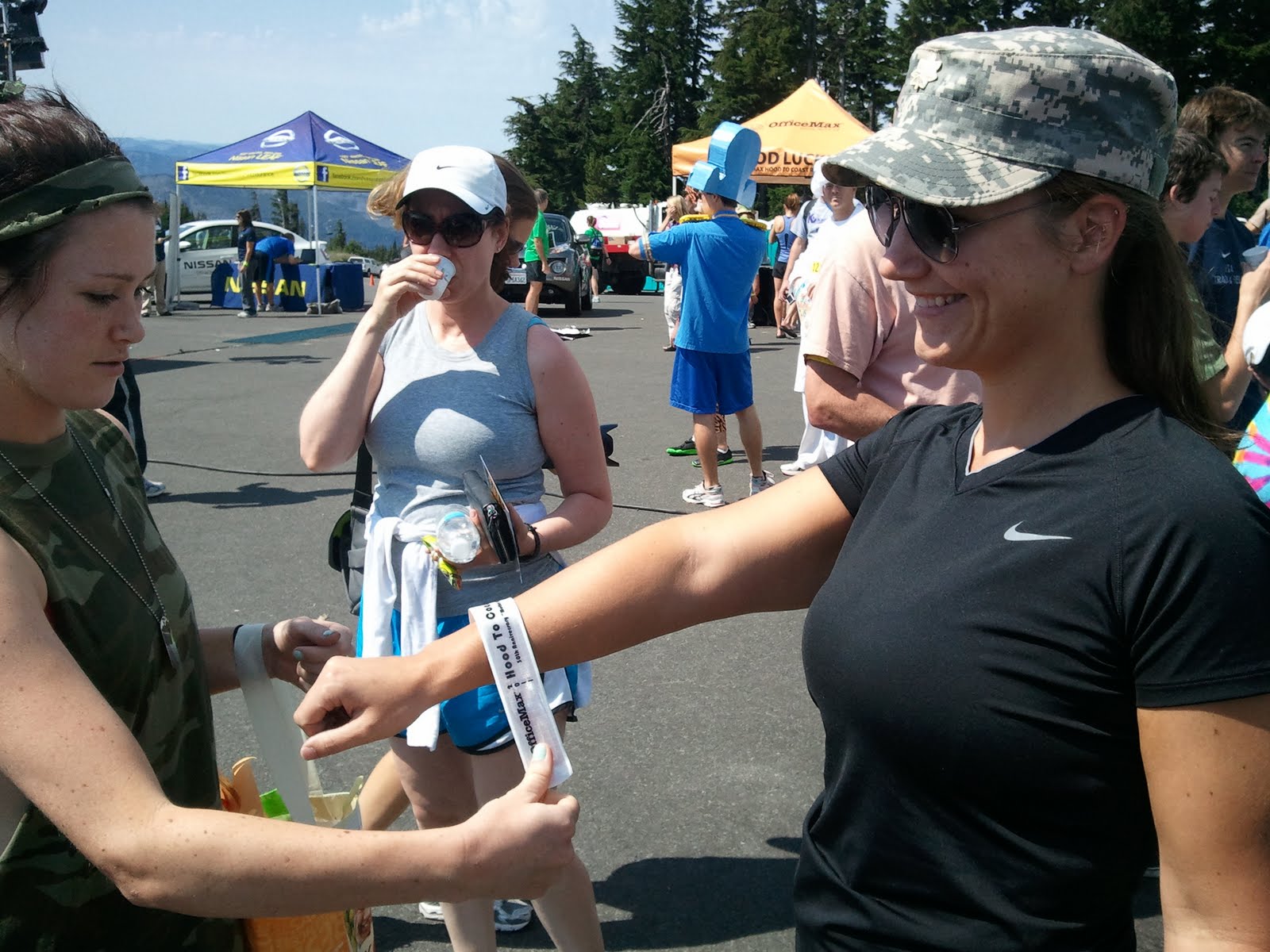 Caitlin puts the "baton" bracelet on Tricia.
Before the start, I had to pee. This would be my first stop in many, many of the Honey Buckets along the course. Luckily, the lines were reasonably short.
Soon we were all walking to the start line. I had a nervous tummy for Tricia. I kept thinking of that marathon YouTube video: "We're really doin' it!" Tricia and Alanna (Running 42KM) from After-NUUN-Delight lined up together.
Alanna and Tricia get ready!
There was a countdown and everyone shook hands, and…
To Be Continued…