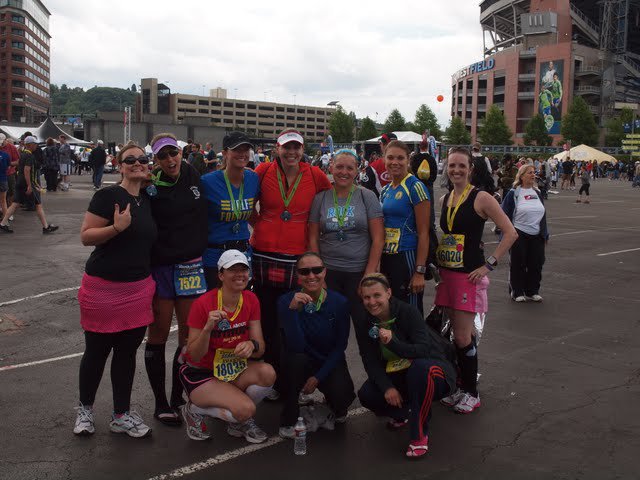 Rock N Roll Seattle is this Saturday. I'm running the half. I have a couple goals:
So yeah. No pressure for this race. Even if I don't finish sub 2, that's fine by me. I just think I'm capable of finishing sub 2 if my lungs can keep up with my legs. The problem is that I don't really hit my stride till 3-4 miles into a run, and because of my 3-week (basically) running hiatus, I still feel I haven't got all of my lung endurance back. Also, I'm few pounds heavier than I was in early spring.
I started out preparing for this half rather aggressively — continuing speedwork (although a little less of it) after my 5K PR, and incorporating the bike and swimming, etc. Then I went on vacation. A lot. I didn't run much at all. So, yeah, I sort of changed directions after that to: have fun. At the beginning of June, I started Jillian Michaels's 30-Day Shred DVD with the hopes some strength will help make up for what I feel I am lacking in endurance right now. I'm on Day 21 and am definitely feeling stronger in the core, quads, glutes, and even in my arms. I'm not "ripped" or anything, but I can do some pushups, and I can tighten my core and feel that it is more firm than it used to be.
My longest run for this training cycle (not counting the Rainier to Ruston Relay from a few weeks ago, which I think equaled about 12-13 miles over the course of the day) was 10 miles. And it was sort of a rough run. So, we shall see.
THURSDAY NIGHT
I'm going to the Train Like a Mother House Party tonight. Are you going? Hope to see you there. I shall arrive with my entourage (KIDDING!) of Jill E., Tiffany (maybe), and Mel.
FRIDAY-EXPO-MEETUP
Mel hooked all us bloggers from near and far with a place to meet at the expo. Runner-author-speaker John Bingham will be there. Here are the deets:
Friday, 3:00-3:30PM
Rock N Roll Seattle Expo Clinic Area
Hosted by John Bingham and Tall Mom
Very informal, all are welcome, bring a camera!!
(You don't have to have a blog — stop by and meet other local runners!)
I don't know what's happening after the short meet-up, but I'm sure we'll all be mingling for a while around the expo.
SATURDAY-RACE DAY!
Now! For the important stuff! I will be wearing my new gunmetal Team Sparkle skirt, either a black tank or a gray tee, with black arm warmers, and my signature white Nike hat. I'm thinking of putting my hair in two small buns since it's supposed to rain (here's a great forecast from my Mt. Si relay teammate Marathon Lar) and I don't want to be a tangled mess afterward. I think I will be starting in Corral 11. I get a little ADD before races, so if you see me, say HI!
After the half, we will congregate in B for Blogger, and then head out to the finish to cheer on the full marathoners! Can't believe it'll have been a year since my first full. SO happy to be running the half this year! 😉
Check Twitter (@momvsmarathon) for updates on race stuff, etc. Or tweet me for meetup info.
Are you racing on Saturday? Hope it's awesome!