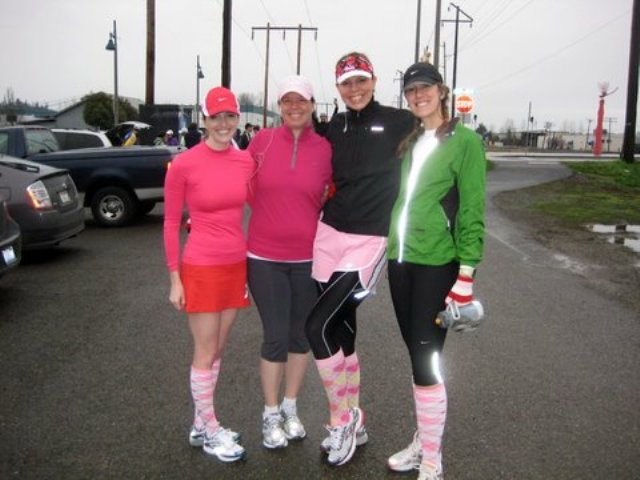 The Million Inch Run was a point-to-point run. So the plan was for me and Zoë to meet at the finish (above)  and ride in Zoë's sports car back to the start. We'd use my Odyssey to bus us, plus Mel and Amanda back to the starting line once we were all done.
As Zoë and I headed to the start, a man pulled up and begged for a ride. We were reluctant, but we gave him a lift to the starting line. Secretly, I was thinking of what the headline would say in the paper the next morning. But it was pretty evident he came to run since he had on some, um, running tights and was carrying a large bunch of bananas.
Moving on…
At the starting line, we learned the Million Inch Run was actually the Million Inch+ Run. The race director informed us, it's actually 16.4 miles, not the 15.78 I was planning to run. I thought, Ah, it's not that much more. What difference does it make?
Later, I thought: It makes ALL the difference.
MILES 1-2:
Things started out pretty uneventful. I swallowed a bug. I also spent a lot of time looking at my watch trying to keep myself from going too fast. I instantly was at the back of the pack and by myself.
This scared me a little becase the trail goes mostly through an industrial area (along railroad tracks) — it's not the best place for a woman to be out running by herself. A few of the runners ahead of me, I'll call them my "target people," were within sight distance, about 50-100 yards out most of the run, so I could see them most of the way because the trail was straight (until mile 11 and that's when the trouble started). But I was happy that I could stop and take pictures as I felt like it.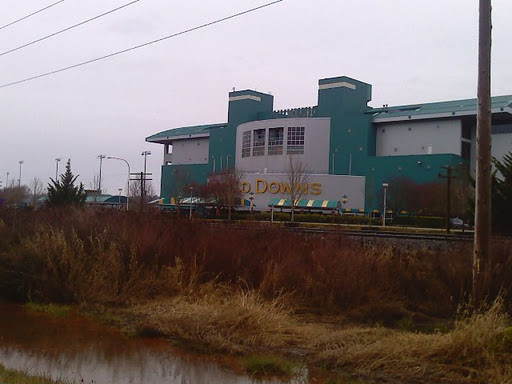 First stop: Emerald Downs, a horse racing track. I could see little jockey helmets bobbing up and down over the tall green hedges.
Mile 1: 10:20
Mile 2: 10:35
MILES 3-4:
Choo-choo! I took a picture for T Junior.
I knew a train would have to come by eventually, and I was lucky it was sooner than later because I didn't have the energy later. In fact, I did see another one along the Green River somewhere around 13-15 miles. It was a nice long train, too, but at that point I did not care.
In between miles 3 and 4, a homeless-looking man on a bike wearing Unibomber sunglasses waved "hello" to me and I reciprocated. But then after he passed me, he yelled, "The eagle got the duck!"
What do you say to this? "Ew!" I yelled back. But really, I was thinking Ooookaaaay. Running faster.
And then I was running faster because a train-truck started up on my left and I could see my "target people" crossing over tracks. Crap! I'm going to get stuck waiting behind a train and lose everyone!
Seriously. I thought I was going to race a train. Good thing I came to my senses. I slowed down. Better to finish the race than get run over by a train. So, yeah, I had to wait a little bit for the short train to cross the trail.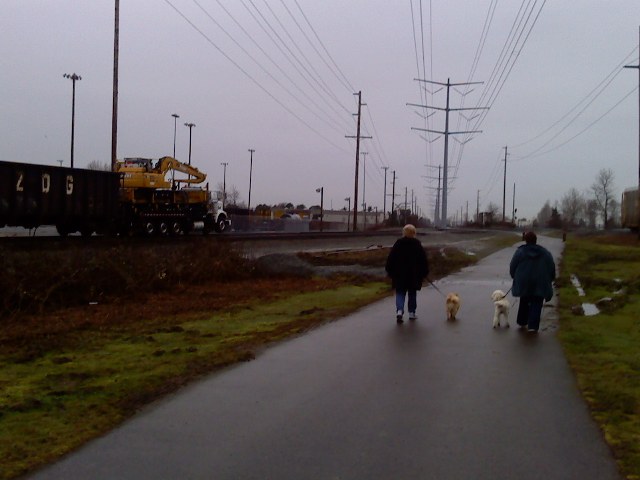 Luckily, I caught up with my "target people" at a long stop light not too far past here, around Mile 5. I sprinted because I did not want to get stuck there by myself.
Mile 3: 10:56
Mile 4: 11:01
Miles 5-6:
I think this is where I saw the huge bearded dude in a black, cowboy-style trench coat standing alone under a large golf umbrella and staring at the railroad tracks. As I approached him, I thought, Is he waiting for a train to come by so he can commit suicide?
Not sure why my thoughts were so morbid. Maybe it was my brush with death at Mile 4.
"Good morning!" I said, cheerily. Maybe a nice greeting from random stranger will make him change his mind.
He nodded in my direction and went back to staring at the tracks. As I passed, I noticed he had a yellow suede glove on his left hand. Strange.
Soon, I was reminded why this was called the Interurban Trail.
We ran under power lines most of the way. You can just see the speck of one of my "target people."
Mile 5: 10:45
Mile 6: 10:50
Mile 7-11:
At Mile 9, I caught up with a woman I met when parking that morning. She was older and she was walking, but started to run when I came up next to her. I slowed a bit, so we could talk. I asked her what she was training for (a race in Cincinnati). I told her about NODM and she gushed about the course. She told me it's gorgeous and that there are only two "real" hills. "They're long hills, though." Yikes.
I asked her how many marathons she completed. "Thirteen, but that's over 30 years," she said, "And now I have to walk-run them because I'm so old."
"How old are you?"
Sixty-seven. I was in awe. She told me about getting her Marathon Maniac status and the Goofy Challenge at Disney World, in which participants run a half on Saturday and a full on Sunday. What?! "It's as in "goofy" that you'd want to do something like that," she joked.
I could've run with her the entire way. But she told me to go on ahead because she needed to walk again. So I trucked on ahead, drinking my lemon-lime Nuun.
As I ran behind some fast food restaurants, I debated going in to use the bathroom, but was afraid they'd make me buy something and how would I look running with a crunchy taco?
Mile 7: 11:04
Mile 8: 11:20
Mile 9: 12:09
Mile 10: 11:06
Mile 11: 11:21
Miles 12-16.3:
This is where the trail got tricky. After the fast food places, the trail started to take some turns. As we approached I-405, the trail twisted and turned up a hill.
A man running the opposite direction smiled and said, "I think you're going the wrong way!"
I laughed. But
soon, I wondered if he wasn't kidding. Did I miss a turn? I couldn't see my "target people" any more. I was alone and was approaching 12-13 miles of running. I couldn't afford to go in the wrong direction. But I didn't know where there would've been a turn. I knew I was still headed in the right direction of where I parked, so I just kept running that way.
I was releived when I saw a water stop. Hallelujah! And what a JERK that guy was!
And just past the nice woman who volunteered to sit out there and wait for us, there were orange arrows spray-painted on the sidewak telling us where to go. I turned into a soccer field park where the Sounders practice. Cool! Gotta take a picture.
Past the park, I was running along a major road. After a while, I wondered if I was still supposed to be running along it. As I ran underneath I-5, a big man in a red Mercedes, with what I assume was his pre-teen daughter in the passenger seat, slowed down to almost a stop next to me. It was sort of dark under there and I did not want to know what this man wanted. I shot him a dirty look and took my phone out of my fuel belt.
He drove away. That's right scary Mercedes dude. Just keep driving.
A few minutes later, I wondered if I was going the right way. Is that what the Mercedes guy wanted to tell me? Whoops. I texted Mel: "Am I supposed to be running along Interurban?"
I turned around before I got her response, but she confirmed: I was supposed to turn right before going under I-5. I'd run almost a half-mile past where I was supposed to turn! That meant a half-mile back. And, when I got to the turn, I couldn't believe I missed it. There was an obvious trail there. DUH!
I passed 13.1 miles and saw I was on the same pace I ran at the Seattle Half in November. A little disappointed I didn't blow that time out of the water (even though I wasn't trying to), I trudged on.
At 14.7 miles, I think I hit the wall I've heard about. My feet hurt, my hips ached. I just wanted to be done and had to alternate walking and running. I was also out of water and hungry. I'd been drinking water and eating my Sport Beans about every 3 miles. But I needed it now. When I saw the ambulance company, I laughed out loud and stopped for a picture.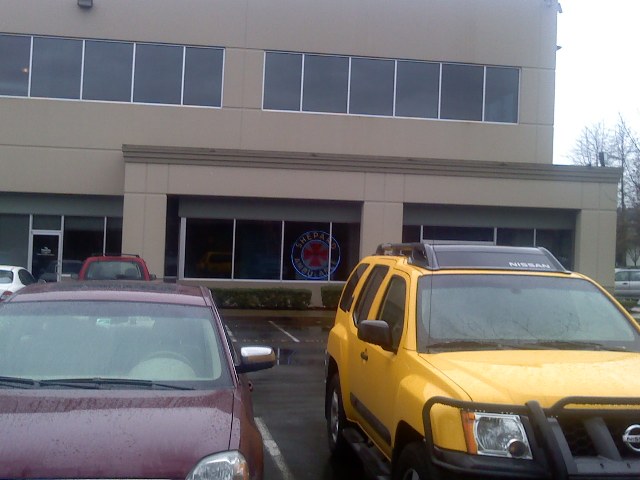 Zoë texted me not long after this wondering where I was and I had to tell her I went way out of the way. I didn't really know how much farther I had to go because I was so mentally challenged at this point that I couldn't do the math. Besides, I wasn't really sure how far out of the way I'd gone.
Finally, I saw the search party (Mel, Zoë and Amanda) up ahead. Thank God! The walked back to find me.
"Can I stop running now?!" I yelled ahead. (Advantage of being last: Action-shot!)
They gave me permission to stop and lots of high fives and hugs. I hit the button on my Garmin at 16.3 miles. I ran for 3 hours and 6 minutes, through four different cities.
Later, I saw that the speedy girls waited for me for more than 40 minutes! Not that they had a choice, I was the driver. All part of my evil plan. Bwahahahaha!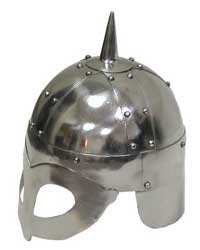 Just kidding.
As I drove us back to the start, they told me what the trench coat dude was all about: training eagles. Eagles, who were wearing black helmets with little spikes on top of them. Seriously, people, I couldn't make that stuff up. I was a little jealous that I didn't get to see the Hun warrior eagles.
I was really tired, obviously, and a little sad that I wasn't able to go to lunch with my three buddies, but there'll be another time. I had a family who wanted to spend time with me. Can't argue with that.
Can't argue with coming home to a dozen roses, either!
Like the red sippy cup, there? I think it adds to the bouquet, don't you?
After I showered and ate, and T Junior woke up from his nap, we had to go to Sam's Club. We were at emergency levels of diapers. I wore my slippers to the giant warehouse. I wore my slippers in public. I felt like I was getting away with something until I saw a young girl in what looked sort of like slippers. "See? See?" I pointed them out to Mr. T.
He shook his head. "Just because your feet hurt, doesn't mean you're fashionable."
Whatever. I ran 16.3 miles today. You can't phase me.
Mile 12: 11:27
Mile 13: 11:23
Mile 14: 11:51
Mile 15: 12:19
Mile 16: 14:07
.3 miles: 12:44
2/13/10 – 16.3 miles – 3:06:29
Average pace: 11:26
Longest run ever.
Thank you, Amanda, for all the group shots, and Mel, for the action shot!