I almost forgot about myself after my son was born. I almost just let myself go, which I think has more meaning than simply letting one's appearance "go." It's letting go of any hopes and dreams for yourself.
Luckily, I had a wake-up call.
I may be unpopular for saying this, but being a mom is NOT ALL ABOUT YOUR KIDS. Yes, it is A LOT about your kids, but it is NOT ALL. And being a wife is NOT ALL ABOUT YOUR HUSBAND. It's not about everything they want, and dream.
MOMS HAVE DREAMS, TOO!
(This works both ways, by the way. Dads also have dreams! It's just, in general, they're better about making time for them.)
Have you read this New York Times article about the amazing Olympic swimmer Janet Evans? Growing up, I was a swimmer. She was an inspiration to me. For crying out loud, she won three gold medals at the age of 17 in the '88 Olympics and another gold in 1992. She STILL holds the American record in the 800-meter free, which she set in 1989.
Janet Evans is now 40. And she's still an inspiration! She's been on a 14-year hiatus, during which she had two children. She's making a comeback, and will swim in the Olympic trials in June.
People are saying she's a long-shot, but in the NYT article she said she doesn't care. For her, it's more about the experience of making it to the trials and even competing at age 40 and after having children.
"'I struggled with turning 40," Evans said (in the article). 'It was a hard birthday for me. Someone said to me, "How do you feel now that your life is half over?" I wasn't ready to accept that it was all downhill from here. As a mom, you put so many things on the back burner. For me to find time to train, it was like this gift I could give myself. I think it can come out selfishly to say that, but it was something I could do for myself to feel good about being middle-aged, for lack of a better word.'"
I loved this. You don't have to WIN the race to WIN. Even a 4-time Olympic gold medalist gets it! But then I read this:
"Evans said she had been criticized on social networking sites for training when she should be home with her children."
Are you freaking kidding me? Is this freaking for real? WHO said this? WHO?! I HOPE it was not other moms because shame on them. First of all, worry about yourself. Second of all, if Janet Evans's name was Jim Evans and she was a dad, would ANYONE have said this? I was SO MAD when I read this. Still mad. My heart is beating faster thinking about it.
In the article, Janet says she gets up early and swims from 5:30-7:30 "so she can make it home in time for breakfast." I do this. I run on my lunch hour or get up and swim at 5:30, 6 a.m. Or, occasionally, my 3-1/2-year-old son rides along in the bike trailer. But sometimes, on the days I don't work in an office, I drop T Junior off at daycare so I can work and work out. I know there are people who probably think I'm a bad mom for doing that. Even I struggle with it. But I need a little time to myself, too, to work on my dreams. (And my dreams don't involve cleaning my house or cooking or running errands.)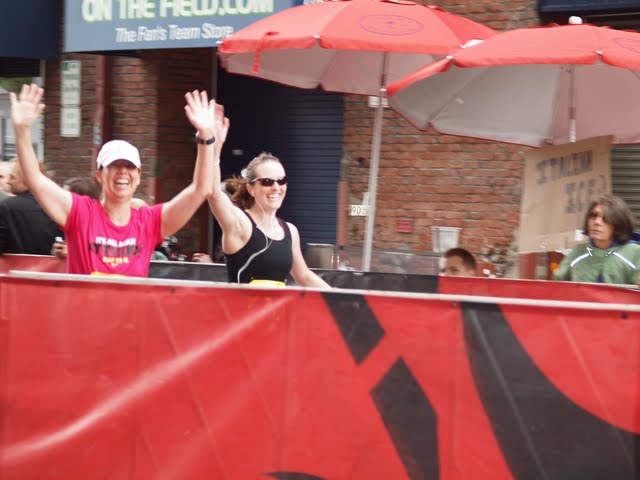 Swimming in the trials is something Janet wants to do again at age 40. It's her dream right now. But swimming is also basically her job (or one of them). Right? Do dad professional athletes feel like they need to get their "job" done before 7:30 in the morning?
I don't want to make this about women vs. men because it's not the dudes I'm mad at. They do what they have to do. What I'm angry about it is all the critics who feel they have a right to make assumptions about the time a female professional athlete, who also happens to be a mom, spends "working" on her career. On her dream.
What year is it? Did the criticism about Janet spending time on training get your blood boiling, too? What are your dreams? How are you making time to work on achieving them?