I heart flip flops. I talk about it a lot. I'm not sure if it's a Cali thing that's stuck with me since my move to Washington or what, but I can't get enough of them. I wish I could wear them year-round, but it's too cold here. In fact, I was supposed to go for a walk during lunch, but it's cold and rainy and  yucky outside and I did not bring gear for that because…IT IS MAY. It's the end of May, in fact, which means it is almost June. Where's the sun?
Aaaannnnyway…
Guess how excited I was when Orthaheel sent me a pair of their most popular flip flops to review?! Girly-mini-clapping-and-squealing-"Yay!" excited. You know what I'm talking about.
They sent me a black pair of theTide flip flops in a size 10. I'm more like a 9.5, but the 10s fit great!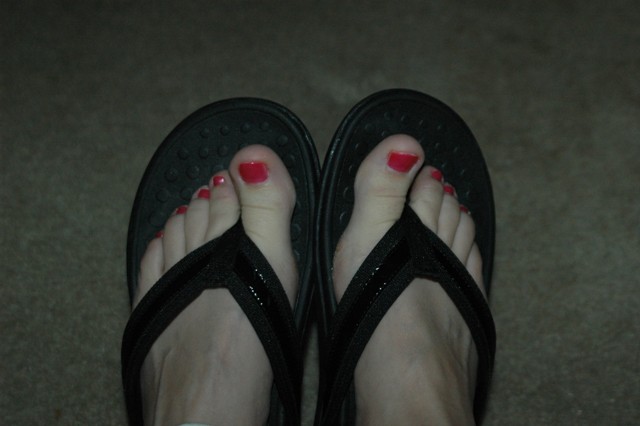 Even my big, freakish toe looks nice when it's all painted up and
in a cute pair of Orthaheel Tide Flip Flops!
Here's what Orthaheel says about them:
A summer essential, our comfortable, lightweight Tide sandal will look good wherever you go. This season, we've re-engineered the footbed shape to give your toes even more wiggle room! The built-in orthotic footbed promotes foot health and helps reduce fatigue. Durable TPR outsole with wave-patterned tread that helps improve traction, making Tide a versatile choice!
-Convenient, pain-free "natural healing" solution to many of the common aches and pains associated with poor lower limb alignment.
-Orthaheel technology is clinically proven to reduce excess pronation, a contributing factor to "flat feet."
-Podiatrist-designed, biomechanical Tri-planar Motion Control footbed with a deep heel cup helps stabilize, support and realign the feet back to their natural position.
-American Podiatric Medical Association-approved.
-Lightweight, flexible medium-density EVA midsole absorbs shock, reducing stress on feet, ankles and knees.
-Soft woven toe post and foam-lined strap ensure a comfortable fit.
-Whole sizes; fits medium widths.
-Materials: woven/polyurethane uppers, padded neoprene upper liner, EVA footbed, TPR outsole.
-Care: Wipe off with damp cloth and air dry.
They come in a ton of colors: Green Tea, Cranberry (pictured below), Plumberry, Black, Natural/White, Teal, Sorbet, Metallic Pewter and Metallic Gold.
I got the black pair, which is perfect since I wear them with everything. They have a soft, comfy strap with a thin patent layer strap that I think spices them up a little bit. I mean, this isn't your cheap drugstore flip flop. These can be dressed up or down.
The sole is awesome. It isn't foamy or flat like most flip flops. It sort of reminds me of my Super Feet because it's hard and curved. When I got my SF insoles, I thought, "How are these going to be comfortable? They're hard."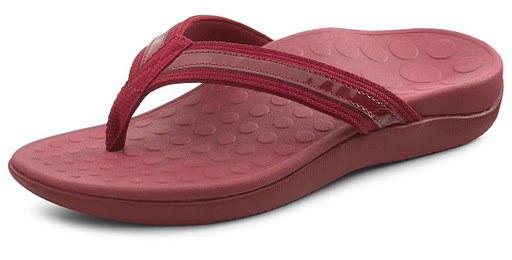 The Tide flip flops are the same way. But they are so comfortable. I wore them for approximately 12 hours straight a few weekends ago. (I wrote about it here.) My feet felt awesome. I had no back pain or anything from wearing flip flops all day or any of that. It was like I wore my running shoes.
Now I am spoiled. I will not be able to go back to the old spongy kind. These are a little more expensive ($54.99) than the drugstore kind, but that's to be expected for great quality. I've been wearing them almost everyday for about a month and they still look new, too, by the way.
I love the shoes so much, I asked if Orthaheel could give a pair away to Mom vs. Marathon readers and they are happy to! Yay!
Okay, here's how to enter. You can enter up to 6 times. IMPORTANT: leave a separate comment for each entry. The Tide Flip Flops Giveaway ends at midnight on May 31st. I will use Random.org to select one winner. The winner will receive one pair of Tide flip flops in the color and size of their choice. Sorry dudes, this is a women's flip flop, but your wife or girlfriend or daughter might like to have them, right? So enter away!
1. Visit the Orthaheel site here. Check out the Tide sandals. Then, come back and tell me what color flip flops you want if you win.
2. Become a Virtual Running Buddy (follower) and leave me a comment and let me know or let me know if you already are.
3. Add Orthaheel as a Facebook friend, and let me know.
4. Share this giveaway on (a) your blog, (b) Twitter or (c) Facebook. Please leave a comment for each one (3 possible).