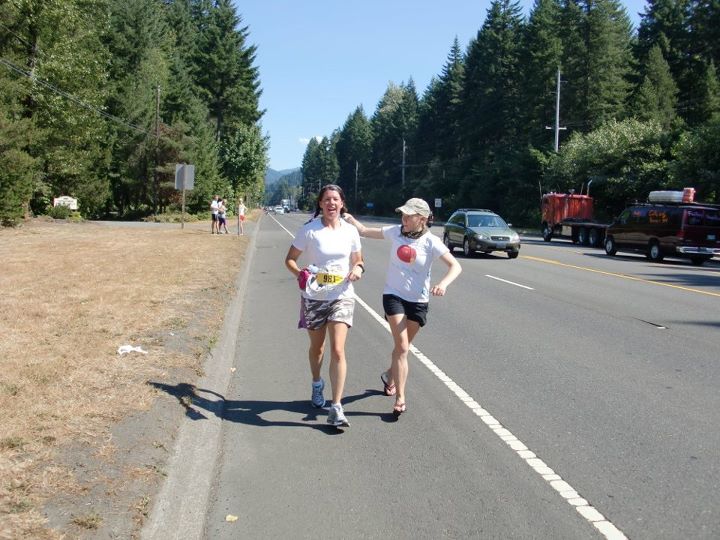 My hero! "A" dumping water on me during my first HOT leg of the

Hood to Coast Relay in August.
On Sunday, Hood To Coast Relay vanmate A from Diary of an Average Runner will be running the California International Marathon (CIM). The start for the race is 5 miles from where I grew up, and where my dad still lives.
I am beyond jealous.
Funny thing is, I don't ever remember even hearing about this race when I was growing up. Sure, it didn't start till 1983, but I didn't leave for college until '95. How strange that I didn't even realize there were thousands of people running, basically, just down the street. And I was a runner! What the heck?
I want to run this marathon. I'd love to do it  next year, but if you remember, I promised to take it easy for a bit. In 2013, T Junior will go to Kindergarten. I will start training then. Of course, I have to qualify first. So I won't be able to race CIM till 2014. Here's the plan:
August 2013: T Junior to Kindergarten
September 2013: I turn 36; start training for a spring marathon (I will need to run a sub-3:50 to qualify for CIM — that's taking about an hour off my current time, but I think it's doable)

*Update: I am a moron – I misread the site; you only have to qualify if you enter late! So it's possible I can alter this and actually run it in 2013!!!!!

Spring 2014: Run sub-3:50 at some marathon around Seattle
Winter 2014: Run CIM!
It's a completely perfect plan! Considering it takes months and months to train for a marathon, that's not actually that far away. Right?
Good luck tomorrow, A! I know you are nervous, but I have tons of confidence in you! Wish I was "home" to spectate, but I'll be cheering for you via the Internet!
PS: I think there was some confusion on my treadmill-while-blogging post yesterday. I was (and am right now) walking while typing. There is no way I could run and blog, but that's awesome that you guys think I'm that coordinated. Thanks!