Turns out all I needed to reinject the running mojo that had gone missing after going three weeks with only four runs was a shot of the ultimate trail mix: mud, logs, rocks, stumps, creeks, cliffs, puddles, roots, and a little elevation.
Last Saturday, I ran Leg 2 (and 6 and 10), of the Rainier to Ruston 50-Mile Relay (R2R) with running buddies Tiffany, Mel and Zoe. Tiffany's awesome hubby was our relay driver and team photog! Mel is the one who got us all to do this relay, registered us and came up with an awesome team name (Honeybuckettes – the port-o-potty company even sent us a ton of swag).
I went on vacation May 4-20 during which I ran twice – both short and easy runs. I came home and ran twice, then left again for a big dog show in Spokane for four days during which I didn't run at all. But I ate like I was running. Does that count? So I basically ran four times in a month. Ouch.
Before my running hiatus, I decided I wanted to run Leg 2 (and 6 and 10) of R2R, a race that begins in the beautiful Mount Rainier area and ends on the waterfront in Tacoma. I chose Leg 2 because of its description: "5.7 miles on rough, secluded trail. 0.6 miles on paved road. 200 foot loss." Before my hiatus, I was running strong, steady, and felt extremely confident about Leg 2, which also included these phrases on the leg description in the R2R manual: "This is a very rough and muddy trail" and "Team captains: Assign strong walkers and runners to this rough, muddy and isolated leg."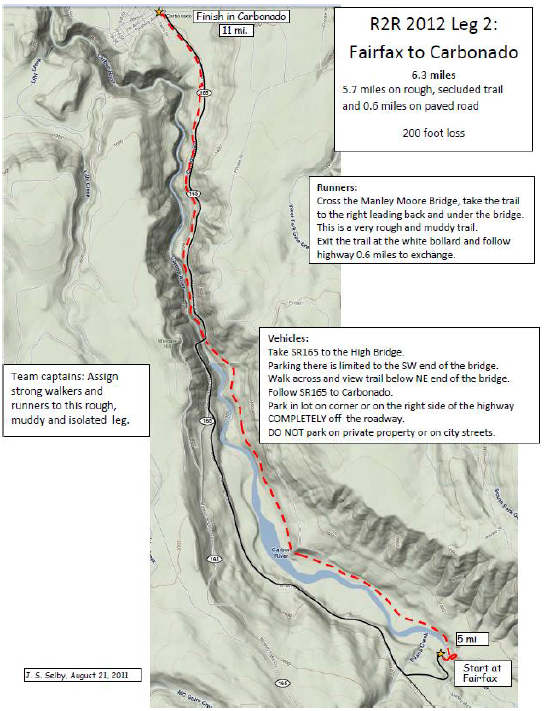 After my running hiatus, I was thinking about finding someone to replace me in the relay. But the relay was in a week, so I didn't think that would be very nice.
Saturday came, and I picked up Zoe at her house. We made our way to Tiffany's since she lives near the finish line. Then we drove to Mel's, since she was closer to the start line. At Mel's, we decorated Tiffany's van. We came up with the Team Honeybuckettes slogan: We're #1…or #2. That sort of set the mood of the day.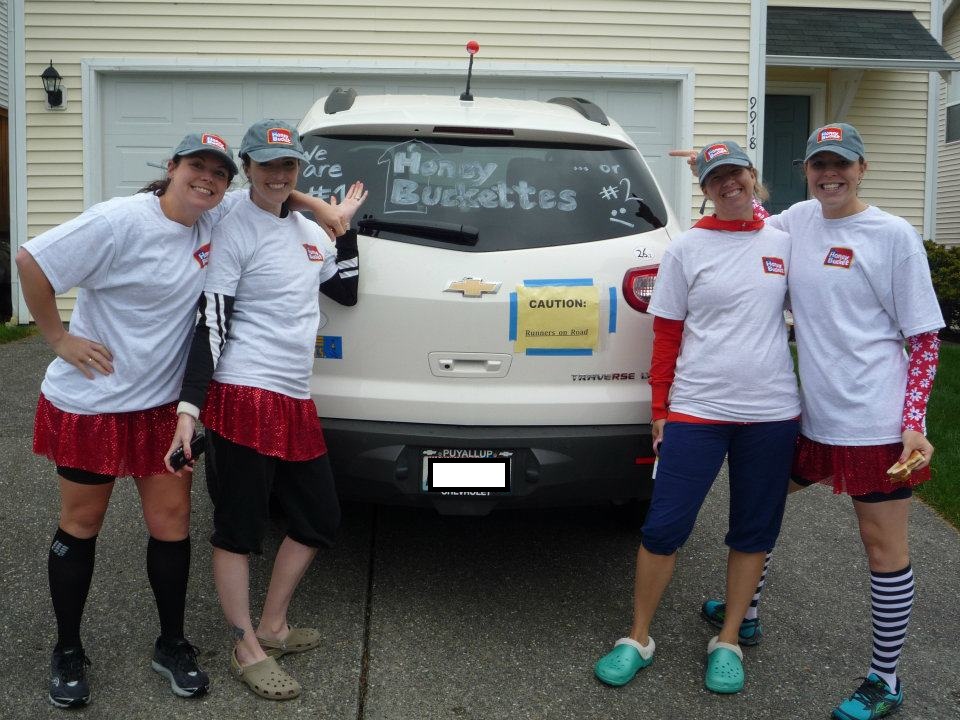 Relays are fun because there are so many bad jokes and goofball moments. I'd tell you some of them, but I'd probably offend people. Plus, they're sort of inside jokes and you probably wouldn't think they're that funny.
We got up to the start line, used the Honey Buckets (of course) and then got Mel set to start. She's been really, really sick for two weeks and had not run at all. Turns out, she almost needed a replacement for the relay, too. But she didn't want to miss all the fun that is a relay, so she was a trooper and stuck it out.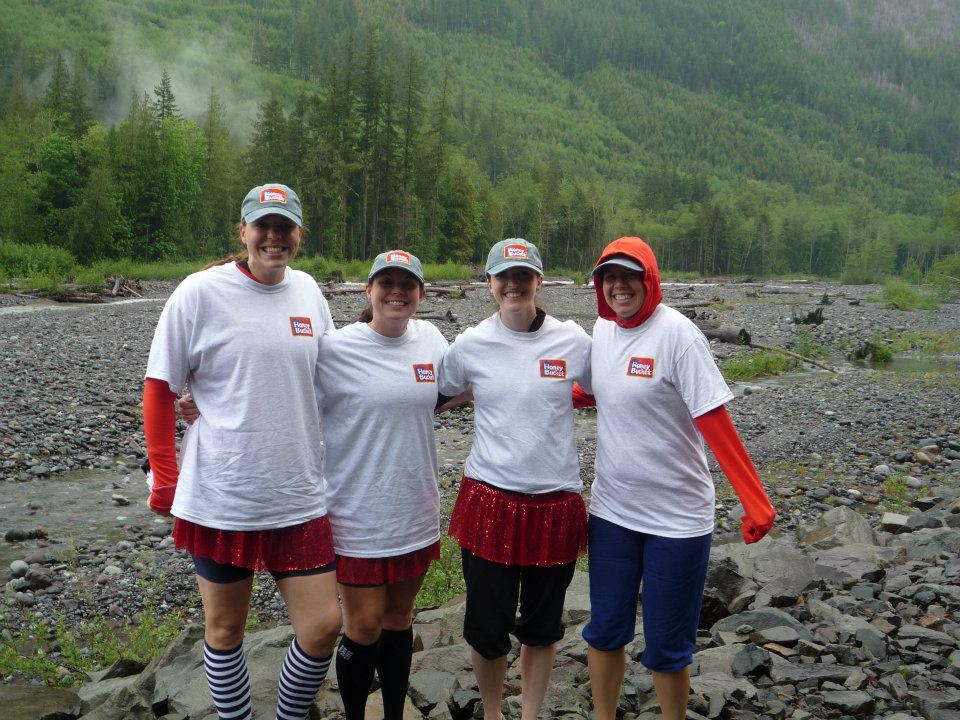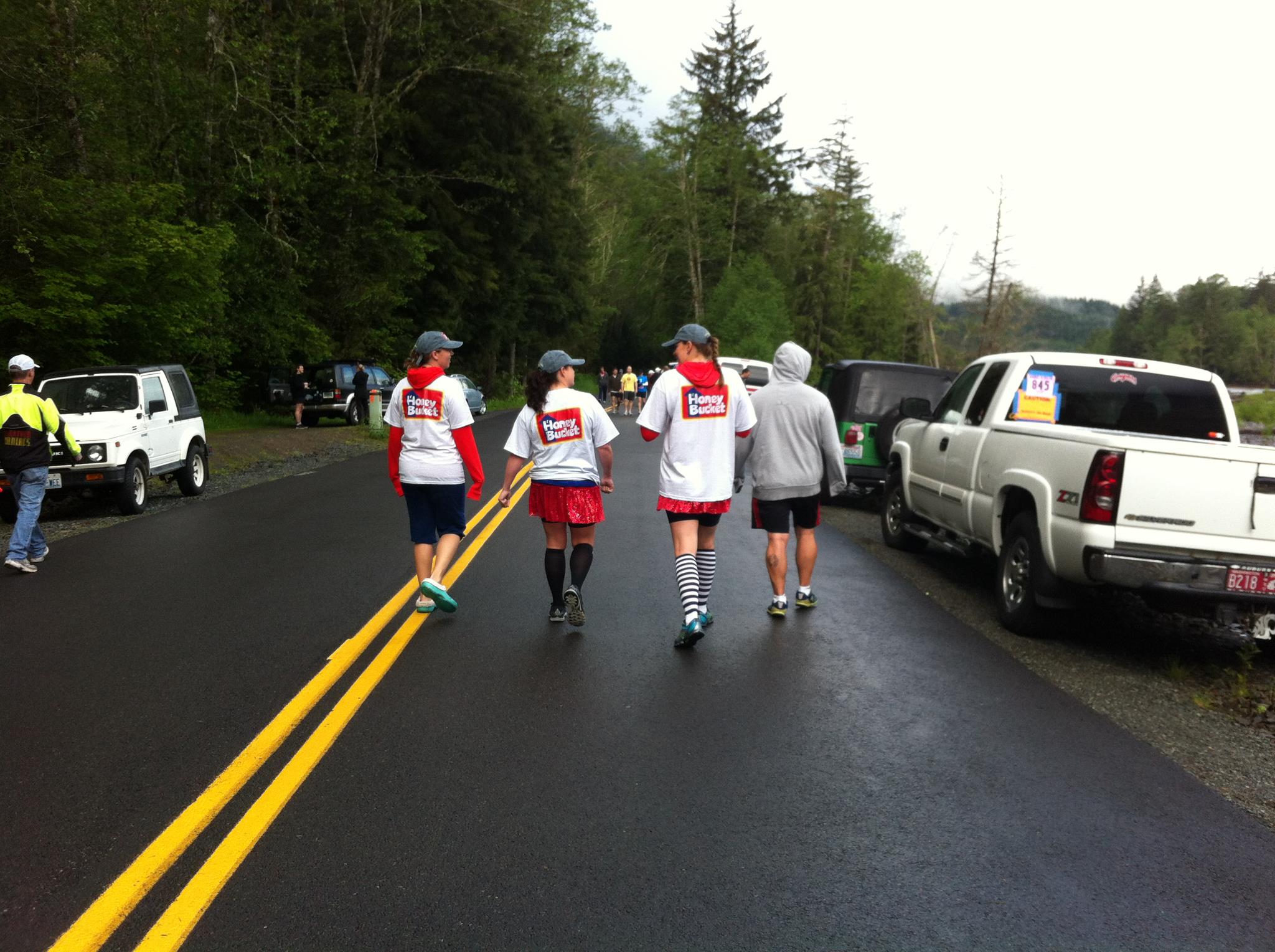 At the start, we realized the organizer put us during the "fasties" start. Oh well. We decided we could probably hang in there. It was drizzling as the runners set off on the 50-mile journey.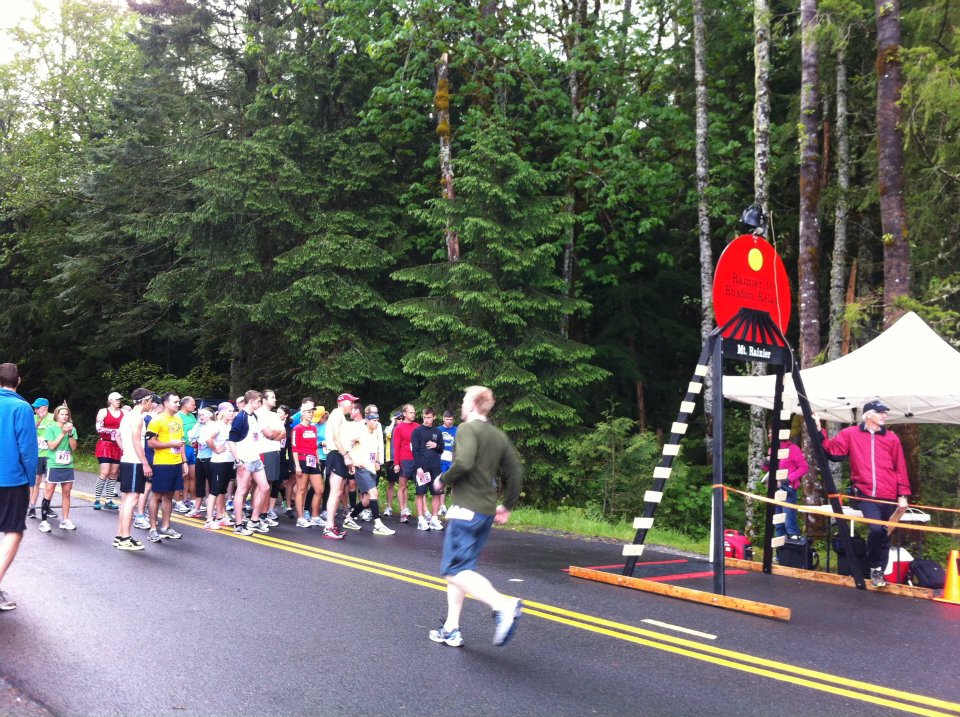 Leg 1 looked gorgeous. We drove past Mel to the first exchange and gushed over the mountain scenery: a roaring river, moss-draped evergreens, ferns, vines. When I opened the window, the fresh, cool air washed over my face. It felt good.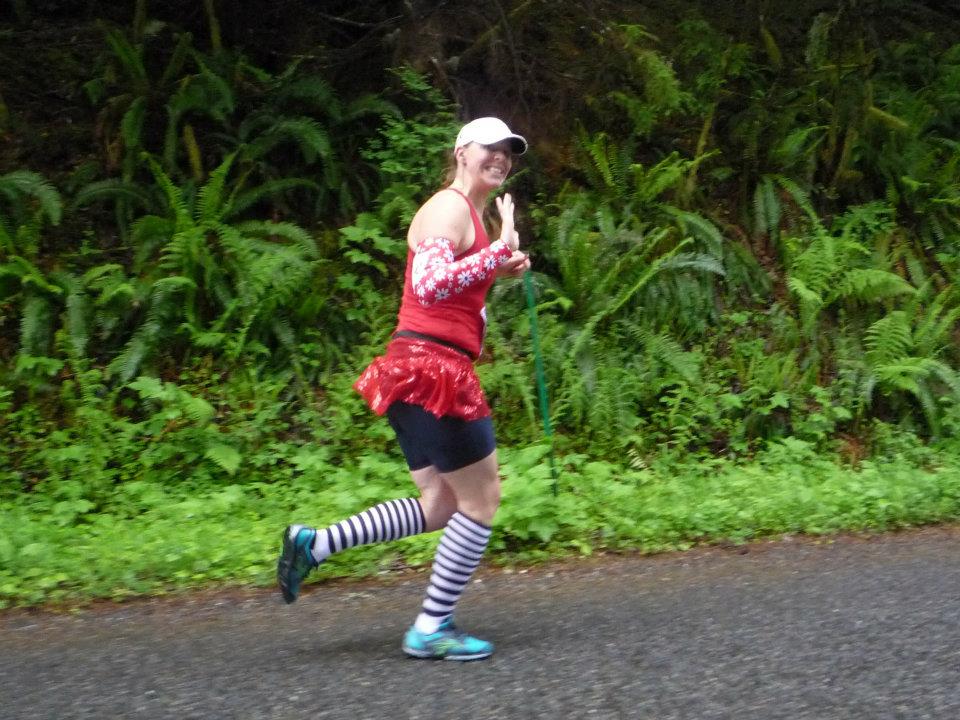 I felt ready to run "tough and muddy" Leg 2. I got this.
At the exchange, I pulled on my CEPs, my "tall socks" as T Junior calls them, and double-knotted my shoes. Then I slipped my red glittery Team Sparkle skirt over my compression shorts. I clipped on my iFitness belt, which held my phone and one blackberry GU Chomp (I ate the other two I had as I got ready), and then went to use the Honey Buckets again.
Somehow, my body just knows to empty itself before I run. Or it could be that I drank a coffee and a 20-ounce bottle of water that morning.
We all walked over to the exchange area. R2R has a really great exchange idea. The runners go underneath this tall wooden triangle, which displays the name of the exchange and had a large bell on the top. A rope hangs down and as you finish your leg, you ring the bell and tag your next runner. I should note that our team had two bibs with timing chips embedded in them. The start and finish "bell towers" had timing mats.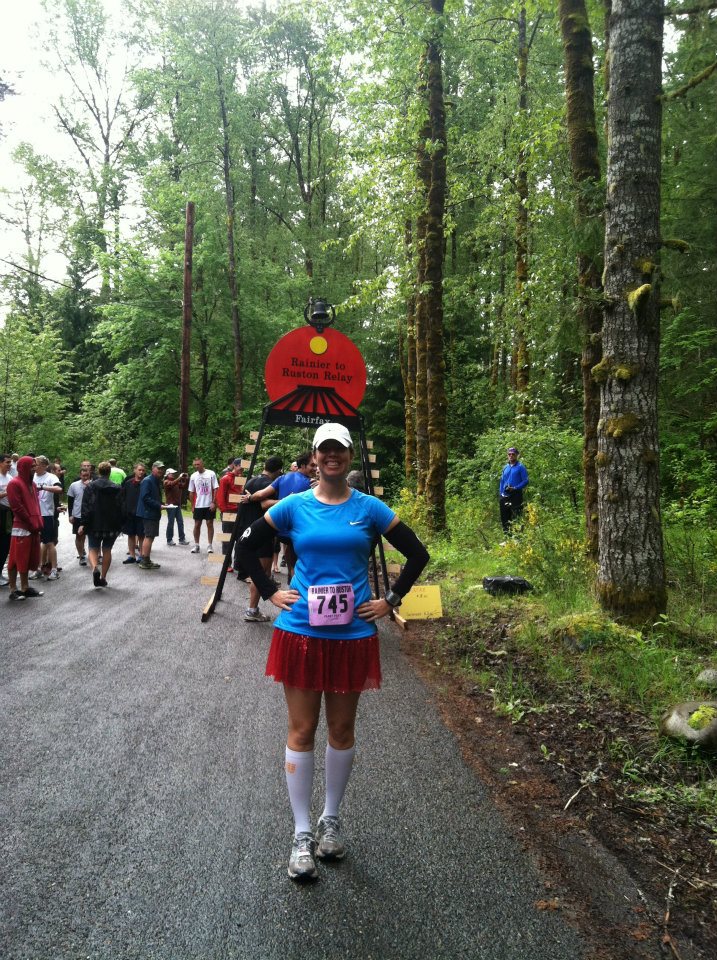 We waited for Mel at the exchange. Before anyone had come in to tag the next runner (that I saw anyway), I started to get nervous about where my leg actually went. There was a beautiful bridge and some people that looked like volunteers stood on the other side of it. I decided to warm up a little bit and run over the bridge to see what I could see. Since I didn't want to look like a complete noob, I didn't look around much, and never did see the entrance to any trail or anything. (That was a good thing, by the way, because if I'd seen the entrance to the trail, I might've been very nervous.)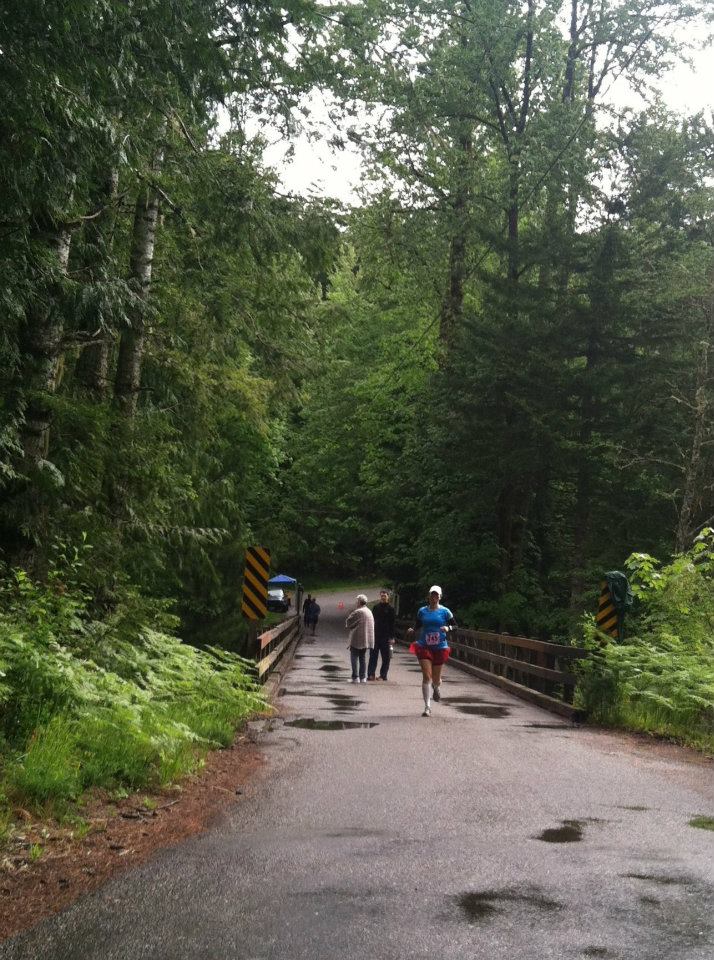 People were coming in now, ringing the bell and high-fiving their second runners. It was very exciting. I started to get a little nervous, as I always do before a race, so I kept warm (and calm) by jumping in place. The area had cleared out a bit since these (mostly) guys were running like 6-7-minute paces. Pretty soon, Mel, who is herself pretty darn speedy, was running in to the exchange, then ringing the bell, then slapping my hand! It was my turn!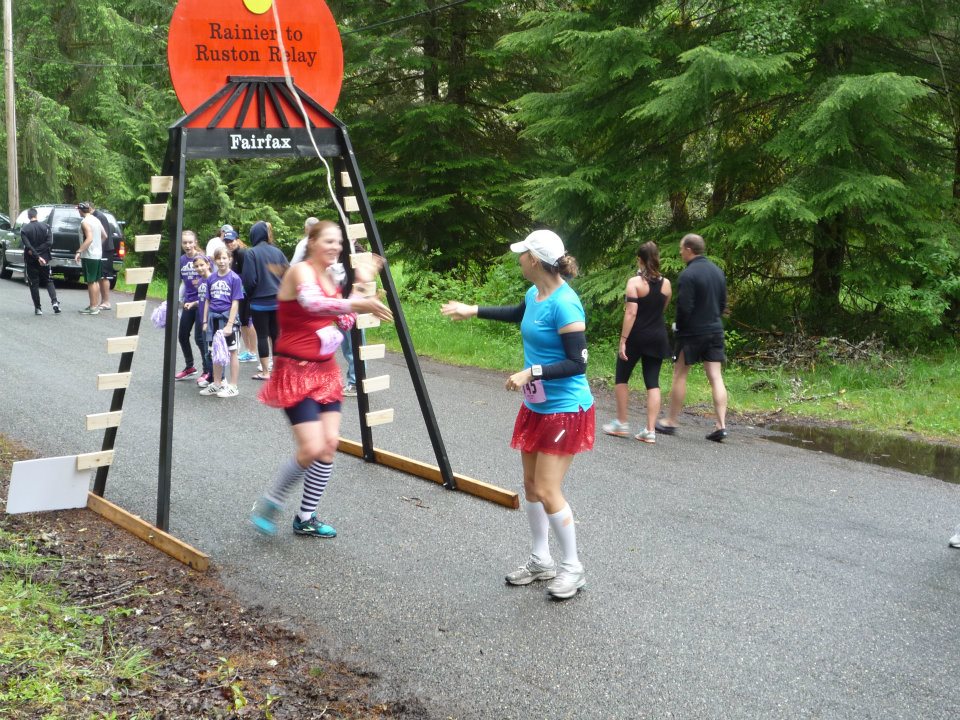 I pushed "start" on my Garmin and headed in the direction everyone had gone: over the bridge. But just on the other side of it, the volunteers pointed for me to turn right. I began to, but then hit the brakes. "Have fun," a man said in that evil I-know-something-you-don't-know way. Oh boy.
The entrance to the trail was a short, steep muddy hill with slide marks all over it. I stepped on it…whee! Down I slid, but I didn't fall, and then I was on the trail, which wasn't so bad. It was technical. This isn't so bad. This is fun. I ran and grinned and leaped over rocks, side-stepped roots and even climbed over a huge fallen tree. To my left was the rushing Carbon River. The soothing white noise of the water heightened my awareness of the high-pitched bird songs and raindrops drumming on the flat-leaved trees mixed in between the umbrella-like evergreen branches above me.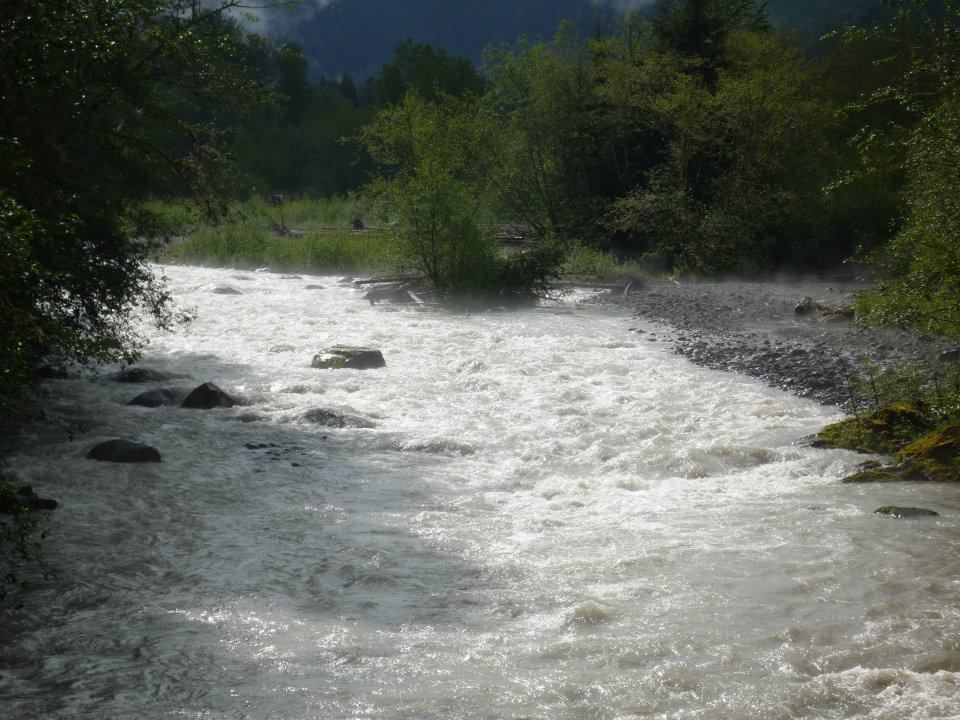 It was heaven. Until about 1.5 miles.
I'd jumped around a few mud pits and puddles so far, but between 1.5 and 2 miles, this changed from an occasional obstacle to the norm.
Suddenly, I could only run for a few yards at a time before I had to walk/wade/step through thick mud pits. Sometimes, I would think I could run through what looked like shallow mud, but my feet would sink. And sometimes, I would think it didn't look too muddy – the surface looked stable – but then I would slip like a contestant on a Japanese game show, arms flailing, body twisting just to keep myself upright.
Sometimes there were hills covered in mud. I was thankful when they were also rocky so I would have something to step on. One of the hills I came to had slip lines down it – like it was wearing a vertical-striped sweater made of…mud.
I laughed out loud, then began to gingerly climb, grasping at a few whispy tree roots that stuck out of the ground on the way up and just picturing myself finishing the leg with mud all down the front of me.
But I made it without falling. Yay me!
The next couple of miles continued this way. I'd been so proud of my 9:25 pace during the first 1.5 miles, but now I was just trying to keep it in the low 11's, running when I could and walking, slipping, almost biting it through the long muddy shoe-eating sections. After the mud pits, I would stomp-run to try to get the sticky stuff out of my treads – it was just making the slippery sections all the more dangerous. I actually was happy to run through a few small creek sections just to rinse the bottoms of my shoes. Obviously, the insides of my shoes were sloshy already; a little extra water wasn't going to make my feet feel heavier than they already did.
It wasn't that I cared what my time was necessarily, it's just that I had guessed a 10-minute pace for my leg and I didn't want my team wondering where I was.
And I was hungry! Oh, so hungry and I still had 3 or 4 miles, at least, to go! Yes, I had the Chomp, but I remembered you're supposed to take them with water and I did not want to have tummy issues on the trail, which was just getting more and more narrow. At one point, I thought What am I DOING out here?
Some parts of the trail balanced on the edge of a cliff – I was now high above the river – and I had to consciously go to the right of the mud and rocks so that if I did fall, it wasn't down, down, down into the ravine. I didn't want the rescue worker, complete with helmet and full-body safety suit, I saw at Mile 3 to have to pull my body off the boulders when I didn't show up at the exchange.
Around Mile 4 (I think), I finally came to a clear section of trail. On the bridge high above me I could hear my teammates cheering.
I heard Zoe yell something about a boxer watching me. I knew what she meant and I grinned — she was telling me it was good luck. (My boxer, AJ, passed away suddenly a few weeks before my first half marathon, and now I see a boxer at almost every race.)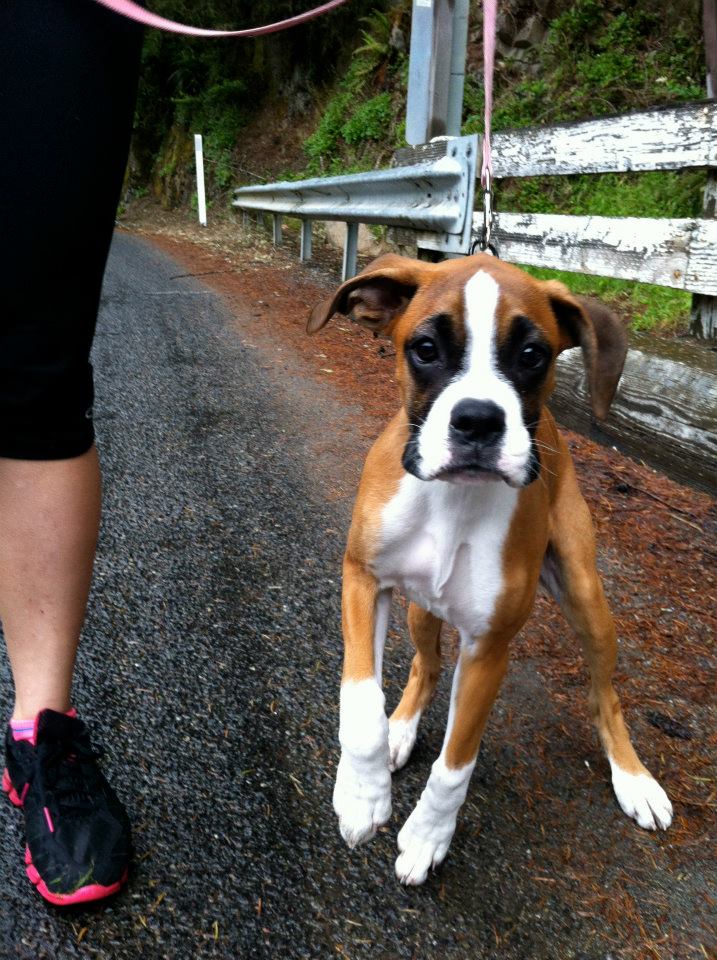 I felt completely energized after hearing them and wanted to look up, but I didn't dare for fear of slipping in the mud in front of spectators!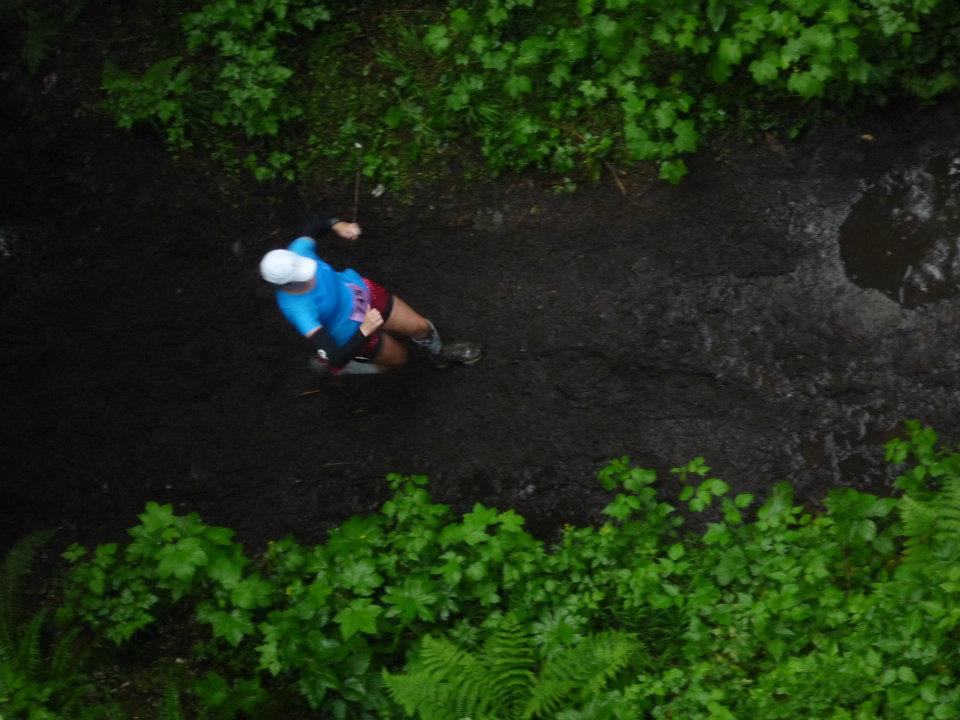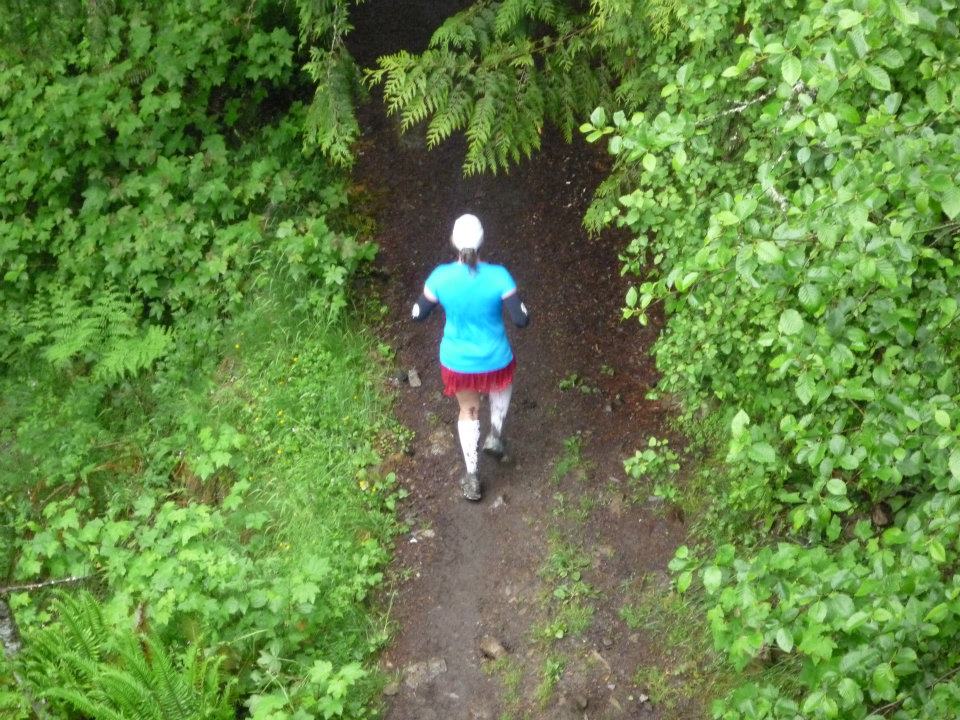 Just before the bridge, a fast woman passed me. She was so speedy. How in the hell? Then a female runner in purple Tempos passed me. Then we all passed a male runner in orange. This man turned out to be part of Team "F My 3rd Leg," a military team with whom we would compete against all day (even though they ended up not being our division), and with whom we've connected on DailyMile. Read his recap HERE. It was really interesting to read his recap of that part of the race. I'm the one in the "flashy red skirt" – hahaha!
The girl in purple's pace was faster, but closer to mine, and I dug in and tried to keep her in my sight. Yes, the trail was marked with orange ribbons here and there, but it's still sort of comforting to know you are going in the same, hopefully correct, direction as someone else.
I watched her run – she just ran right through the mud and puddles, which had become less extreme now at about 4.5 miles or so. My pace got faster and I started not caring if I fell. I just ran right through the puddles, too. I felt surprisingly energized now the terrain was a little more solid and sure, and I watched my overall pace come down gradually. The trail was quite a bit wider and we were also now closer to a road. I couldn't see it, but I could hear an occasional car. This must be a more well-traveled section of the trail.
I couldn't see my purple friend anymore since the trail was quite curvy, but I knew she probably wasn't too far up ahead.
Finally, my watch was showing that I was approaching 6 miles. But shouldn't I be on the pavement already? I knew that .6 miles was on the road, and that the leg was only 6.3. But I kept seeing the orange ribbons tied to tree branches, so I figured I was going the right way. I could now see the road, however, and I kept worrying I'd missed a turn. Soon, I saw the woman with the purple shorts. She was stopped.
"I'm so confused," she called back to me. "Me too," I answered. She started running again before I caught up to her. But I'd closed the gap enough to keep her close. This was a race, after all. Like 30 seconds after that little conversation, we came to Y in the trail. The left part was roped off. We went right. This definitely fit the description. We were going the right way! My watch had passed 6.3 miles, by the way.
As I exited the trail onto a gravelly dirt shoulder, my right ankle gave and I rolled it. I couldn't believe it! I'd run nearly 6.5 miles of extremely technical trail and hadn't gotten hurt, but I set foot back on normal terrain and I injure myself! I continued running with a slight limp now on the asphalt, which felt extremely difficult to run on after the softness of the mud for over an hour. My legs felt like some of the logs I'd run over. Luckily, the ankle loosened up during that quarter-mile run into the exchange, and I'm fine.
It was so exciting when I could see my teammates up ahead – just passed the group of emergency vehicles sitting…waiting for someone to get bitten by the trail.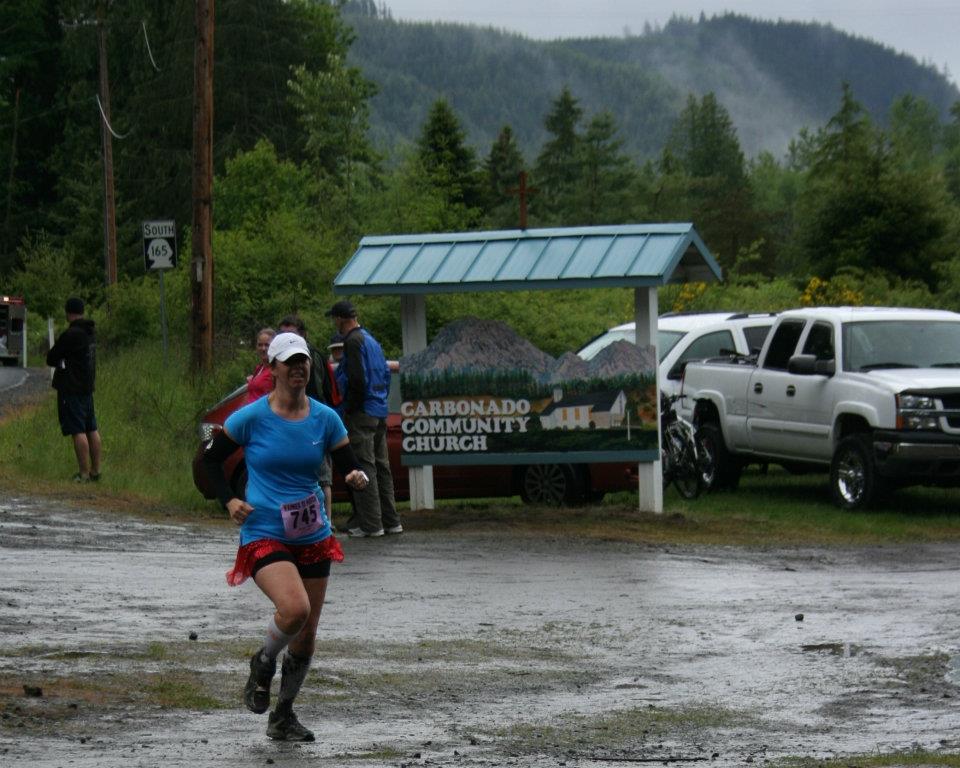 I ran through the exchange, rang that freakin' bell and gave Tiff a high five.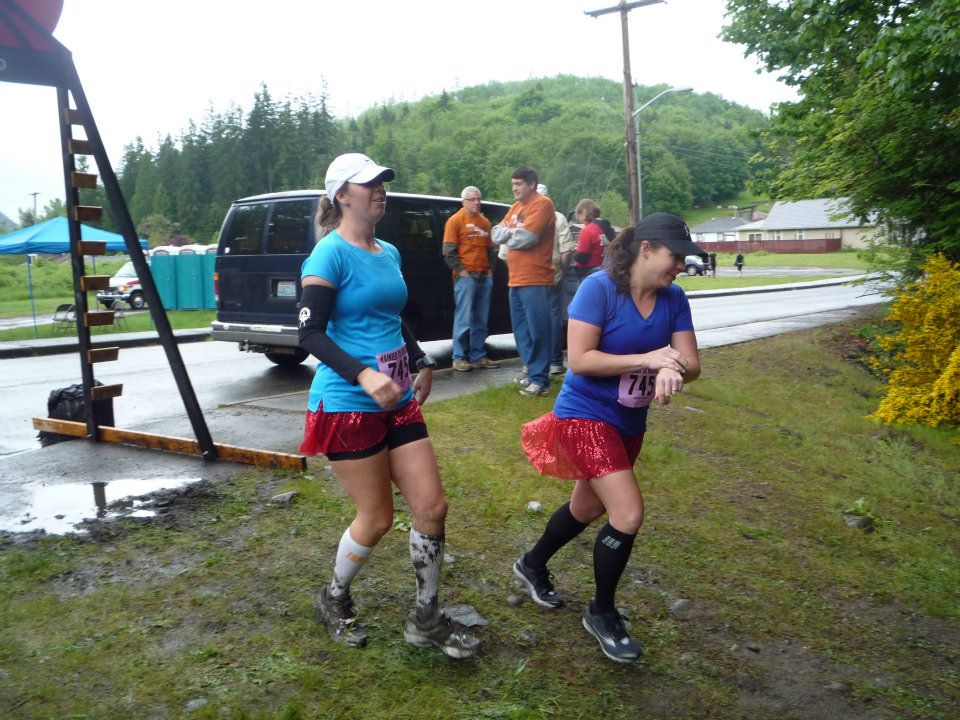 I was exhausted, muddy and so proud of myself…especially when I saw that I'd gotten my time down to a 10:25 overall pace. I've run easier trails much slower than that, so I was extremely happy with that time.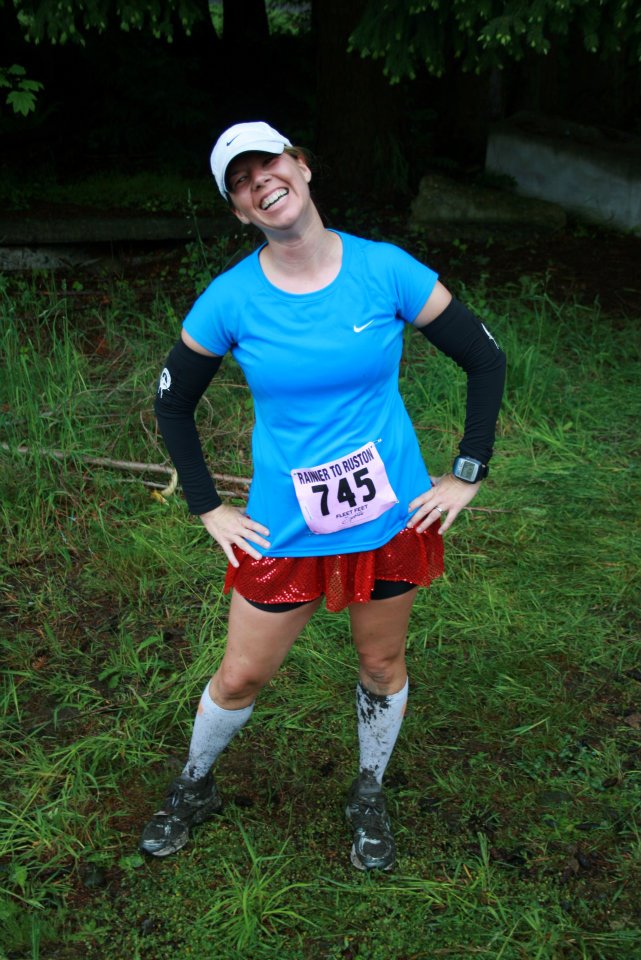 Back at the car, I think I used 4 or 5 of Mel's Nathan wipes to clean my legs up, and it probably took me 5 minutes alone just peel off my socks. My orthotics were surprisingly clean, but not dry and I knew they'd probably still be wet for my next leg, but I wasn't worried about it since it was a measly 2.7 miles on paved trail. Whatevs. I'd just finished the hardest run of my life. I could do anything. But I probably should've checked the manual about my final leg ahead of time…
(To Be Continued)