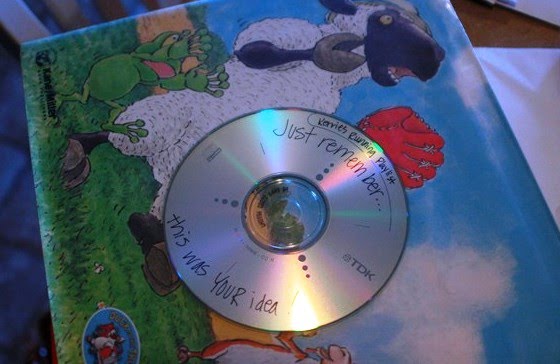 LB likes Metallica, I like Metro Station. LB puts a lot of thought into what he listens to, I don't. We are playlist opposites.
For me, running music is all about quick and upbeat and fun and happy. I don't listen to the words half of the time. I zone out and run to the beat of the song.
LB definitely got the short end of the stick in this playlist-swapping idea of his. Society is more accepting of women who listen to songs that are mainly geared toward men than the other way around. Don't you think?
My playlist is girly and I hope LB deletes the music from his iPod before any of his friends see it. Or his brothers. Dear god, let him delete it before his brothers catch wind of the list. He'll never hear the end of it, I'm sure.
Here are the songs I sent him (which equal about an hour as per our deal):
 Don't Stop 'Til You Get Enough – Michael Jackson
I love the beat of this song. Love it. It really helps me pick up the pace. This is one that I don't even know what he's saying in the song — I just like the music.
I'm Shakin' – Rooney
I just like this song. It's cool and it reminds me of The OC. I miss that show. (I watch too much TV.)
Waking Up in Vegas – Katy Perry
Shut Up and Let Me Go – The Ting Tings
Two songs that have great beats and that I like to listen to whether I'm running or not.
Tik Tok – Ke$ha
This could possibly the best running/workout song ever. The beat is addictive.
Shake It – Metro Station
Just Dance – Lady Gaga
Kiss N Tell – Ke$ha
These are some more great running beats. I'm sort of getting tired of Just Dance, but it's been on my playlist for a while now, so I had to include it. I don't like Just Dance or Shake It, though, unless I'm running. Those two are not songs I would normally listen to in my car.
Party in the USA – Miley Cyrus
I don't like Miley Cyrus either. Of course, I've never met her; she could be a really great person. But she comes off snotty and obnoxious, like a mean girl in high school. However, this song is so fun and happy. It lifts my spirits when I'm running.
So Much Better – Legally Blonde-The Musical
LB's lucky. Normally I listen to all the fast songs from the Legally Blonde-The Musical soundtrack on a long run. It takes my mind off of the pain and/or monotony. It's like listening to a story, but also listening to music – and the songs are funny and upbeat: Omigod You Guys, What You Want, Positive, Ireland (hilarious), So Much Better, Bend and Snap, and There! Right There! (hilarious). I wish I would've sent him one of the more hilarious songs now that I think about it. So Much Better makes me run fast, though, so that's why I included it.
Funhouse – Pink
This is a catchy song with a good beat. This song was on my playlist for my very first race, the Issaquah Salmon Days 10K. The lyrics are interesting and creative. Several years ago, I saw a VH1 Behind the Music episode (or some other similar show) about Pink. Afterward, I had new respect for her. I think she's talented. She's definitely not your average pop princess, which she points out a lot in her music.
That's Not My Name – The Ting Tings
This is one of my favorite running songs and it goes on all my playlists.
So What – Pink
Pink songs also are great for when I run angry, which happens more often than I care to admit.
SOS – Rihanna
Another pace-picker-upper.
Glamorous – Fergie
He's really going to hate this one.
Roam – B52s
This is just a nice long song with a fast beat. And I like the B52s. I'm old.
So there you go. My list is not rocket-surgery and probably makes me look like I'm 12. Go ahead and judge.
And there's no rhyme or reason to the order of the songs on my playlist. LB could listen to them on random, if he wants to.
Actually…I'm pretty sure he doesn't want to listen to them at all, but like I wrote on the CD I mailed him: "Just remember…this was YOUR idea."
Before I end this post, I have a confession: I actually got rid of a couple songs that I originally planned to include on the playlist because I just couldn't do that to LB. He's a nice guy and I don't want him to completely hate me. The songs I replaced (with equally good running tunes) were: Boys by Ashlee Simpson and When I Grow Up by the Pussycat Dolls.
Check out LB's post about the music he put together for me
here
. Wondering what this is all about, read
this
. And while you are there, read the comments. They're pretty funny. I've even did a little trash-talking.
COMING UP:
My reactions to LB's playlist, which he titled, "LB's Ultimate Playlist/Kerrie T's Worst Nightmare." I ran to his music on my 7-miler on Tuesday night and will be posting my thoughts probably Friday since LB will most likely be posting his reactions that day, too. A little teaser: I don't typically run to music that has the word "die" in it since I'm pretty much trying to accomplish the opposite of that.
Days 261-262: Why does it smell like a carnival out here and does this outfit make me look like a jelly bean?