Just popping in to report that I got in my first bike ride in a week done today, and my first core workout in two days. That's an HOUR of exercise people!
The amount of work I have with my freelance client is insane when you add it to my regular in-office part-time job, plus being a mom and wife and the duties that go along with that. And then add to that my passion for endurance sports. So, unfortunately, my hobbies have taken a back seat this week.
I spent Valentine's night plus the night before that working. Today, I caved and let Karsen stay home with me and didn't get near the amount of work I wanted to get done, done. I mean, I got some done, but I wanted to get more done. I just want to get ahead of the pile!
The good news was that we had sun here in Seattle today! And since Karsen was home, I took advantage of it and played soccer outside with him. Love this little guy; wish I could explain to him why I have to work so much this month. Just keeping my eye on the prize: Florida in just over two weeks. Ahhhh.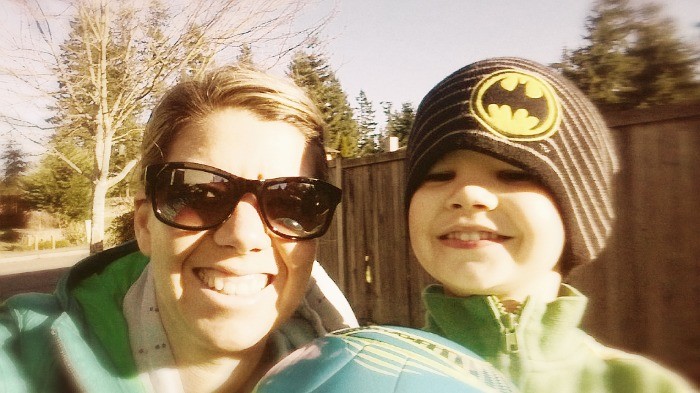 Since I've been working so much, I treated myself to a new watch I saw through Gearbuzz. I need a heart rate monitor, but don't want to do th chest strap thing. Found a $10 off coupon code online for the seller, HeartMonitors.com, and BOOM. Done. New New Balance Life TRNr is on its way.
Now, trying to figure out how to get a 7-miler done tomorrow, plus work, plus have a life.
Will you have a life this weekend?
Don't worry, all hope is not lost for me. Besides some family stuff on Saturday, I will be meeting up with my peeps–Mel, Zoe and Chelsea–on Sunday for brunch.