After my first long run, a 16-miler, in my Haute Pink RunLove compression socks, I could barely believe it.
No blisters!
I'd been running in socks that were too thick for nearly two years! Now, they are all I want to wear. In fact, I really need to get another pair. Gee, I wish I could enter this giveaway!
That's right RunningSkirts.com is giving one of you lovely ladies (or guys – I won't judge) a pair of RunLove socks in the color of your choice.
There are lots of ways to enter! (Please leave separate comments for each entry.)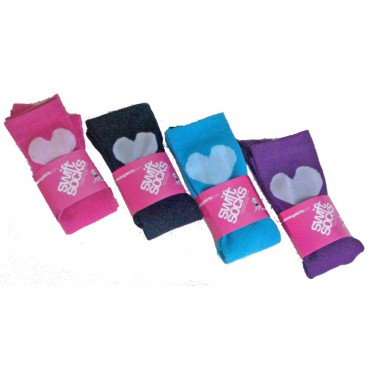 1. Be a Virtual Running Buddy (aka "follower") of Mom vs. Marathon or become one and let me know by commenting below.
2. Visit RunningSkirts, then come back and tell me in a comment what color socks you would choose and why.
3. "Like" Mom vs. Marathon on Facebook HERE then leave me a comment.
4. "Like" RunningSkirts on Facebook HERE. While you're there, I wouldn't hate it if you mentioned Mom vs. Marathon (@momvsmarathon) sent you, then come back and leave me a comment to let me know.
5. Spread the word! Share this giveaway on your blog, Twitter, your Facebook page, e-mail your friends, tell someone, hire a skywriter, start a chain letter…whatever! Then leave me a comment to let me know how you shared. One comment per … er … share. (If you share by Twitter, please include @momvsmarathon and @running_skirts in the Tweet. Thanks!)
6. Put Mom vs. Marathon on your blogroll. You won't regret it! Leave me a comment to let me know I'm there!
Thank you for entering! You have until the night before my first 20-miler to enter (Saturday, May 7th). The giveaway ends at 11:59 p.m. PST 5/7/11. I will announce the winner Monday, May 9th.