Look what popped up this morning when I turned on my computer.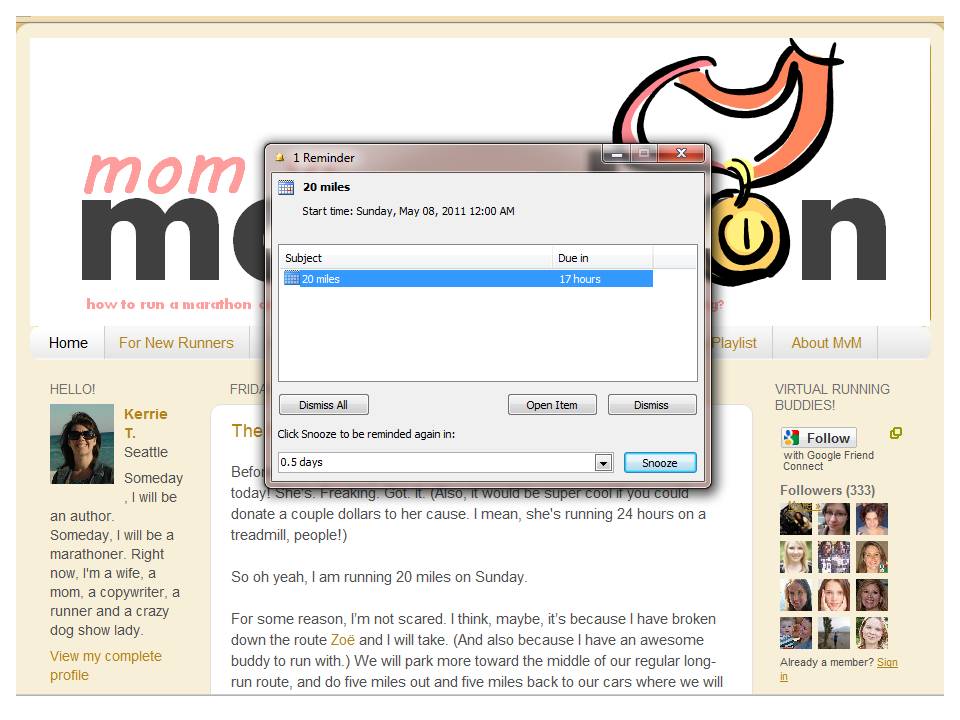 In case you can't read it, it says: "Subject: 20 Miles. Due in: 17 hours."
Like I would forget. Ha!
THURSDAY NIGHT RUN
I ran Thursday night. I got home, picked up T Junior, let out the dogs, made dinner and stuck it in the oven. Then took my three dogs and a baby upstairs, fired up Toy Story, grabbed T Junior's beanbag chair out of his room, changed into running clothes, switched on the treadmill, and ran. Well, first I walked, then I ran. Then I stopped the treadmill to run downstairs and take dinner out of the oven. Then I ran back up and treadmilled some more. I only wanted to run for 30 minutes because I didn't want T Junior in front of the TV more than that, and because we needed to have dinner. But I got about 2.5 miles in. Shins felt fine, but I wore compression socks (see shorts photo below) and iced with the ActiveWrap. Can't be too safe!
SHORTS
I bought a pair of Nike Tempo running shorts for something crazy like $8 this week. (Sports Authority is having a decent sale on running clothes.) They are a size Large and feel a bit big. Are they supposed to be a little baggy in the front? A Medium fit me, but seemed a bit snug in the rear. Anyway, I wore them around the house yesterday as I was cross-train-cleaning and I liked them. I will run-test them soon. They are, of course, black with pink accents.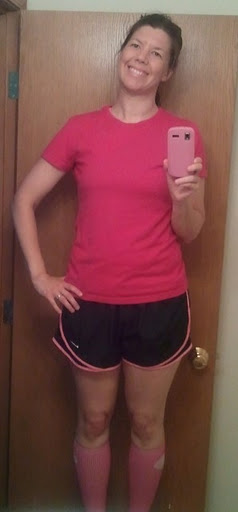 Trying on my shorts after Thursday night's run.
Didn't run in them because I hadn't washed them yet.
GIVEAWAY: LAST DAY, PEOPLE!
Last day to enter the RunLove Compression Socks giveaway! Ends at 11:59 p.m. (Pacific) tonight. I wish I could give a pair to all of you.
FUNNY STORY
Yesterday, I had to make a return at Target. I went to the one near work because I wanted to take T Junior to the mall playground in that area (what we do with our kids here when it rains and we can't go to the park). I found a parking spot. You know how you make little mental notes during the day? Well, when I got out of my minivan, I thought, "Huh, it's a Jeep" (that I parked next to). That's all. Then T Junior and I went into the store, returned my stuff, used the restroom and came back out. As I was approaching my Odyssey, I noticed the Jeep I parked next to had a Runner Girl sticker. I smiled. Then I saw a 26.2 sticker…OH! Then it registered and I said it out loud to T Junior, "That's Mel's car!" I was texting her when she walked out. Maybe it's not that big of a coincidence because she works in that area, too, but out of all those parking spots, I parked my 13.1 sticker right next to her running stickers. Random!
RUNNING LIFE
How much has running become part of our lives? My husband has given "running" it's own personal cell in our budget's monthly spreadsheet. "You know," he said, "for gels and other little things you need." Love him.