Motivators can be tricky. What I'm figuring out is there are different types, and some seem to work better than others.
At first, I wanted to lose weight in order to look good in jeans. That would be a Shallow Motivator. During the winter, this one morphed into losing some tummy so that it didn't hang over the elastic waist of my running capris. It's gone back to the jeans since that was accomplished. Shallow motivation is cyclical.
I also need Short-Term Motivators to get me out the door, and a big one for me is music. I love my 18-miler playlist. I made it specifically for that run back in May and it was perfect. The list started off with my usual fast, party-girl pop stuff, then slowed down in the middle with Sheryl Crow, Tom Petty, Cake and a couple of fun '80s songs, then transitioned into some peppy disco by ABBA and finished with sing-a-long music from Legally Blonde-The Musical. (You can see the entire 55-song list HERE.)
My Long-Term Motivator is probably the most important one: better overall health. It's interesting, though, that this one doesn't always get me to the gym or prevent me from eating a burger and fries. That's why I have the Shallow and Short-Term motivators. They seem to be more effective. But that was before I read this:
"According to Dr. Robert Weinberg, a professor of cancer research at MIT and discoverer of the first tumor-suppressor gene, one in every seven cancer deaths is caused by excess body fat. The math is stark: cut the fat, and cut your cancer risk.

"So the Tarahumara Miracle, when it comes to cancer, isn't such a mystery after all. 'Change your lifestyle, and you can reduce your risk of cancer by 60 to 70 percent,' Dr. Weinberg has said. Colon, prostate, and breast cancer were almost unknown in Japan, he points out, until the Japanese began eating like Americans; within a few decades, their mortality rate from those three diseases skyrocketed. When the American Cancer Society compared lean and heavy people in 2003, the results were even grimmer than expected: heavier men and women were far more likely to die from at least 10 different kinds of cancer."
— pp.208-209, Born To Run, Christopher McDougall (bold text and underlining are my marks)
I gasped mid-stride on the elliptical at the gym on Monday when I read this. Most of the information I've heard before, but this time it affected me differently. The weight, the reality, the scariness of these couple of paragraphs pulsed through me with each huff and puff as I eyed my heart rate on the machine. There aren't too many other things that frighten me the way cancer does.
My Long-Term Motivator just moved up in importance. I hope I don't forget about it. Maybe I need to write it on my hand…or on the fridge.
SOWL CHALLENGE

What are your motivators? What gets you out the door or to the gym? What makes you think twice about buying that suitcase full of Peanut M&Ms at Costco? Write about it on your blog or, if you don't blog, leave it in the comments below.
SOWL PARTICIPANTS: Motivate One Another
Thanks to a smart suggestion from Angie, we can now motivate each other more effectively. I created a Google spreadsheet, which includes the names of all the SOWL participants thus far, blogs where appropriate, a place to note starting and goal weights, and fields to mark your progress through Sept. 22.
Go HERE to update your information, and see who else is participating and how they are doing. So far, I've only posted my weight info since I couldn't remember who wanted theirs to be public and who wanted to keep their info to themselves. Please update your information, and feel free to share the link with your readers. (And, if I missed you, I apologize! Please add your name and info.)
Let's motivate and inspire each other!
MY SOWL UPDATE
So far, the Summer of Weight Loss is working for me. I've lost about a pound a week (just shy of 3 pounds).
This week was a major win because family was in town and I indulged on several occasions – waffle cone (again), beer, martinis, wine, restaurant food, and I even tried rabbit and pork pate at this swanky lounge on Saturday night before the Grease Sing-A-Long. (My friend SH ordered it and since I was two drinks in, I felt brave.)
Kallie, SH and me at the swanky lounge.
I now see that that's not a flattering shirt on me…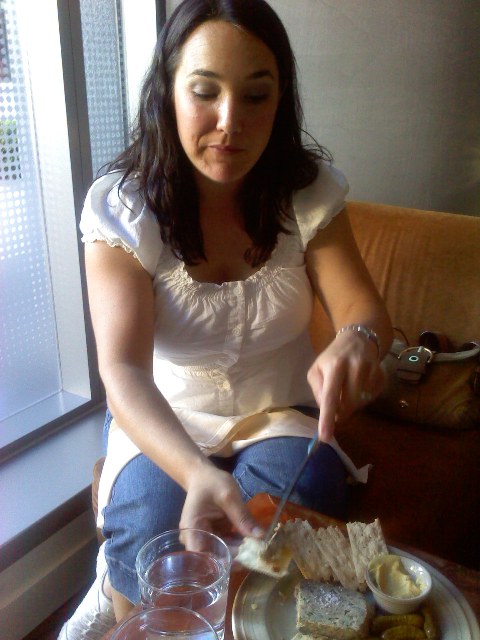 We made SH try the pate first since she's
the one that wanted to order it.
I weighed in on Monday and was extremely happy with a .8-pound loss. I feel pretty good about that because even though I overdid it a few times, I actually did try to balance the day with lighter meals elsewhere, like a small, but filling breakfast (bagel thin with 1 Tablespoon chunky peanut butter, -4), and a veggie-heavy lunch (mixed greens with grape tomatoes, a diced Babybell cheese circle, and a quarter of an avocado with 1 teaspoon each of olive oil and balsamic vinegar, and a dash of coarse salt and a little pepper, -4).
I also did not count points Friday-Sunday – I just ballparked my meals in my head. This is a bad habit that is rolling over. It's Wednesday and I have yet to enter my points in my homemade spreadsheet. I will finally have some time tonight to catch up, though. We've just been busy, busy, busy at our house.
But last night, me and Mr. T went on a date to the Mariner's game. Highlights:
-Walking by the crazy Adam Lambert fans in line to see him in SODO.
-Finding free parking in an actual lot downtown. WHAT?!
-A beer, a Kidd Valley hamburger and some garlic fries.
-Another beer.
-Spending time on a random weeknight with my guy.
*I'm almost done reading Born to Run, so you won't have to hear about it that much longer.