I love surprises. But only good surprises.
FRIDAY
Friday was all good. First, T Junior's bug seemed to have gone away. He threw up at day care and had a little fever on Thursday night, but seemed all better on Friday. Then, I weighed myself and I was below 150. Only about four pounds from my goal! I think the two-a-days are working (short, easy runs with Bennie in the morning, then regular workout or run later in the day). 
Later, my friend and running buddy, Chelsea (
Will Run for Food
), showed up at my door…with a surprise…and her bike. During a run together earlier this year, I was coveting her black lululemon windbreaker. She brought me a pink one! It was so very thoughtful and unexpected. Thank you, Chelsea! 
Next — after T Junior informed Chelsea that she is a "grill," Mommy is a "grill," Lucy and Nana (Annie) are "grills," and that he, Bennie and Daddy are boys — we loaded up the bike trailer and my clunky, dirty mountain bike, and Chelsea's sleek road bike in the back of my minivan.
We had an awesome ride on the Cedar River Trail while T Junior watched The Polar Express. He was good, only demanding one thing from me the entire ride: to sing the song from the film, "Hot Chocolate," to which I huffed back that I couldn't sing and ride my bike and pull him. No way. 
We did stop once, and that was because I saw something white that looked like it was climbing a tree right next to the trail. Turns out it was a bald eagle, flapping its wings and landing in the tree. It was so close, but I couldn't get my phone out fast enough to take a photo (it saw us). 
But Mr. T was home to take a photo of us in our matching jackets!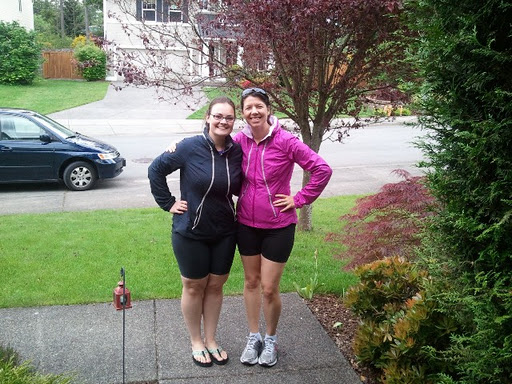 Twinsies!
SATURDAY
Dog show on Saturday. We all had to get up early — well, early for Mr. T and T Junior. Once there, I took Bennie for our walk/run around the fairgrounds. It was eerie to see the carnival rides in different states of "rest." I walked Bennie for about 20 minutes and then found a big enough patch of grass where we could run "laps." I didn't want to run him on the asphalt because I didn't want his toenails to bleed. We did about 1.7 miles, and the plan totally worked. He was way calmer in the show ring. I was so proud of him even though he didn't win.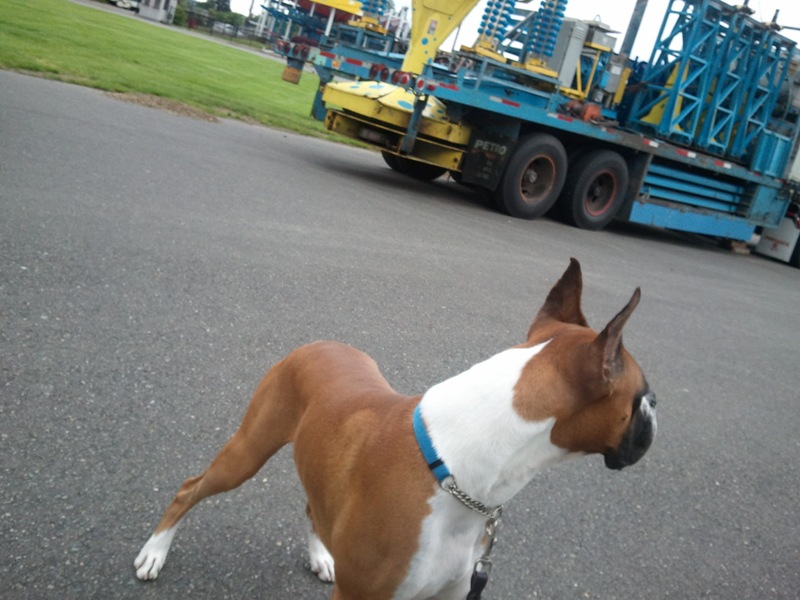 He wouldn't hold still…
Later, after the show, I could take a nap or go pick up some more gels. I had 13 miles on the schedule for Sunday, so I went for gels and — surprise! — I came home with my marathon race shirt. I love the shirt I found. And it's pink! I'll share it when we get closer to the race.
SUNDAY
Sunday was the same thing as Saturday, except we got up a little later (6 a.m.) and had less time. I walked Bennie over to the grass and we ran about 3/4 of a mile for a total walk/run of 1.2 miles. He was a pretty good boy in the show ring again, but still didn't win. Poor Bennie.
On the way home, my stomach went from feeling off to feeling bad. It was tight like a clenched fist. It was making me feel sick. How am I going to run 13 miles? But we ate some food at home and had some water, and I started to feel better. Okay, I think I can run my 13-miler. We had some errands to run during the middle of the day, but by the time we got home, my tummy was feeling pretty awful again, and T Junior had another fever. I'll run my 13 on the treadmill after I put the kid to bed. I went about making dinner (which I didn't eat) and pretending everything was okay, but by the time I put T Junior to bed, I couldn't pretend anymore. The 13-miler is not going to happen. I went to bed…in my clothes…at 8:30…with no dinner. So not like me at all. Sometime in the night, I got up and changed, but I didn't actually "rise" until 7:30 this morning. 
Surprise! I have a 13-mile run to accomplish today. My stomach is feeling okay right now, but my back muscles are all tight. Weird. And I have a kid with a slight fever, who keeps complaining that his "weg" (leg) hurts. Or it's his toe. Or it's something else…and he NEEEEEEDS some medicine. 
You know what? I'll be surprised if I get this 13-miler in today.