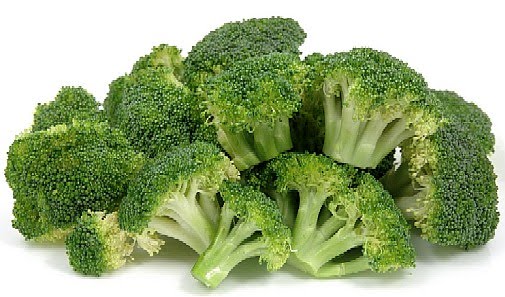 "This is soooo good."
I plopped another heaping serving spoon-full of my friend's sweet, creamy broccoli and cranberry salad onto my plate. I deserved to eat as much of it as I wanted since I played pickleball all day in her neighborhood tournament.
I finished it in about…oh…15 seconds, rinsed the dish in my friend's sink and flopped my aching body into the oversized chair in front of the TV.
Twenty minutes later, I mumbled, "I don't feel so good," and drove home. It's only an 8-minute trip, but I almost didn't make it. I was soooo sick.
Five days later, I was back in the bathroom, holding a little plastic stick with two pink lines and trying to catch my breath.
I absolutely refused to eat broccoli my entire pregnancy. The thought of it made me nauseous. Picturing those little green florets made my mouth water, and not in a good way.
I didn't even dare try it again until my son was old enough to eat "people" food. And even then I cooked it until it was so tender you could cut it with the dull edge of a fork. I didn't have much, but I also didn't have to run to the bathroom later on.
Gradually, I reintroduced steamed broccoli back into my diet. The stuff's just soooo good for you. Plus, I love broccoli. (Especially with mayonnaise, which Mr. T doesn't understand.)
Saturday, I bought a baggie of cut raw vegetables and some dip at Safeway for the Cougs first football game of the year. (Don't be fooled, I also left there with a party-size bag of greasy sweet Maui onion chips.) I ate the baby carrots and some of the cauliflower. Cautiously, as if someone was going to jump out from my pantry and punch me in the stomach, I crunched on a couple small pieces of broccoli.
I was fine.
Yesterday, I took the leftovers (about 2-1/2 cups worth) to work with me. I was too hungry while waiting for my Lean Cuisine to cook in a very old and inefficient microwave, so I swiped a piece of cauliflower through the creamy dip and popped it in my mouth. Mmmmm. Then, I ate some broccoli. Yum. Then, some more cauliflower. And, some more broccoli, until nearly all of the raw veggies were gone.
Twenty minutes later, I thought I was going to die. I felt bloated and sick to my stomach. And nauseous. I spent the second half of my work day hustling to the bathroom and back to my desk, each time hoping nobody noticed how many times I was going in there.
So, dear broccoli, you are soooo back on my banned foods list. You and green peppers and olives will just have to deal.
As for actual running yesterday, besides between my desk chair and the potty, I didn't get any in. But it's okay because I switched Tuesday and Wednesday. So, Tuesday was supposed to be a 2-mile walk.
However, I had my very first Society of Children's Book Writers and Illustrators meeting last night. I only had 45 minutes between the time I finished picking T Junior up from day care and the time I needed to leave the 'burbs to get to Seattle Pacific University by 7 p.m. Plus, my tummy still wasn't completely back to normal even with the powdery chewable tablets I choked down.
I managed a 20-minute walk pushing T Junior in the BOB with my right hand and steering a 5-month-old boxer puppy with my left hand. And I wasn't wearing good shoes, so we didn't go very fast, but we made it round-trip through a couple of cul-de-sacs.
Mr. T walked in the door at 6 and I ran out 10 minutes after that. I, unfortunately, decided to hit the McDonald's drive-through on my way to Seattle, paid for the least offensive thing I could think of (chicken) and crossed my fingers it wouldn't make me ill at this meeting I've been waiting 10 years to attend.
My tummy was kind. Hallelujah!
I made it through the two-hour meeting, which was everything I dreamed it would be and more! I chatted for only a few minutes afterward, though, because I felt…funny. I needed to head back home to the safety of my own bathroom before there was an…um…emergency.
And, so, I got a some more exercise as I walked as fast as I could (without looking like a complete paranoid freak) across the dark sidewalks of the college campus back to the minivian, my keys strategically laced between my fingers in case I needed to strike a Kung Fu pose and shred an attacker's face or something.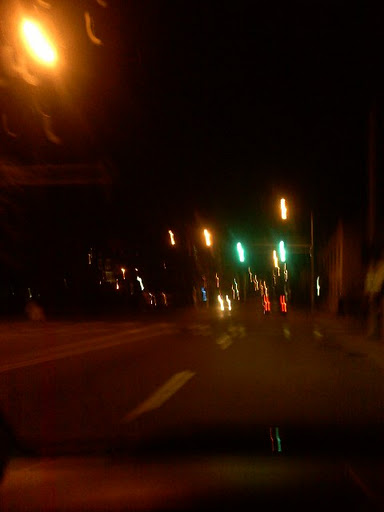 The 45-minute drive home was uneventful, as far as my stomach goes anyway. I felt okay. Just tired since I'd risen at 5 a.m. and it was now closing in on 10 p.m.
But I realized two things last night. First, broccoli feels bad. I can't eat it anymore. (Okay, maybe if it's cooked and has a some mayo slathered on it.)
Second, accomplishing goals feels sooo good. Bring on 13.1 miles!