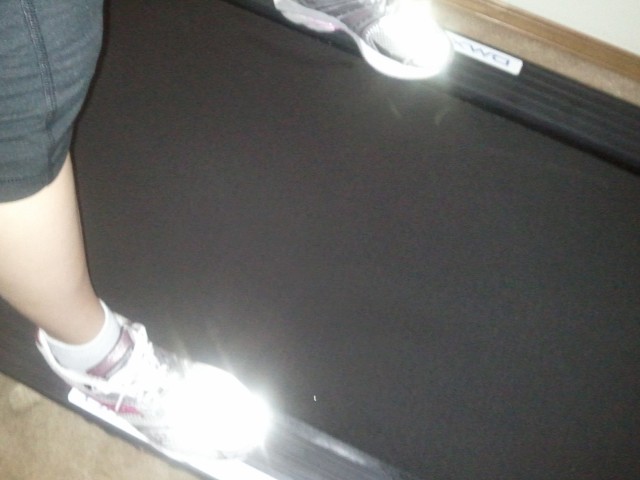 Completed my first "real" run in my pretty pink and silver Sauconys last night!
1. My officemate and I have been competing to see who can make the best oatmeal in the mornings. This morning she was super jealous of my cinnamon. And I stole the idea of cutting up an apple and cooking it with the oatmeal from her.
½ cup of quick oats
1 cup of water
½-3/4 of an apple, diced (skin on)
1 Tablespoon of brown sugar
1 Tablespoon chopped pecans or 1 Tablespoon of slivered or sliced almonds
1/8 teaspoon of cinnamon
Put the diced apple, oats and water in microwave safe bowl. Microwave for 2 minutes and 30 seconds. Stir in the other ingredients. (I put the brown sugar, cinnamon and nuts in a little take-along container, and bring them from home. I bought a container of oatmeal to leave at the office.) Approx. 200 calories, VERY filling and feels like you are eating a lot of food!
Variations: Sometimes, at home, I also put a half of banana in (after the oats and apples have been cooked). I give the other half to T Junior. Craisins are good, too, if you don't have an apple.
Do you eat oatmeal for breakfast? What are your favorite oatmeal ingredients?
2. I weighed in this morning: 157.2! I'm down about two pounds since I figured out I was eating too many calories every day. The adjustment wasn't hard at all and I've only been getting hungry when it's time for my next meal. And I've been pretty good at drinking all my water throughout the day, plus I've also been throwing back 1-2 glasses of H2O before dinner to fill myself up before I eat. This has helped me cut down on my dinner portions (that's when I tend to overdo it).
I'm changing my weigh-in days to Thursdays instead of Fridays because Thursdays are my Fridays, and sometimes I want to celebrate with a big bowl of popcorn or an adult beverage. I don't want to throw off my weigh-in with my little splurge the night before.
3. My long runs are getting more serious. I have nine miles in store for Sunday. I'm pretty excited about it, actually. I just wish I had someone to run with. Anyone want to meet half way or anything? This actually leads into tomorrow's post: I'm thinking about starting a running club locally. I'm talking about a very relaxed club – just a group of women that meet weekly to run. Has anyone ever started one of these and wants to offer advice?
I put the laundry basket between the 'mill and the bed so Bennie (pictured)
couldn't go behind the belt and lick it. Instead he tried to drop his bone on the
moving belt and kept pushing his Kong underneath the treadmill as I ran
at a nice 9:30 pace!
I'm also excited for my long run this week because I haven't been on a run outdoors in about two weeks! I've been sweatin' it out on the 'mill, baby.
Last night was, by far, my sweatiest run ever. Well, ever in 2011 anyway. And the dogs were being so annoying! I had to stop and retrieve dog toys from underneath the treadmill, yell at Bennie to stop humping Lucy, and cover my nose because Annie was stinkin' up the room again. I felt more stressed after my run than before it, which usually isn't the case. The good part of the run, though, was American Idol (favorite quote last night was the one about hippies said by a guy in a Confederate soldier uniform) and running in my shiny new pink shoes!