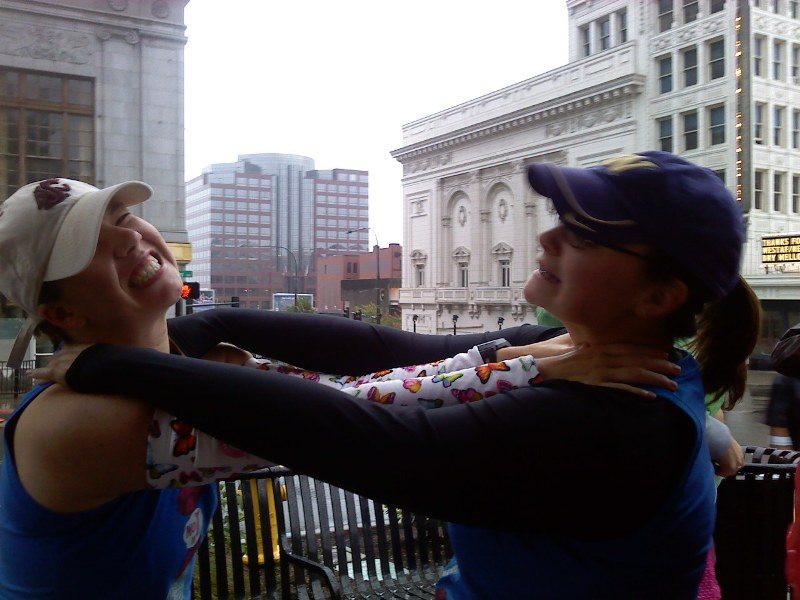 Me and Chelsea at You Go Girl 10K last fall. We'd just met.
What to Wear
Sunday is the See Jane Run Half here in Seattle. I am running it with Chelsea (Will Run for Food). It will be her first half. We were going to wear coordinating outfits (me, in my Washington State University gear and her, in her University of Washington stuff — in-state rivals; see photo), but plans for those have sort of fallen apart. She's got her outfit mostly put together, but I have no idea what I'm wearing. I might break out the white skirt. It's feelin' like it might be a white skirt kinda day.
What to Write
I'm up against a deadline…a bunch actually. Such is the life of a writer (even if it is lowly copywriter). Anyway, I am working on my article for Sparrow Magazine, which debuts in September. I've learned something about myself as a writer over the last year or so, and that is…I don't like to write. I like to rewrite! Writing first drafts sucks big time. (Obviously, I have a way with words.) It's so hard for me to focus and just get all the details down. But once I do, then the fun begins! So what I do is put off the first draft until the last possible minute. (Emilie – I hope you are not reading this!) I forced myself to just barf up some words today during my lunch hour (I'm telling you, only award-winning prose here, people). It's a good start, but I'm still not ready to rewrite. *sigh*
Che cosa?
Yesterday, I took Bennie (the dog) and T Junior (the 3-year-old) on a walk/run after work. Actually, the "running" part was all T Junior's idea. You can read the full DailyMile entry HERE. It was the longest walk ever! But we did meet some interesting characters along the trail. Lello was a friendly man from Italy who was basically forced to stop his bike as T Junior ran after him, yelling, "Hi! Hi! Hi!" (At least T Junior stopped growling like a dog and chasing runners — we had a little talk about that.) We chatted with Lello for a few minutes, T Junior gifted him a yellow leaf and then we were all on our way. We saw him on our return trip, too. Again, he stopped. Oh boy. Lello, who I would guess is about 40, is here to visit his wife's family. His English is…broken. It was a long conversation about the trail and other trails he could ride on and, guess what? I don't think he knows what the word "trail" means and I've just said it like a million times. But he knew "Garmin" and pointed mine out as it is the huge old one (205). These Bennie/T Junior runs are a lot of work for notttttt that much fun. BTW: Why is it when I think of Italy, all I can think of is THIS scene from Christmas Story?