[affiliate-disclosure]

ICYMI Michael Wardian broke the treadmill 50K record with a 2:59:49. NBD. Just a 5:47 pace for 31 miles.

I'm thinking of going for the slowest 50K on a treadmill record.

All kidding aside, the treadmill isn't just for us lowly runners. Elites run on treadmills, too! What 'mills do they use? Because pieces would probably start falling off of mine if I got lower than a 6-minute mile.

Today's workout was strength plus a foundation run. I did strength and some de-stressing walking before work at the gym.

Here was my strength workout:

1. Barbell push press: 6 with 45#s, 3×6 with 55#s

2a. Suspension trainer inverted row: 10, 9, 8

2b. Suspension trainer face pull: 10, 9, 8 (I just couldn't manage these pulls and inverted rows today)

3a. Kettlebell farmer walk with 26.4# each : 4x~40yards

3b. Bicep curls w/ 12#s: 4×10

Working out was slightly awkward as the trainer I sometimes check in with at the gym was working out right next to me. I tried to leave her alone, but mostly I wanted to ask her, Am I doing this right?

Afterward, I walked easy for 30 minutes on the treadmill.

After work, back to treadmill! I wore my new Lululemon Run Times shorts. They are a couple inches longer than the Speed Shorts. Even though my thunder thighs eat the Run Times shorts while I run, I like them. I tried on a bunch of shorts at a Lulu store recently and these seemed to fit me best. I like the Speed shorts, too, but they. are. so. short. I feel a little exposed in them.

But I can understand why people like them…and I mean, if your thighs eat your shorts anyway, what's the difference? I may consider some and anyone who wants to gawk at my veiny, dimpled thighs…well, that can be their problem.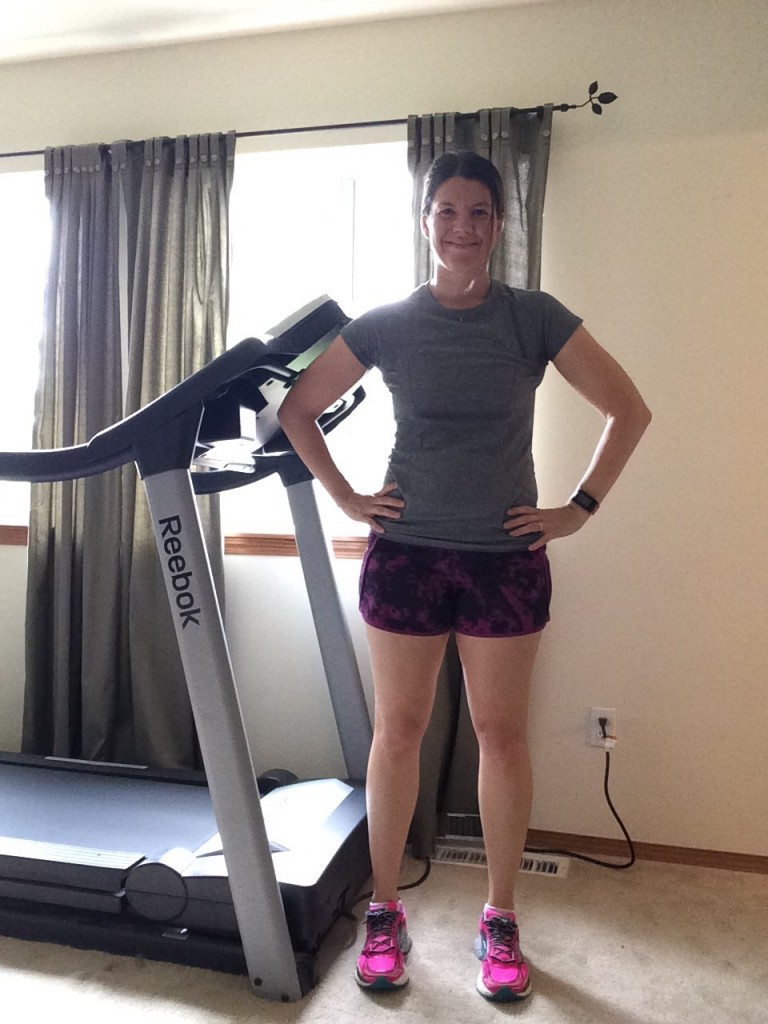 Anyway, my run was just a foundation run, which means slow, slow, slow:
5 minutes at slow pace
20 minutes at easy pace
5 minutes at slow pace
I did 12:00, 11:05, 12:00. I had a short break before my last 5 minutes to go get my son at the bus stop.
After finishing up, I did the quick glute workout (Build a Stronger Butt) you can find in my Pinterest Running folder.
I did:
3×10 (each leg) one-legged squats with 12# dumbbells
3×10 (each leg) one-legged deadlifts with 12# dumbbells
3×15 (each leg) banded clam shells
I'm sure I will feel this tomorrow. I have some "faster" running to do tomorrow. I hope to not do it on a treadmill.
How often do you run on a treadmill?
What is your favorite pair of running shorts?