Everybody always does Three Things, but I only have two today. Actually, I have nine…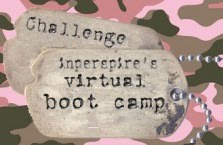 First, Karma at Inperspire is hosting a Virtual Boot Camp Challenge. I signed up. This week is:
300 jumping jacks
300 jump ropes (with or without a rope)
100 push-ups
200 sit-ups
Second, thanks to
Tall Mom
for this cool bloggy award!

I'm supposed to post seven fun things.
1. T Junior's 2nd birthday is this week: Thursday. Every time a box comes (we shop online a lot), he says, "A birthday box!" He's pretty excited. He's been singing Happy Birthday and asking for birthday cake for a month. Yesterday, he even told the stylist: "A birthday haircut."
2. I am excited for the World Cup, which begins June 11. I love soccer (or football…whatever). I started playing in the 1st grade. Our team mostly stayed together through high school, so we were pretty good. I played on intramural teams in college and indoor teams after college. It's been several years, though.
3. I discovered my love to run during the required mile in 8th grade, or was it 7th? I can't remember what year it was. Anyway, I won for the girls. I don't know that everyone was putting as much effort into it as I was. I've always been competitive.
4. I ran cross country only one year in high school: the fall of my junior year. That spring, though, I got mono. My immune system has been whacked ever since. I developed allergies and I had asthma (although, it doesn't bother me anymore, so I wonder if it was a result of the allergens where I lived then). When the cross country season came along in my senior year, I whimped out. I couldn't handle the inhaler and I struggled and I quit. I'm not proud of this. I should've stuck it out.
5. These days, I'm loving our crockpot. It's so awesome. You make dinner during the first part of the day when you have energy and patience, and then all you have to do is dish it up when it's time to eat! We have the Taste of Home Slow Cooker Classics book. It has hundreds of recipes that don't take a lot of prep time. I don't like slowcooker recipes that require a lot of prep. That sort of defeats the purpose of a slowcooker if you ask me.
6. I like to have dessert every night. I know that's not healthy, though, so I try to make it small and/or something light. My favorite dessert is a vanilla Skinny Cow in a bowl with a very, very thin layer of peanut butter spread on top (about a quarter of a teaspoon is all you need). Also, Costco has these mini angel food cakes that are about 140 calories. I also love one of those with a cup of Dunkin' Donuts decaf.
7. I love shopping on eBay. I've purchased a couple of summer shirts, some NFL PJs for T Junior and I just won some Chloe perfume that I wanted to try (it retails for like $85, so that's a little out of my price range). The other day, I saw a Running Skirt on there. I should've bid. Someone got it for $22!
 
And, if you didn't see it, I added some tabs across the top of my blog (under the header). There's 25 more things you never wanted to know up there.
 
Okay, now to pass this award on to 15 bloggy buddies:
1. H Love at Keep On Keeping On, who has been dealing with an injury.
2. LB over at Muddy Runner, who completed a Mud Run with his two daughters today.
3. Lisa at Lisa Runs Wait…What?, who will be running the Nike Women's Half Marathon this fall.
4. Robin at Running Circles Around the Turtles, who is always inspiring me.
5. Anne at Asthma and the Gift of Running, who is another inspiring and motivational bloggy buddy.
6. Ewa at Running Bunny, who is dealing with an Achilles injury.
7. Robyn at Ramblings of a Wannabe Writer and Runner, who is also injured…and just after returning from vacation, too.
8. Steel Springs at Springs. Steel Springs, who is looking for a good half marathon training plan. Head over if you have a suggestion.
9. Tricia at Endurance Isn't Only Physical, who always has good running and eating advice, and great giveaways, too!
10. Mel at 2nd Chances, who's story and dedication inspires me.
11. Alma F. at The Average Woman's Running Blog, who I'm hoping I get a chance to meet at NODM!
12. Kelly at In a Field of Daffodils, who ran the Vancouver Half earlier this month.
13. Navy Wife at Navy Wife and A Running Fool, another bloggy buddy who lives in the Puget Sound area and I hope to meet someday.
14. Alison at Waisting Duxie, who also lives nearby and will hopefully meet up with me to run someday.
15. Glenn at The Running Fat Guy, who always gives me great advice on anything running or dieting!
 
Whew! That's a long list, but it could be longer because I am blessed with so many inspirational, motivational (Muppetational?*) Virtual Running Buddies!
 
*Being in my early 30s, I love the Muppets and can sing the theme song. Naturally, Muppetational just popped into my head as I was writing "inspiration, motivational."