You know what I just realized this weekend?
I'm not a beginning runner anymore. I mean, I'm not a veteran or anything, but I've sorta got it figured out. I feel comfortable in my running shoes you could say.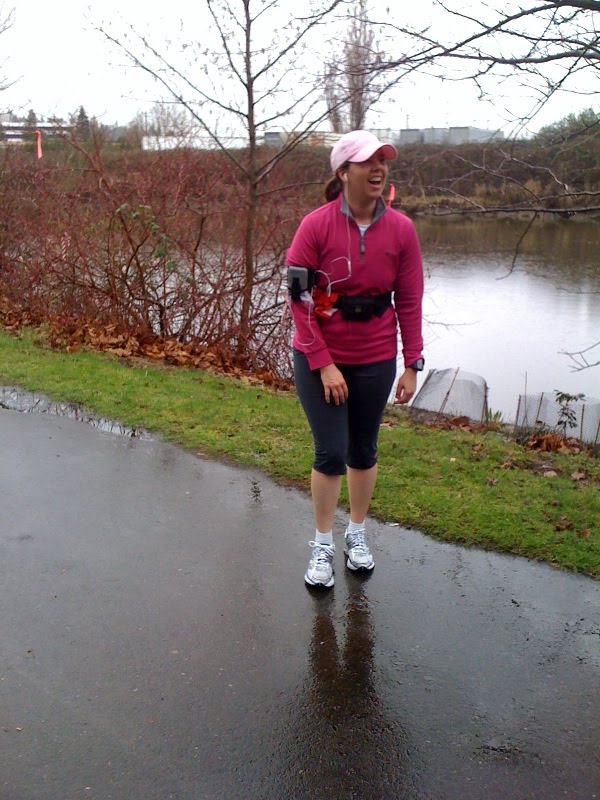 Me looking like a noob at the end of the hellish
Million Inch+++ Run in February 2010. Stay tuned for pics
from today in this exact same shirt!
Of course, I still have a lot to learn! And I love that I can ask a question and get answers from lots of runners more experienced than me. Thank you so much for all your input on my training schedule the other day, BTW!
So Saturday I got up early because I wanted to run before my 9-hour scrapbooking extravaganza. I knew there would be delicious treats there that I wouldn't be able to resist. And, of course, there were. But mostly, I wanted to run because I knew I'd be sitting all day…not scrapbooking because I'm so disorganized, but just sorting pictures. (Exciting news: I found some pics of my one and only triathlon in the 8th grade.)
I decided to run my 3-mile loop twice Saturday morning. It was cold and my earbuds were pissing me off and I was stiff and I felt heavy and I wanted to go back to bed and the neighbor's fireplace smoke was stinky and I got a later start than I wanted and…okay, I think that was it. Wait. And I was freaking cold. 
Anyway, Mile 1 pretty much sucked. I go back and forth between running by feel and watching my Garmin too much. I finally had to basically yell at myself (internally, of course, I didn't yell out loud…I'm not that kind of crazy), to stop looking at my pace. I mean, who cares? I wanted to take it nice and easy and I was stressing about how stiff and cold I felt, which was making me slow. 
So, of course, once I relaxed, I warmed up and my newfound speed* kicked in. If I can remember to keep my trunk upright and engage my stomach muscles, fast* running comes so easy! 
It takes effort for me to use my stomach muscles, though. I have to think about it. This is probably why I have back problems. To "engage" my stomach muscles, I just remember what my chiropractor's physical therapist told me. I'm paraphrasing here, but you'll get the idea: When you use your stomach muscles, it almost feels like the muscles you use to do the kegel exercises you did when you were pregnant. Do not hold your breath. Isolate those muscles and use them.
Anyway, the rest of my run was pretty great (except my earbud). My last mile was on a straightaway and I could see a lady walking her dog about a quarter-mile ahead of me, and I just zeroed in on her and ran sub-8's till I picked her off. I bet she didn't know we were racing! Hehehehe.
Sunday morning, I got up at 6 to get ready to meet the WeROKC group on the Cedar River Trail. Jill from
Running to Sanity
, Megan from
Daily Sweat
, Chelsea from
Will Run for Food
and I were meeting at 7 to run 7. It was to be Chelsea's longest run yet! I was really excited to run it with her. My first 8-miler in the fall of 2009 was the one I was really nervous about, and I think she felt that way about her 7. I designated myself group photog.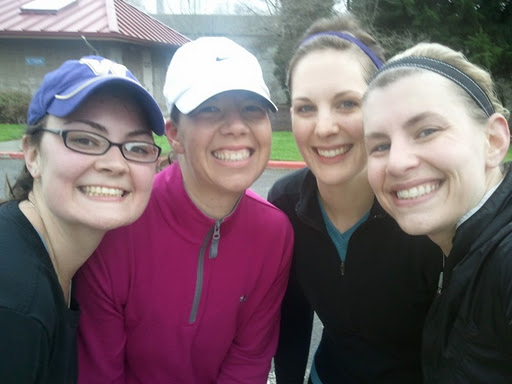 Oh, shoot. Actually, Jill took this one.
L-R: Chelsea, me, Megan and Jill.
We had a little miscommunication and Megan parked at the 3-mile meeting spot, but she ran toward us and we met in the middle. Like exactly at 1.5.
Jill, Chelsea and Megan looking strong!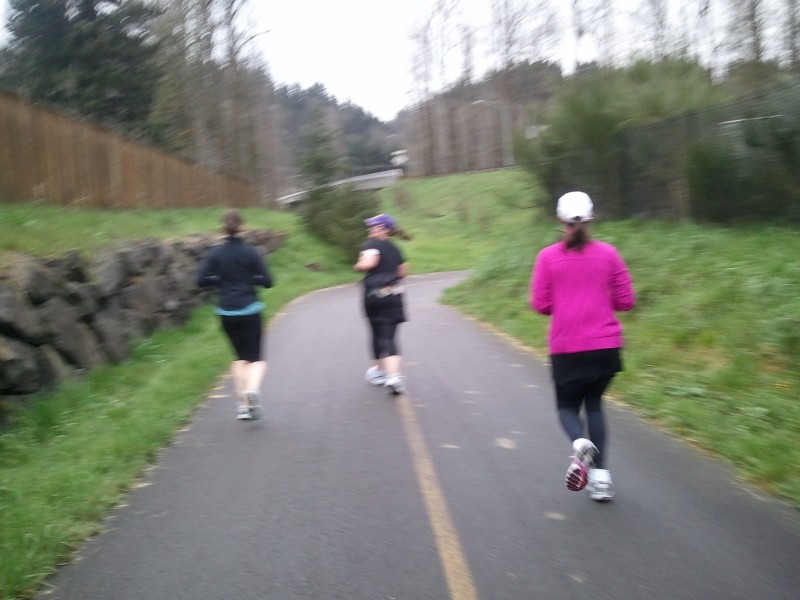 Megan, Chelsea and me in action!
Chelsea, Megan and me at the turn-around spot.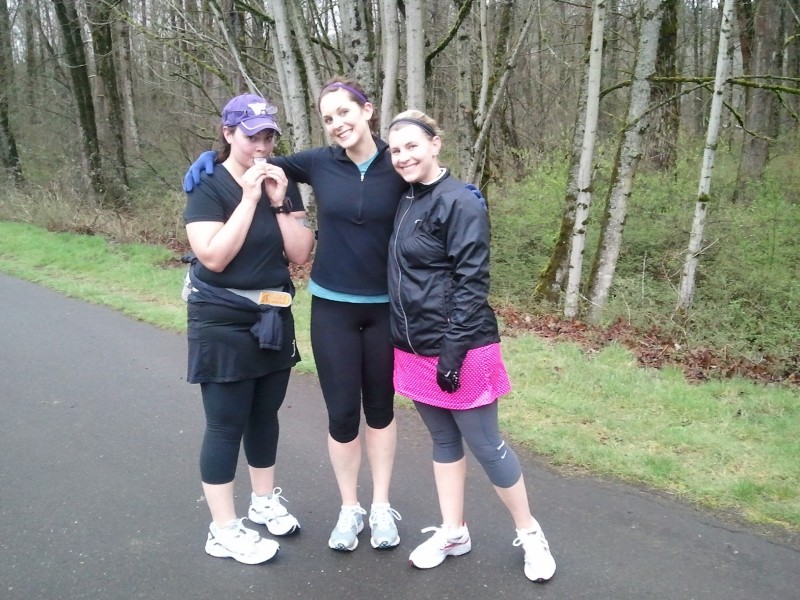 Chelsea, Megan and Jill's turn!
The run went great, the weather stayed dry, and we got some great comments on the trail. We got a cheery and loud, "Morning ladies!" from a couple of speedy male runners passing us going the other way during the first half of our run. At the end of our run, a female bicyclist told us we were hard-core runner women! (Those two totally make up for the "keep running fat-a$$" comment I got during a
solo 16-miler
on the trail last year.)
Overall, two very different runs (one solo, one with buddies), and I feel great! I love running. Not sure how I lived without it for so many years.
*Remember, speed is different for everyone. What is speedy for me, might be slow or fast for others.