We cleaned up the tree on New Year's Day. And all the Christmas decor, too. It was an all-day affair. But I did get in a Jillian Yoga Meltdown (Level 1) workout in.
And that, my friends, was the beginning of my streak. Last month, my friend Mel (Tall Mom on the Run) ran every day. Every single day. Even if it was only a mile. Inspiring!
I know I can't do that for my shin's sake. But, when Mr. T announced he wanted to walk 30 minutes every day, I decided I, too, would exercise every day. We'd go streaking together!
Like I said, I can't run every day. So I just have to do some sort of exercise: bike, walk, yoga, Shred…whatever I can fit in. I know I need to "rest." That's where gentle yoga or an slow and easy walk comes in.
Today, I started a treadmill workout, but it felt…crappy. So I got ready for an outdoor run. The bike shorts and t-shirt I was already wearing were fine for outside since it was 50 today. But it was already getting dark at 3! So I put on my new glowing Nathan vest and a pair of gloves.
Sidebar: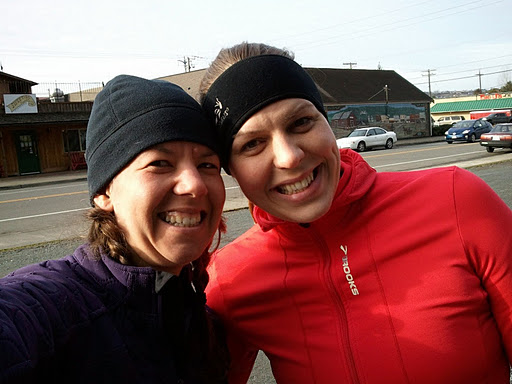 Ugh. I suck at self-portraits!
On Saturday, New Year's Eve, I went for an 8-miler with Mel on the Orting Trail. I forgot my gloves and I regretted that…till I got the feeling back in my fingers around Mile 3. More on that run HERE. Tease: The first half was rough. Let's just say, I'm feeling…heavy.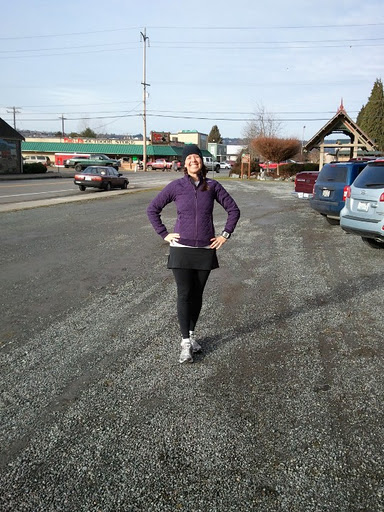 32 degrees and no gloves. What a dummy!
BTW, I went to Lululemon and bought another skirt last week. I didn't understand why I needed it in a size larger than my black Lulu skirt (pictured above). Well, when I put on my black skirt on Saturday morning, I knew why (ahem mimosas, eggnog, cake, gumdrops, Reese's Christmas trees).
End sidebar.
Anyway, today I didn't know where or how far I would run. I ended up going a new way and exploring a little, even discovering a paved trail, a school, a new back road and a cool rolling straightaway. With my brief treadmill what-I-decided-would-be-a-warm-up of 1.4 miles and my outdoor what-turned-into 5 miles, I'd say I was pretty "productive" today.
Sometimes I just need to exercise to feel like I "accomplished" something. Do you ever feel like that? Yesterday, we cleaned up so much stuff. Today, I was just feeling to unproductive. Not anymore!
So, what do you think about the streaking idea? It's sort of a big goal: exercise every day. I suppose there should be a minimum time. Let's say at least 30 minutes. Anyone else interested in doing this?