…kick its ass.
So I started my sub-2-hour-half training plan on Monday with a 4-mile run at a comfy, but not too easy, pace. I ran through my neighborhood and town. Blah, blah, blah. My usual route. That route's getting boring.
Then Tuesday was a rest day. But I also had PT, and we worked on glute strength for an hour, so I got in a mini workout. Then I worked on glute strength in the evening, too. Before bed, I checked my plan for Wednesday. Five miles, with three of them being mile repeats at an 8:15-8:30 pace.
Gulp. An 8:15-8:30 pace for three miles? Me?
I'm confident in my physical abilities. I usually know what I can and can't do, or at least I know that I can try. But this pace had me a little nervous. Could I do it? Also, when would I do it?
Usually I run at lunch, but five miles is cutting it close during my 60-minutes lunchtime. Plus, I had plans for pho with Mel and Chels.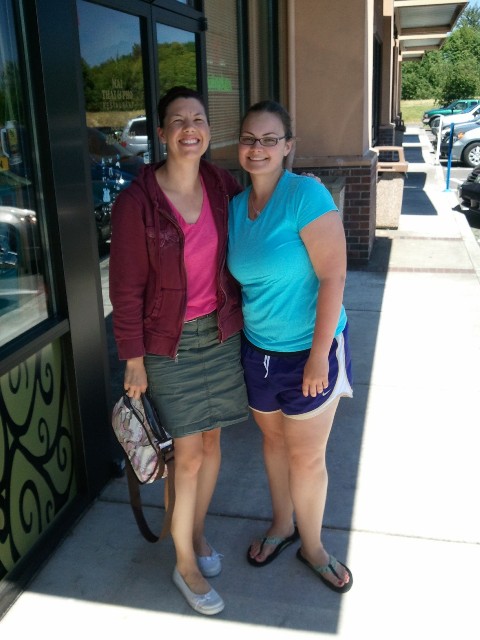 Me with Chelsea in her Boo Huskies shorts.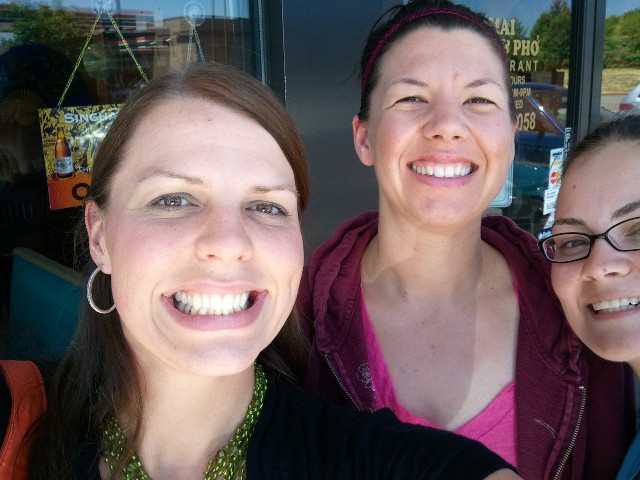 We made Mel take the pics since she has the longest arms.
Hmm. Didn't seem to matter. 😉
Wednesday, I rose at my normal time: 5 a.m. (with sore glutes!). But I didn't get dressed for work. I got dressed to run. I stuffed my work clothes in my bag, let the dog out, and headed for the Cedar River Trail. It's on the way to work, and since it's light out so early…why not take advantage?
Of course, when I got there the gate to the parking lot was closed. Luckily, there's sort of a turn-out area along the highway, so I just parked there, then hopped over the drainage ditch to the trail. To save time, I set my Garmin fields, and fixed my headphones and music on my warm-up walk.
On my Garmin:
Time
Distance
Pace
Average lap pace
On my playlist:
Crocodile Rock – Gnomeo and Juliet version
Funky Monkey – from the film Rio
Take You to Rio – from the film Rio
Check It Out – Will.i.am and Nicki Minaj
Till the World Ends – Britney Spears
Run Run Run – Natasha Beddingfield
Party All the Time – Black Eyed Peas
Bust A Move – Glee Cast Version
You're Only Human – Billy Joel
Dare – Gorillaz
Forget You – Cee-Lo Green
We R Who We R – Ke$ha
On me:
Capris and my "It's All About Attitude" shirt I wore for the marathon.
I was a little late to the trail. I'd wanted to be out of the car by 5:30. Actual time: 5:40. Still enough time since I planned on changing my clothes in the bathroom at work and I was only about 15 minutes away.
I warmed up around a 9:30 pace. I felt tired. Also, I noticed (when I was talking to myself in the car) that my voice had gone missing. As I ran, my throat felt scratchy. Since it's been so warm here, I'm thinking it's allergies. Anyway, I felt a little sluggish, but by a half-mile I remembered I'm supposed to be focusing on my glutes.
This is what I am working on at physical therapy. Strengthening my glutes and then learning to use them. It's not as easy as you might think. As my PT says, "We are a quad-dominated society." (When she said that on Tuesday, I totally cracked up. I imagined quads with military caps on, walking in formation and running the world. Yeah, I'm weird.) She's right, though, you know. We need to use our glutes more, people!
Okay, back to the run: What a difference my glutes made! All of a sudden, the run felt easy. I was cautiously optimistic about the three mile repeats I was approaching. As soon as my watch beeped at Mile 1, I turned my legs over faster imagining my glutes pushing them (this helps me use them, okay?).
Um, yeah. I had to SLOW down. Many times. Sub-8's were not on the plan. Not that this was easy, but it was not nearly as tough as I thought it would be. In fact, since I was worried about getting to work and because I couldn't slow down anymore, Mile 5 was at an 8:43 pace. Oops.
Mile 2: 8:22
Mile 3: 8:20
Mile 4: 8:19
Also, I did stop my watch between miles 2 and 3 to walk about 15-20 feet, and again between miles 3 and 4. These were supposed to be repeats. I only stopped my watch to help me with the math, though.
If you would've asked me Tuesday: Can you run five miles in 43 minutes? (Hey, it could happen. People ask me weird stuff all the time.) Well, I would've said, "No."
But, hey. Guess what? I CAN! So, ask me today. Go on, ask me!
(Guess I could've pulled it off during my lunch hour, too. Heh.)
The lesson, boys and girls, is this: Doubt is normal, but make sure you give yourself the opportunity to kick its ass.
How do you overcome that nagging little doubtful voice in your head?