The sun was shining on Friday and I felt like being outside. When the sun comes out in Seattle, you gotta take advantage. But I couldn't go running because I ran Wednesday and Thursday. I wanted to ride my bike.
I have a mountain bike. It's been hanging in the garage for more than three years, which I realized when I did the math on my son's age, plus pregnancy before that and…yikes.
Anyway, if I wanted to ride the bike, then I needed a bike trailer to tow my child with. I wanted one last year, but we had a gym membership, so I rode the bike inside. I did a quick search on Craigslist and found two for sale in my own town! A couple hours later, I had a bike trailer.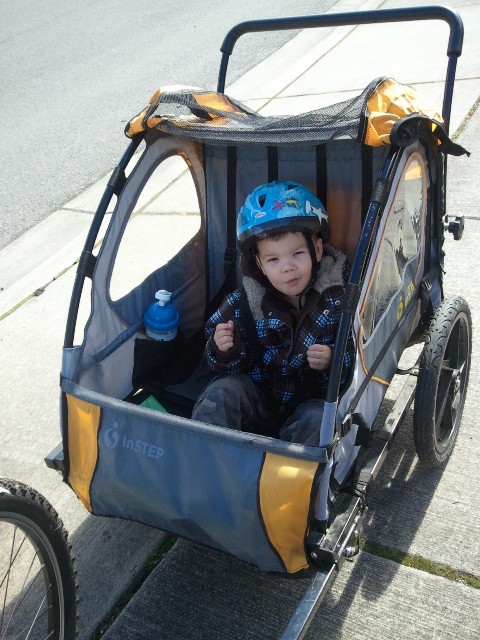 Digging into his snacks and
we haven't even left yet!
It took some effort to get my bicycle off the wall of the garage, and I had to be brave and figure out how to use Mr. T's air compressor to fill up the tires, but I did it! And then I took the axle off and attached the necessary parts for the trailer. After I was done connecting it, we were ready to ride! Well, once I got T Junior some things to do, a snack, his music, etc. Then we were off!
The sun was warm. I had to take off my pink raincoat and stash it in the back pocket of the bike trailer (so handy!), so I rode in my pink You Go Girl! t-shirt and my black capris! The pink trees are blooming — they look like cotton candy and I love them. Their floral scent is light but strong, though, and when they bloom my nose is sort of suspended between sneezing like crazy and not sneezing at all.
I didn't feel like loading the the bike in the van and going to the paved trail, so T Junior and I roughed it out on the gravel trail by our house. The trail that's slightly downhill on the way out, which means it's slightly uphill on the way back. For some reason, I didn't think that would matter.
The way out was glorious. We were high on a new adventure! And we were going slightly downhill. I'd set my Garmin to "bike" and I was cruising with a 30-pound child in a who-know-how-heavy trailer behind me. Even the first three times I had to stop to see what in the heck he was whining about didn't bother me. Mostly it was his helmet. (I took it off – we weren't going alongside a road with cars or anything. What do you do? Do your kids wear helmets in the bike trailer?)
Anyway, I was feeling good and I was thinking we could go for more than a total of 5 miles. We were getting close to the 2.5-mile mark. But then T Junior started whining more. "Mommm-eee. My bottom hurrrrrrrrts."
I turned around. "Mine, too," I said. "We'll go back now." Poor guy. It was pretty bouncy on the rocky dirt and gravel trail.
On the way back, I was dying. Slightly uphill in loose gravel. I was spinning my wheels and barely moving. And my child kept whining, but I couldn't hear him over the gravel. Just, "Mommmm-eeeee. Mommmm-eee!"  Argh. "T Junior, be quiet. You can tell me when we get there!"
The smile had left my face. This was freaking hard! I was huffing and puffing, and yelling at my whiner in between. After about a mile of this, I'd had it. I slammed on the breaks to turn around and give him my "Mommy's serious eyes," but even though the bike stopped, my body didn't and I had to sort of jump to the side and then the bike started falling on me and then…
I landed in the gravel on my left glute and elbow and hand, and sort of slide back. Luckily the bike trailer's hitch has a swivel on it, so the trailer stays put if you fall. I jumped up and looked around. Thank goodness nobody had witnessed me yelling at my child, then falling off my bike.
Serves me right, though. I'm supposed to be working on patience and, obviously, that's no going too well.
I got on the bike, my left hand stung, but not that bad…just three little scratches. I wondered what my butt cheek looked like, though.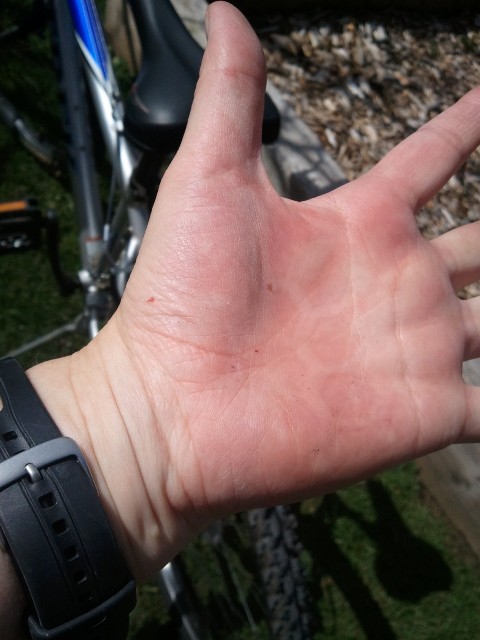 A picture of my hand scratches because
you aren't getting one of my backside.
My glute muscles were screaming at me anyway, but somehow we made it back to the park, which is where I promised T Junior we would go.
Happy to be at the park!
Once we got there, I apologized to my son for yelling at him, then we headed for the slide. I texted Amanda, who is hard-core training for a tri, because I sort of felt like a badass for accomplishing the whole bike thing and "surviving" a fall!
***
Fast forward to Monday. I was ready to ride again. But this time we went to the paved trail. It looked like rain, so I put the plastic cover down over T Junior. He was better this time, but I still heard, "Mommmmma. Mommmmma."
I stopped about 2-miles into it. Got off, went back. "Yes?"
"I don't want to go by the Grinch."
I was confused, looked around and saw this guy: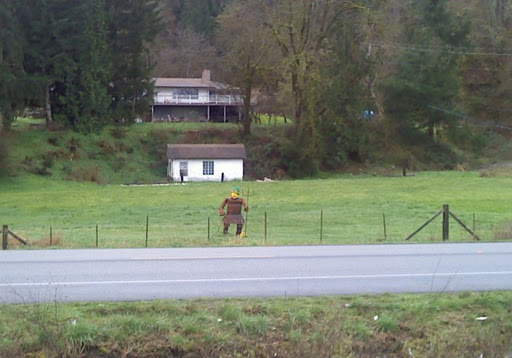 Photo from almost exactly one year ago.
I giggled. "Oh, that's not the Grinch, honey. He won't hurt you." Back on the bike for a quarter-mile. Had to wait at a light. OK. Back on bike. "Mommmmma. Mommmmmeeeee." I ignored it. "Mommmmeeee. Mommmmmeeeee." Maybe something's really wrong. Off the bike. Walked back there.
I lifted the plastic flap to the side. "Yes?"
"I want to tell you a story."
OMG. I didn't even say anything. Just put the flap down and went back to my bike, rolling my eyes and laughing inside.
The way out had been into the wind, and I was super excited to turn around. Guess what? The way back was into the wind, too. What the hell? I was slow. But I'm not out to win any awards, just a little cross training. But, HELLO, jelly legs! Quads were shaking so bad, I could barely get the kickstand down.
Biking is way hard, runners. Way hard.
When was the last time you rode a bike? How did it go? Do you think it's more difficult than running?