Eleven months ago, Zoë (Run, Zoë, Run) and I met for our first bloggy meet-up run on the Cedar River Trail for 11 miles. It was the last long run for our first half marathon coming up at the end of November.
LB (Muddy Runner) happened to be in Seattle on a work-related trip and was knocking out his first 18-miler ever in preparation of his first full marathon.
Guess who Zoë and I ran into that day?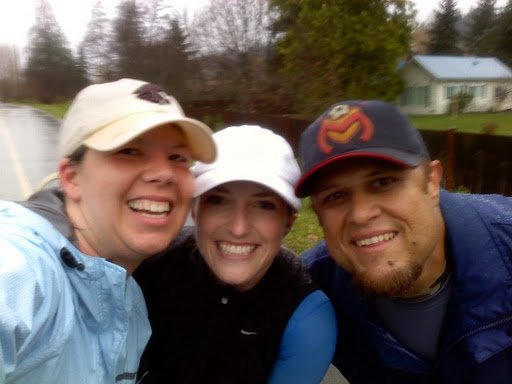 It was pouring rain. I had elbow puddles. Zoë had sudsy knees. LB was…tired.
Yesterday was a little different. First of all, it wasn't raining. Second, we planned the meet-up: no running, just breakfast. T Junior tagged along. And then there's Goober, who is due any day now.
Also, let's not forget to mention that, combined, we've completed eight half marathons and two fulls (those are both LB's, of course). Wow, not bad for a year.