First: Congratulations to all the Boston Marathoners! It was inspiring to watch and to follow so many of you!
And, now, why I'll probably never run Boston:
I like to run fast. Not during the fast running, of course. But after the running, it's great. Wow! Can't believe I just ran that fast.
But I also like not being injured. That's probably my favorite thing about running. Yeah, not being injured is pretty great. I know because I've been injured before and spent months not running. It was…sucky.
After Wednesday's stupid 8×400's at a 7:04 pace (that, technically, I only hit a couple times), my left calf was tight. When my calf gets tight, it pulls on the inside  shin area, whatever that's called. I should know this one since I fractured it in 2010. See, tried to forget it, I think.
So, yeah, it was probably good that I was too busy to fit in a 10-miler on Friday. And that I quit after 3.4 miles on Saturday. And I didn't run on Sunday…
MONDAY
Planned: 7-mile tempo — 1 mile easy, 2 miles at mid-tempo pace of 8:15, 1 mile easy, 2 miles at mid-tempo pace, and 1 mile easy.
Completed: Ill-advised 7-mile tempo-ish run — 1 mile easy, 2 miles dying at an 8:30 pace, 1 mile easy, 2 miles really dying into a strong headwind at an 8:37 pace, 1 mile easy
It was way hotter than I was used to (almost 70?) and I could not get out there for a run until 2 p.m. Yep, the hottest part of the day. Real smart, Ker. Also brilliant: I didn't bring my handheld. Left 'er in the car. No shade, crazy headwind. This run sucked. One of the all-time worsts. OH YEAH! AND this was the day after my 9-mile long run. Hahaha! What a moron!
TUESDAY
Planned: Cross-train and strength
Completed: Strength and strength. Jillian Michaels's 30-Day Shred Level 2 followed by the Run Less Run Faster routine.
10 squats (each leg)
10 one-legged squats (each leg)
2×20 walking lunges
10 real pushups
10 calf raises (each leg)
20 bent-over arm rows (each arm)
Ah, whaddya gonna do. I did not sleep well Monday night. I got like 5 hours, I think — and not consecutively. Of course, this happens before a work day. Argh. 30-Day Shred, at least, has some cardio.
WEDNESDAY
Planned: 8×400 meter repeats at a 7:04 pace with 400 meter Rest Intervals at an easy pace. Plus a 10-15 minute warm u pand a 10-15 minute cool down.
Completed: 8×400 meter repeats at random 7:something paces with 90-second Rest Intervals that involved mostly walking. You can read about this workout and what was going through my head here in "The 6 Mental Stages of a Speed Workout."
THURSDAY
Planned: Cross-training and strength
Completed: Jillian Michaels's 30-Day Shred Level 2
I also hoped to swim with Zoe. I, again, had a horrible night of sleep. Maybe 4 hours total? I stayed strong for a little bit after a full day of work and then making dinner, etc. In fact, I did Shred while dinner cooked. T Junior did the play-by-play and asking of questions:
T Jr: What is that move, Mom?
Me: *breath* high knees *breath*
T Jr: No! That's the potty dance!
I did notice on the high knees that my left shin and calf, which had felt tight after the repeats on Wednesday, still felt tight. And I noticed the soreness every time my foot hit the ground. Hmmmmm.
I really felt like I needed a relaxing swim after dinner. But, as usual, the dinner and bedtime routine ran long and then I was stressing, and then Mr. T just basically told me that I couldn't go, and that he was going to the store to get me some melatonin.
FRIDAY
Planned: 10 miles @ an 8:53 pace
Completed: Nothing
Well, not nothing. I had to pack the motorhome for a dog show in Moses Lake. Lots of trips up and down the stairs, and out and down the driveway, etc., have got to equal some calories burned. Not 10 miles worth. But close, I think, yes? I noticed tightness in my left shin and calf still and the arches of my feet were also a little tight. Started to get worried. (Also, melt-on-your-tongue melatonin worked like a charm — thank you to my Facebook friends!)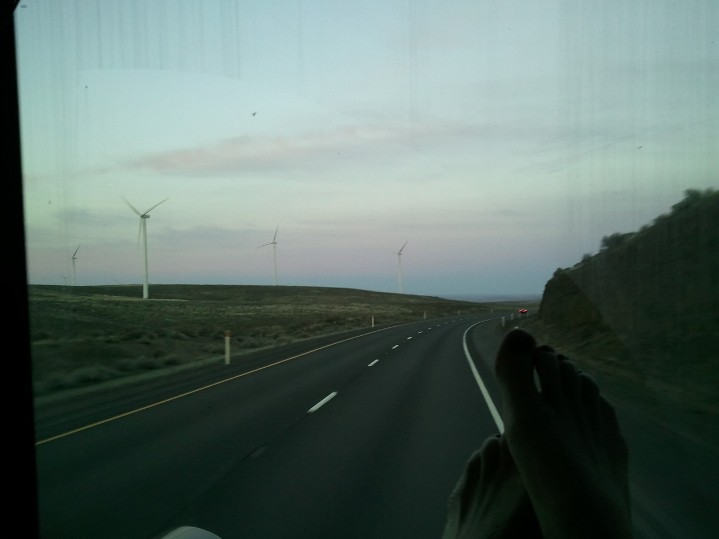 SATURDAY
Planned: Cross-training and strength
Completed: 3.43 miles
Sunny, a little windy, ran down and up a ginormous hill in Moses Lake after the show in the morning (Bennie got Winners Dog for 1 point). But the whole time I was running, I was thinking, I shouldn't be running. Plus, my legs felt tired and I felt like a 10-minute pace was really hard. I started to loosen up after about 3 miles, but I could still feel my shin and calf. I learned my lesson in 2010 and decided not to push it. Back at the motorhome, I showered, played football with T Junior, and then I layed in the sun (with sunscreen on) for a couple hours, and ate junk food. It was pretty great.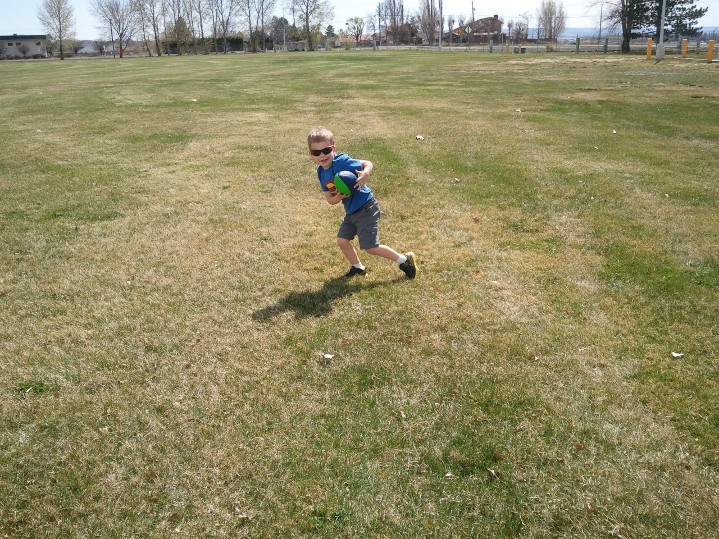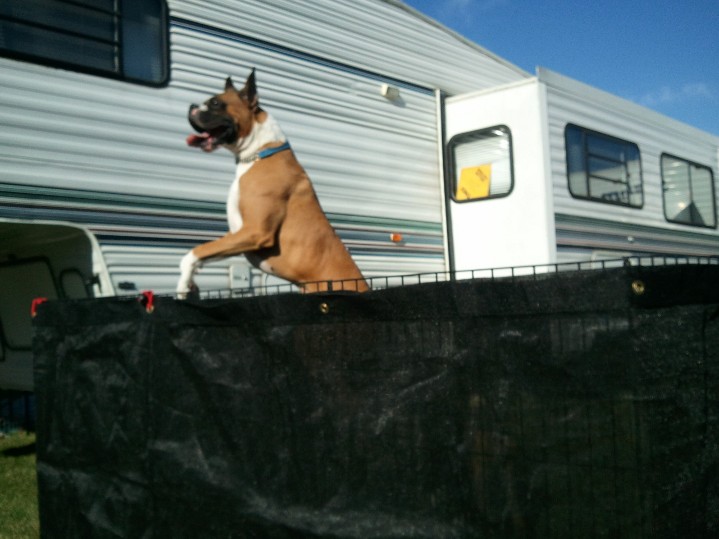 SUNDAY
Planned: Cross-training and strength
Completed: Nothing
Well, again, not nothing. After Bennie got Winners Dog (for another point – yay!!!), we packed up the motorhome, headed home, then unpacked the motorhome. While driving home, I revised my training plan because I had a revelation.
Too much speed + high mileage on one day = ouchies.
So, I revised my training plan to be closer to the one Coach Mel made for my sub-2 half. It had speed work, but I never hurt afterward. It looks, essentially like this:
Monday: An easy run, from 3-5 miles, and biking
Tuesday: A tempo run of about 4-5 miles
Wednesday: Swimming and strength
Thursday: Progression run of 3-4 miles
Friday: Bike/swim and strength
Saturday: Long run @ 8:53-9:53 pace (with some goal pace — 8:23 for a 1:49 half — miles sometimes)
Sunday: Rest
This is random, but did you watch Rules of Engagement last week? Timmy wanted to run a marathon and Adam (who is my favorite character) kept being a know-it-all about running because he "was on the cross country team in high school." Did you get any sun this weekend? Thoughts/advice on my revised plan? And, DID YOU WATCH THE BOSTON MARATHON? OMG, CHEROP'S SLINGSHOT MOVE!!!