Since there isn't much to report for Week 9 of the Metabolic Prime Challenge, I just decided to combine it with Week 8.
Week 8 was interesting because I tried a few days of less fat and higher carbs—I felt awful! My energy was bad and I think it really messed me up. I immediately felt better on higher fat, low carb. I also started taking an herb called rhodiola rosea to help with my cortisol levels. (I got the Gaia brand you can find here.)
During Weeks 7 and 8, I was really fighting fatigue—I had taken out the fat to try to speed things up, and I think that lowered my calories too low. So I was doing low carb, low fat and high intensity workouts 6 days a week, and I'm pretty sure it put way too much stress on my body: my cortisol was like whoa lady!
So I took some extra days off and I swapped a high intensity workout for a traditional weight lifting workout (slower, heavier and lots of rest), I added more fat into my diet (which naturally bumped up the calories) and started taking rhodiola rosea. After a couple days, I dropped some weight and I also felt noticeably lighter mentally.
What I Learned This Week
If you're going to eat lower carb, make sure you are eating enough calories. In other words, make sure you are not Eating Less and Exercising More (ELEM). Remember to Eat More if you Exercise More (EMEM) and during times of less exercise it's okay to eat less (ELEL).
This is why it's good to track what you're doing. I was able to go back and look at my nutrition and exercise, and adjust. I was exercising more, but eating less when I removed the fat.
For me, I need a lower-carb, higher fat diet. I need lots of restorative exercise and activities—slow walking, baths, stretching, foam rolling—and just a few intense workouts a week to feel great.
The hard part is that I need to keep some form of base mileage for a couple of running events I have coming up, so I will need to balance those somehow.
Week 8 Status
I lost a couple pounds and a half inch from my hips. Here are my pics: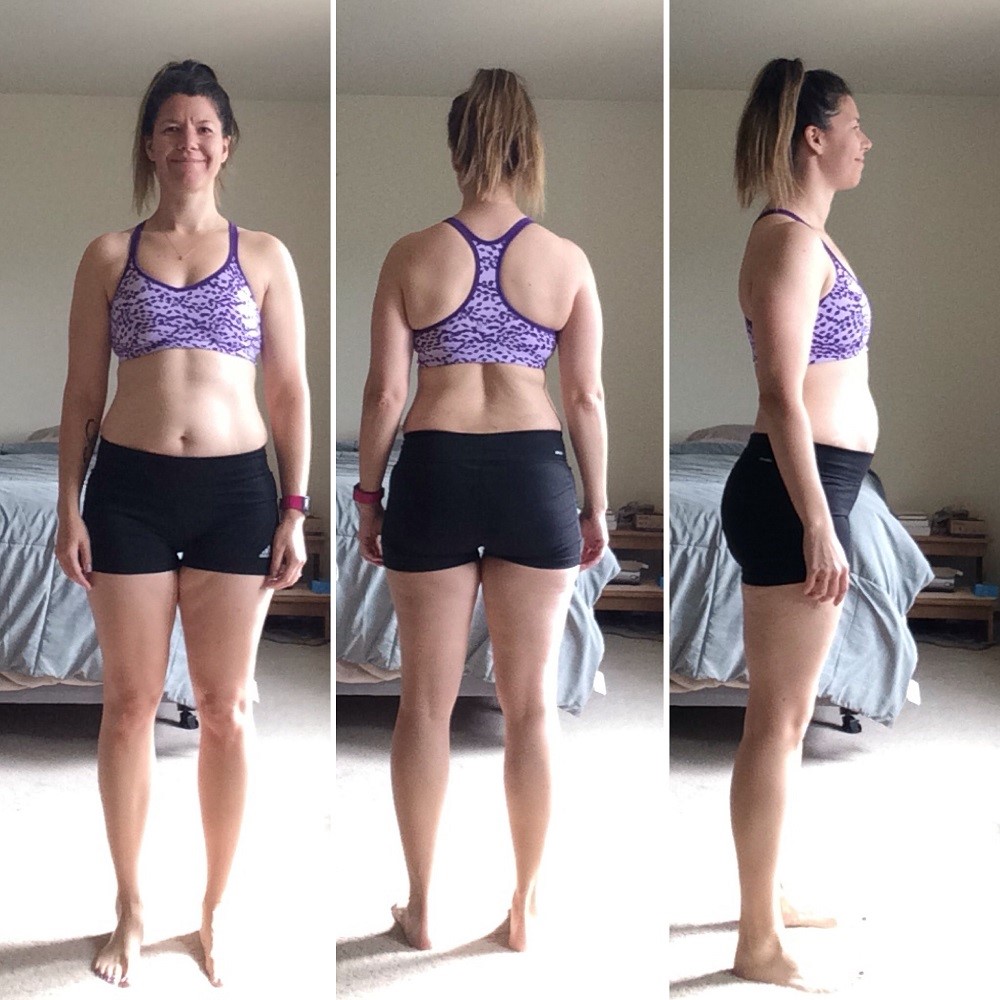 Week 9 Status
I stayed the same weight and size. But…someone from work did tell me it looked like I'd lost weight. Also, I'm starting to see more muscle definition. I need to remember not to cut my food back too much—I need food for my muscles.
Here are my Week 9 pics: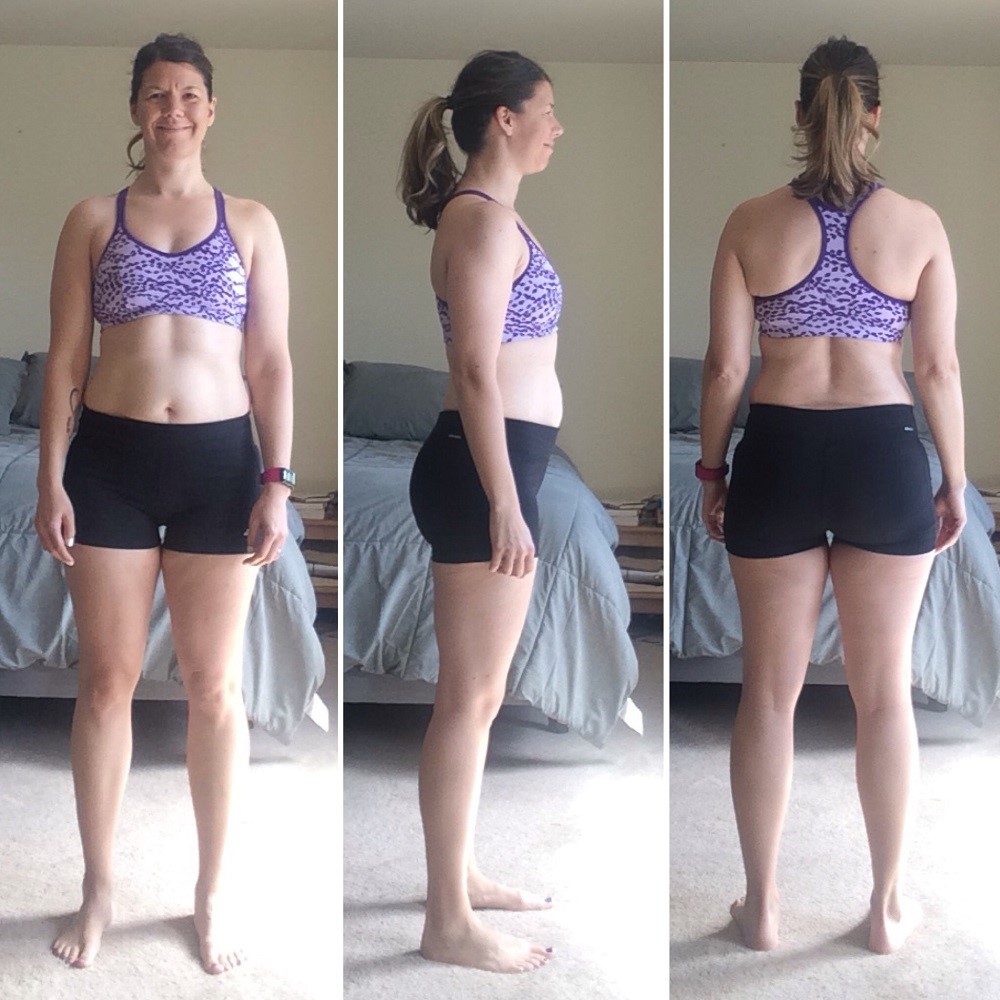 Here is my before pic from before the 12-week challenge started–way back on March 7: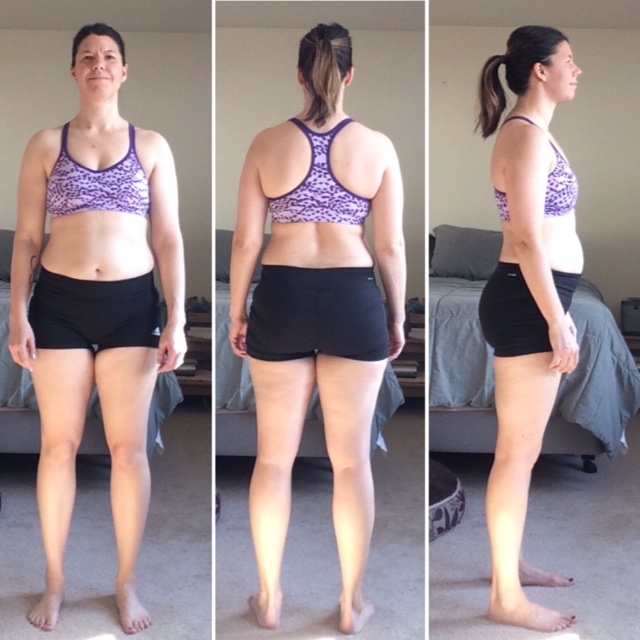 Remember, I'd already been doing ME Prime for a couple weeks before I started. I've lost about 5 pounds since March 7, but clearly you can see my body has changed. Since I first began Prime around Feb. 19, I've lost about 9 pounds.
Progress! Looking forward to this week. We started the fourth phase today and it had me doing about a gazillion burpees this morning. Burpees with no weights, burpees with weights, burpees with a weights and a row or a curl or a press OR ALL THREE. Wow. Scared of what Wednesday will look like…
Okay, I've got three dogs and a kid making all kinds of noise behind me, so I better get off here…