I'm not happy about where my body is. It's fine, but I know I'm capable of being stronger and fitter. You guys know I love Metabolic Effect (especially their book The New Metabolic Effect Diet), so I was already getting back to following a fat loss lifestyle when the authors released their latest workouts called Metabolic Prime. The ME Prime has videos, which have really made me push harder in the workouts–so I'm loving that.
I signed up for the marathon early last year and then it seemed like the whole year was focused on that, and my fat-loss goals got buried in my trail dust. It's time to dig them up again.
I'm following ME Prime (although I'm rereading The New Metabolic Effect Diet because I love how they explain the metabolism and hormones in that book, and I'm a huge-ass nerd who finds it interesting). You can get ME Prime for $37 through Friday (I think). If you get it through Tara's (a ME coach) link, she will add you to her private group page–and she is extremely helpful at answering questions. She is also hosting a 12-week challenge that I think will help keep me focused on my goals without getting sidetracked by shiny marathons.
This week, I asked Tara (Prime Life Fit) about incorporating running into your ME routine since she is also a runner. Her answer confirmed that I had been doing things right back in 2014 when I was doing the intense 20-minute ME routines 3x a week and doing two days of 20-minute sprint intervals with a long run on the weekend (and walking at least 30 minutes a day at a leisurely pace). Ahhhh 2014. Even though I was up a few pounds in this picture, I love the way my body looks–I also felt really good: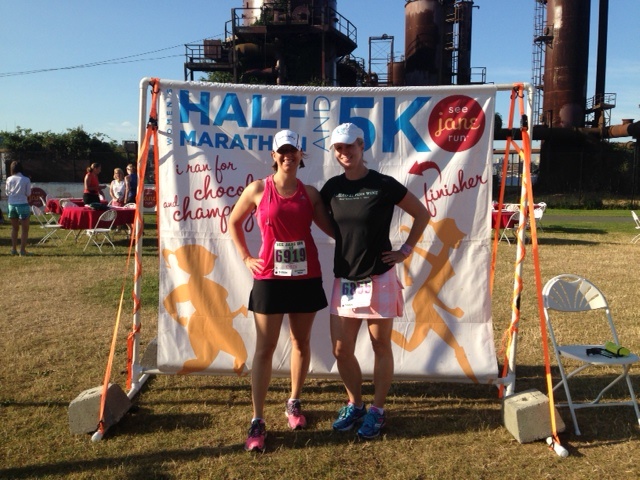 That was at a 5K that I hadn't really trained for, but placed 2nd in my AG–both me and Kim did! You can read that race report here.
And now the bad pictures.
I really can't believe/don't want to post these, but I think it will be motivating for me to have before and afters. *deep breath* Okay. Here goes: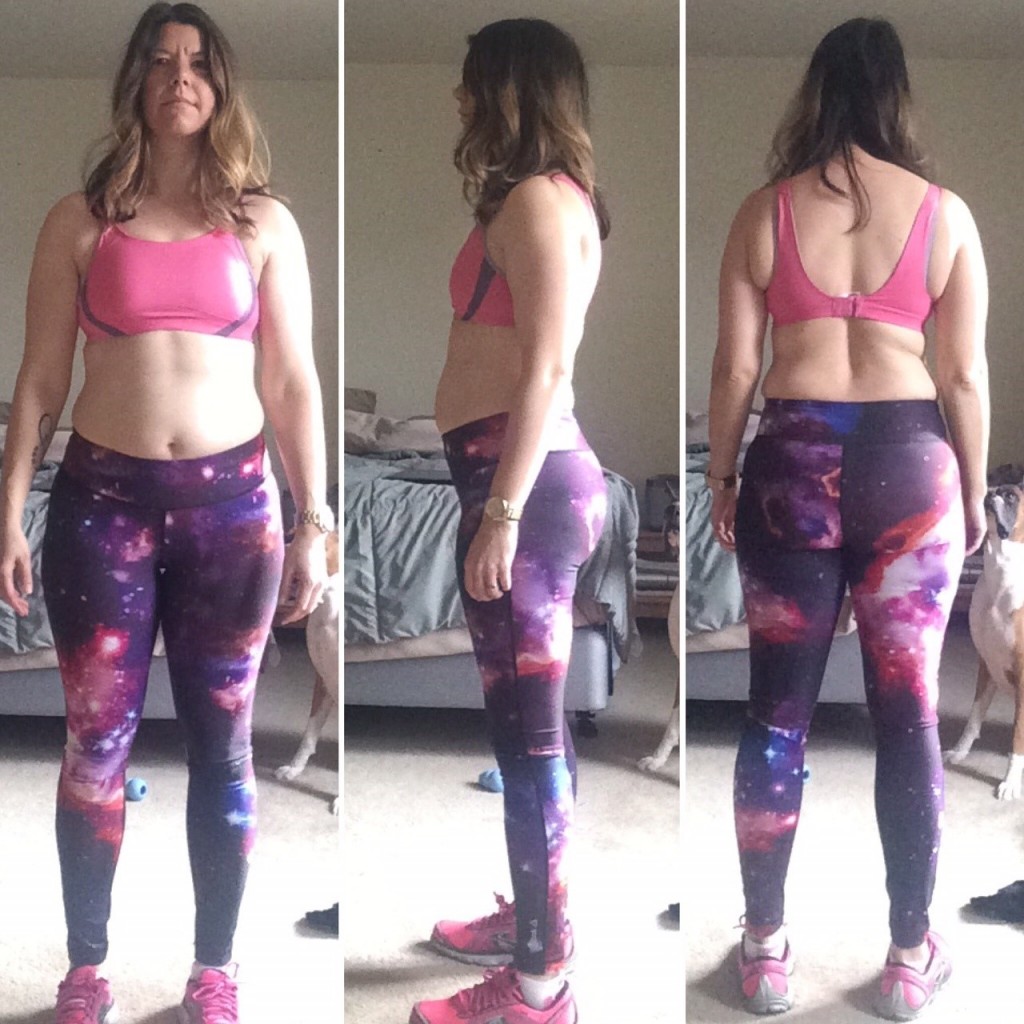 That one from the back is rough. I don't usually see that side. 🙁
But taking the pics was super motivating. I feel fitter than I look. I mean I just ran a half marathon, and I can lift pretty heavy dumbbells. I just need to get the fat off my frame. You know what that means, right? Nutrition.
Unfortunately, diet is like 90% of the equation. You can't eat pizza and cupcakes and lose fat. Or, at least, I can't.
I'm going to update often (weekly?) on my progress during Tara's 12-week ME Prime challenge–I think it starts March 7.
Sign up to get my posts in your email (upper right corner of the page) if you're interested in following my progress. I really just want the way I look to align with the strength I feel.
Thank you for reading. 🙂