I am becoming someone who signs up for races if I think I might place. I am also someone who is becoming a person who likes to create costumes for races. I don't see how either of these can last, but for now, I'll go with it.
I put together this Christmas running costume on Friday (the day before the Christmas Rush 5k), and I painted my nails with sparkles. When I woke up the morning of the race and it was 37 degrees, I decided to wear gloves. They were dark blue, but whatever.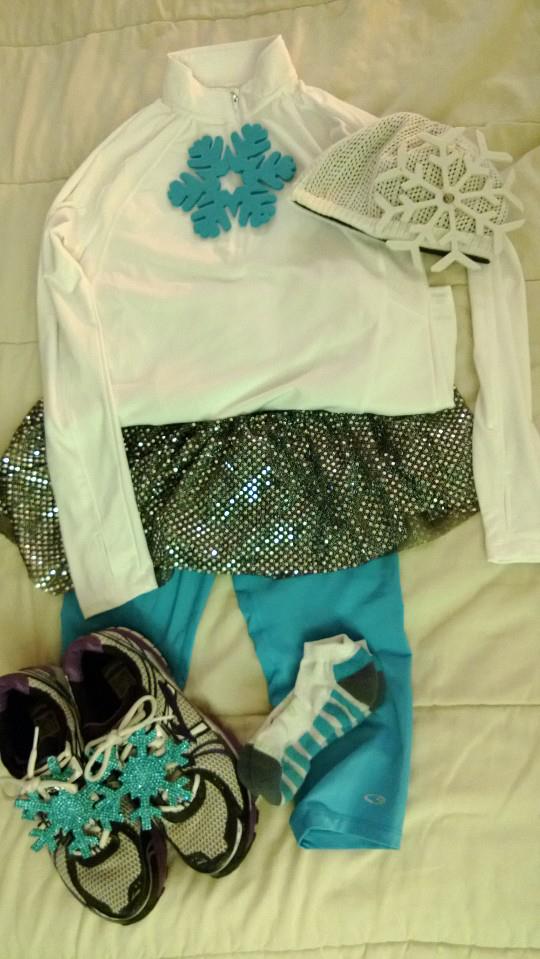 For this 5k, I stuck with my little-to-no-running training plan, since it worked well for the half in November. I ran twice between the half on November 25 and the race on December 8. My last run was on December 1 and it was less than 3 miles. I did walk, ride the trainer and do some very light strength work, though. Then I got a cold, which turned into a horrible hacking, phlegmy cough the week before the race. Plus, my husband got this idea that he wanted to make 25 days of Christmas cookies. I gained two pounds last week. All of that stuff together sucked 'cause I had plans for the race.
I signed up for Christmas Rush 5k a few weeks ago when Nicole of Ricole Runs mentioned it. Only $10 if you didn't want to get a shirt. Nicole said it was a small race, so I looked at last year's results. The woman in my age group that placed first, did so with a time of 24:39. It was a no-brainer, I registered. Also, I knew the race location is only 25 minutes from my house, and I knew the area was fairly flat. I might have a chance to win my age group!
Nicole and Erika (This Spartan Will) both signed up for the 10k, and Jennifer (Runner Maybe) also signed up for the 5k. Always fun to have friends to see at a race!
The race didn't start till 10 a.m., so I got to wake up at a normal time on Saturday. I'd given myself just enough time to get ready, but I'd forgotten that my son would probably be up. Normally, not a big deal, but my husband is on call for his job, and I wanted to let him sleep as much as possible. So, I had to make my son breakfast and stuff. No biggie, I just hadn't factored it into my time. Luckily, I only left a few minutes later than I had planned, and I'd scheduled myself to arrive at 9, so I still had plenty of time to pick up my bib, go potty, etc.
I found a parking space pretty easily in a nearby parking lot. I wasn't sure if we were allowed to park there, but I just lemminged it when I saw other runners parked there. Easy to pick out runner cars, BTW, because we have distances stickered all over the back of them. I texted my friends to see if they'd picked up their bibs, etc., then jogged the half mile or so to get mine. There were about 6 Honey Buckets near the start and there was a long line for them. There were about six more near bib pick-up and there was no line. Hooray!
I knew this year's event was going to be bigger than last year's, since the race organizers had sent out a message that about 800 people had picked up their bibs at the early time on Wednesday. (Actually, it wasn't bigger.) My confidence about winning my age group sagged a little, but I still wanted to see what I could do.
There were kids everywhere! Kids under the age of 13 could run for free, so I think that's why. It was great. I loved seeing all the kids. There were also a lot of fast-looking high school cross country runners warming up.
After I got my bib, I found Erika and we hung out in her car before the start. She was running the 10k, which started at 9:50. She was parked right next to the start line, so we got out a few minutes before her race, walked over, got a picture and then she was off!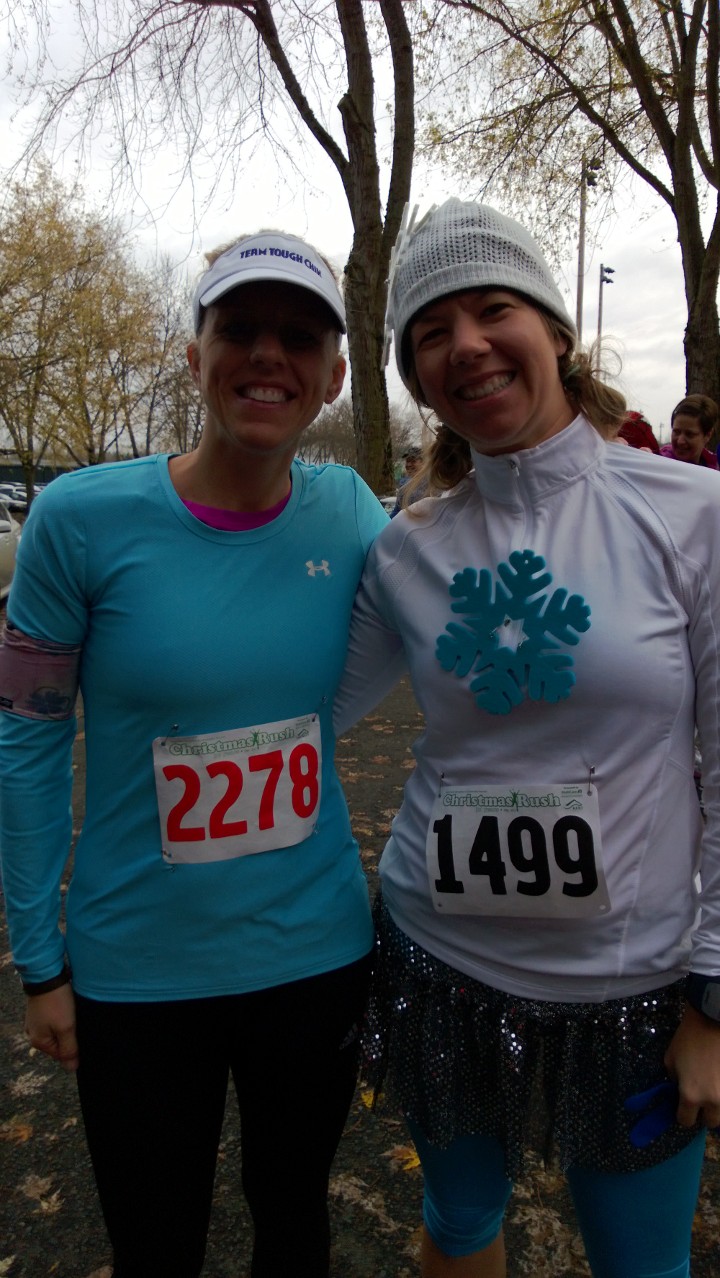 I'd briefly seen Nicole, her friend and Jennifer after I got my bib. After the 10k, I found Jennifer again! And met her friend JH. JH was there with her kiddos, who were running, too. We got a picture and then, with less than 10 minutes to go, I left to do a short warm up. Glad I did because my right shoe was too loose and it would've driven me crazy!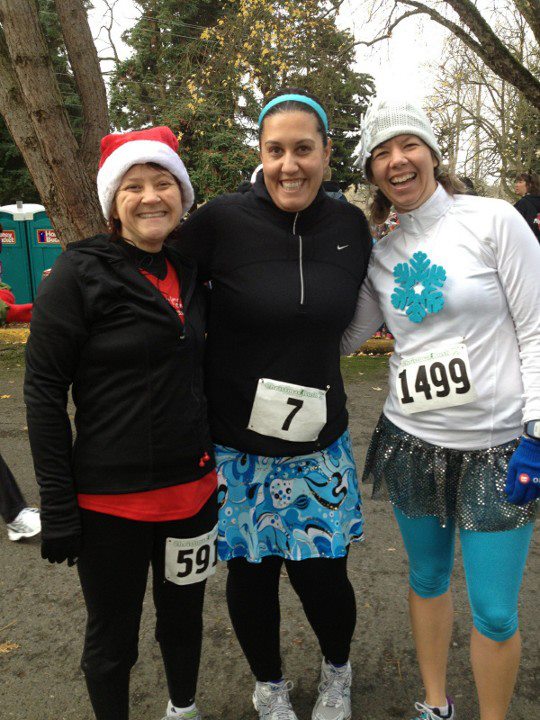 The start would be a mass start, but they at least had sections where you could begin next to people who matched your pace. Unfortunately, I don't know that a lot of people went by that guideline. With about 2-3 minutes to go, I wiggled into a spot marked 8-minute milers. There was a girl with a fun tutu next to me. I was in my Team Sparkle skirt, and chatted about sparkle skirts for a bit since she asked where I got it.
Then we were moving! What?! I hadn't started my music or anything. There was no countdown! I ripped a glove off and plugged my earbud into my head, and pushed start on my Garmin as I was running over the mat. I felt all discombobulated. I quickly got my glove back on, though. I didn't even really want the stupid gloves because I knew my hands would warm up quickly–they always do, but I didn't want to leave them either. They were freebies, too. I just didn't want to litter.
The start was thick and I did a lot of weaving for the first 200 meters or so. I got into a groove after that and felt very relaxed, although my feet hurt a bit since they were cold and slamming into the ground. That cleared up by a half mile.
For the first mile, I kept looking down at my Garmin thinking that my pace would be in the high 8's because I felt so comfortable. I was running at a just under a sub-8 pace comfortably. And I was shocked. I tried not to look at my watch too much after that and just aimed to keep that comfortable feeling.
The first mile of the course left town via a pretty bridge over the Green River, then turned onto the Green River trail, which has been off-limits for several years due to flooding worries. It is finally open again, and it is a lovely trail near a golf course. The drawback, however, is that the trail is narrow and there were some slower people that were difficult to pass. Like I expected, it was flat.
Mile 1: 7:53 pace
There was a wide variety of people in this race. It was great to see them all! The kids running were especially interesting because they would go at a full-out sprint and then walk, and then full-out sprint and then walk. Repeat. Seemed to work for some of them!
Runners stayed to the left side of the trail, then turned at the halfway mark and came back on the right. The way back felt a little harder and I suspected it might be slightly uphill. Just slightly, though. On the way back, I saw this dude running in a giant candy cane. I'd seen the candy cane at the start, but I had thought it was part of the start line!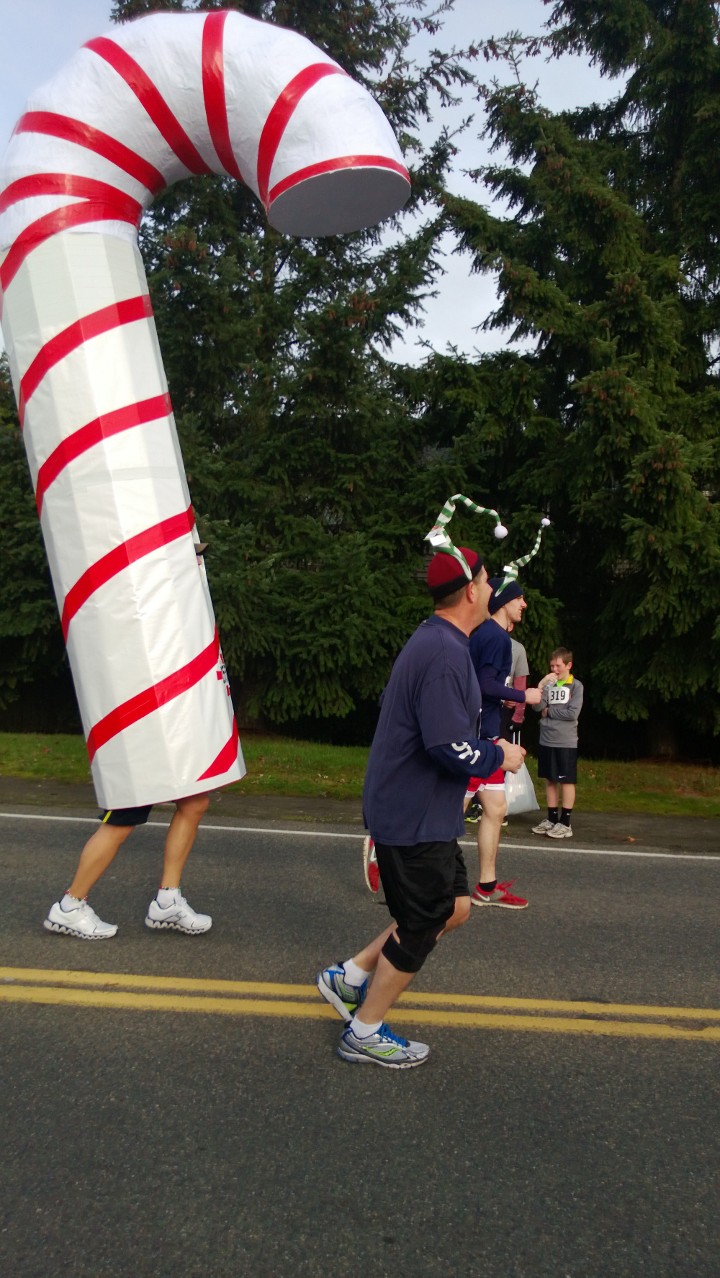 Before we got back to the road where we'd originally met the trail, runners turned and instead went over a large footbridge. The bridge took us to a trail on the east bank, so that the river was on our left and the golf course was on our right. I passed a man on the bridge  that sounded like he was going to die. He was breathing so hard, I was really worried about him. He hung with me a bit, which made me tense up. It made my breathing feel labored. That was at about Mile 2. My sub-8's were feeling a little tougher. I sped up to lose the man, and his noise, and I was able to relax again while watching golfers tee off.
Mile 2: 7:48 pace
At about 2.5 miles, my chest felt like it filled up with phlegm. I had about six frogs in it, and I spent about a half-mile clearing it. I bet people loved that. At this point, I became increasingly annoyed by my hat. I was way too hot! I'd been holding my gloves since the first mile, and didn't want to have to hold my hat, too. Plus, I had a cute snowflake on it.
Soon, we were rounding a corner onto the road to the finish line, which is next to where the packet pick-up was. I couldn't believe it was already over! It was the easiest 5k I've run. Seriously. It went by in a flash, and I never felt like I was going to pass out or anything. Admittedly, Mile 3 was my hardest, though. I tried to guess the ages of any women in front of me, and of any women I passed.
Mile 3: 7:53 pace
I tried to pick up the pace and run as fast as I could at the end. Out of nowhere this high school kid in khaki shorts came barreling through the finish chute almost knocking people over since he was running so fast and out of control. Not cool, dude. You didn't even look cool.
Last .1: 6:35 pace
There were quite a few people cheering at the finish, which was nice. I crossed the mat, then checked my watch. I couldn't remember what my PR was. But I thought I might be close.
I knew Erika, Nicole and her friend, and Jennifer and JH would be coming through soon, but I had a little time. They had some 5k results up, so I checked and I had placed 3rd in my age group (35-39) with a 24:19! Not a PR for me, but still pretty good for not training. I would've won last year–shucks! There were 1,881 people in the 5k (I placed 43rd overall). Oh well! I was still excited about 3rd. I've only placed at one other race, and that was back in March at the dreary St. Paddy's Day Run, where I suprrised myself by getting 2nd in my age group (30-34).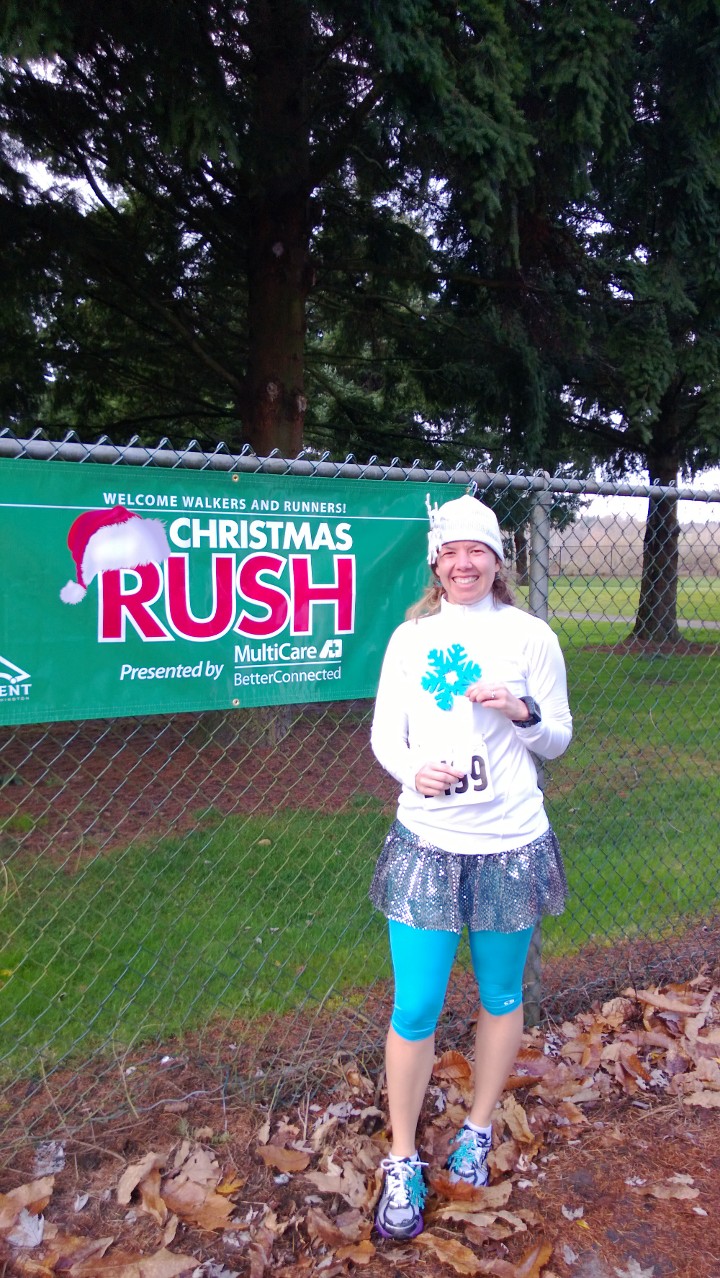 After the finish, I got a water and a goody bag so I could put my hat and gloves in there. I was overheated! Then I staked out a spot. I expected Erika to come in quickly, and for a few minutes, I'd worried I'd missed her. But I didn't, and I got to see almost everyone finish their race. I'll let them tell you how they did.
Afterward, my friends urged me to go wait for my ribbon–the organizers called out the top 5 finishers in each age group and then gave them their ribbons. It was nice, and I felt special if not a tiny embarrassed about how excited I was to get a ribbon and to have my name called out. I like to win things!
The weather was perfect on Saturday–even sunny at the end. Overall, this was a very well organized, fun race for a very reasonable price. I'll be back in 2013 to get my blue ribbon.